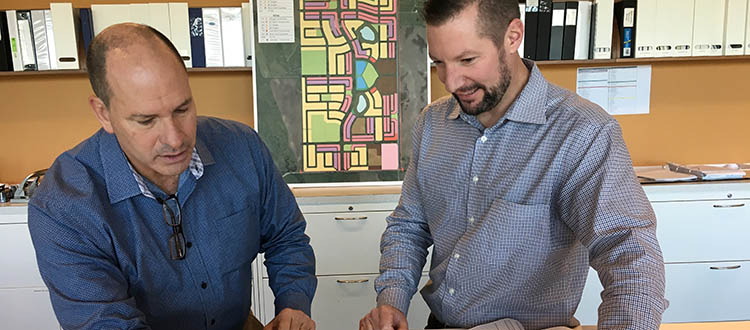 Mattamy Homes Calgary division president Don Barrineau, left and vice-president of land development Collin Campbell say plans for Yorkville call for a blend of walkability, residential and retail. Photo courtesy Mattamy Homes.
Nov. 17, 2016 | Marty Hope
Next stop: Yorkville
New southwest community by Mattamy to house up to 12,000 people
Come spring, the landscape of Calgary's deep southwest will be undergoing another change, this one being sculpted by Mattamy Homes.
With the snow gone, grading and storm pond construction is expected to get started on the new community of Yorkville, located over more than 190 hectares along the southern boundary of Silverado and moving further south and west.
While the name Yorkville will pay homage to the affluent Toronto suburb that was breeding ground to some of Canada's most decorated music and literary talents, Mattamy maintains the Calgary incarnation will be quite different.
"In that sense, we won't be anything like Toronto's Yorkville," said Don Barrineau, president of Mattamy Homes' Calgary division. "At the same time, though, we do liken this community to Toronto's because of the dedication to the level of walkability we will create with parks, paths and green spaces, and the blend of residential and retail elements it will have."


The northern boundary of Mattamy's Yorkville will be at 194th Avenue (the southern limit of the existing Silverado community). It will also be bordered on the east by Sheriff King Street, on the south by 210th Avenue, and on the west by Spruce Meadows Way (yet to be extended).

With the growl of heavy equipment still a few months away, Mattamy is currently waiting for engineering and construction drawings to complete their rounds at City Hall. Barrineau anticipates that will occur before year-end.

When approved, development will occur over two main phases. The first 130 hectares will see Mattamy partnering with Ronmor Developments Inc., a Calgary developer of retail properties and inclusive residential neighbourhoods. The remaining 65 hectares will be brought to the market solely by Mattamy at a later date.

Expected to be completed within the next decade, Yorkville will be similar in size to Mattamy's Cityscape community in northeast Calgary, with approximately 4,000 housing units that will be home to as many as 12,000 people.

Housing types are expected to evenly split between single- and multi-family options. Barrineau said single-family products are projected to be priced from $500,000 to $700,000 with multi-family ranging from about $200,000 to the low $400,000s.

"In all, the first phase in the northeast quadrant will hold about 300 lots."

First possessions are expected within the next 18 months.

"In all, the first phase in the northeast quadrant will hold about 300 lots and will have both single-family and some multi-family homes," said Mattamy vice-president of land development Collin Campbell.

Future community plans will include school sites and pathways, as well as a central node with twin ponds and parks developed to further enhance nearby mid-rise residential buildings.

In some respects, Barrineau believes Yorkville is different to other communities and neighbourhoods Mattamy has undertaken in and around Calgary since arriving in 2009.

"This is a huge deal for us. This is a master-planned community that we want to bring along the right way," he said. "We want to give consumers what they want, want it to be attractive and want it to meet our already high standards of quality."

Barrineau added consumers are going to see new designs and floor plans from Mattamy in Yorkville that have come about through research and partly through consumer preferences for home styles and designs.

"As a company, we decided it was time for us to lead Calgary's housing market architecturally," he said.

While work on Yorkville is still about six to eight months away from starting, progress continues on Mattamy's portion of Carrington in the city's northwest, said Campbell.

"Grading and storm pond construction have already started, so we will likely bring it to market a little earlier than Yorkville," he said.

Work has also started on a sanitary sewer truck at 210th Avenue S.E that will service all of Yorkville. Over the next year it will extend from Macleod Trail to Sheriff King Street.

Design work is also underway for a couple of new direct access routes into the community through the extension of 194th and 210th avenues west from Macleod Trail.

Tagged: attached | Calgary Real Estate | Calgary Real Estate News | carrington | detached | Mattamy Homes | northeast | Parks | paths | Residential | Ronmor Developments | silverado | southwest | Uncategorized | walkability | yorkville | YYCRE
---
---
Connect With Us