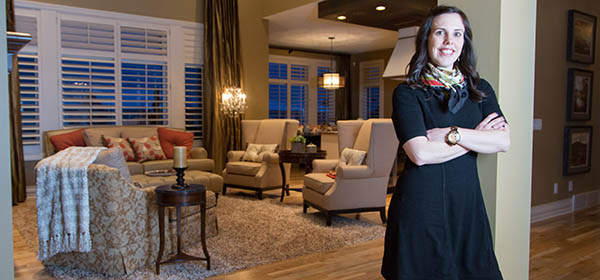 Qualico Communities communications manager Maribeth Janikowski, pictured in the builder's Augusta show home in southwest Calgary, believes the economy has created opportunities in the lower-priced segments. Photo by Adrian Shellard/For CREB®Now
Dec. 23, 2015 | Andrea Cox
Setting the pace
Slowdown welcomed by new home industry
Local homebuilders and developers say they are heading into 2016 feeling positive after going through a year that brimmed with economic challenges.
"It's definitely been an interesting year," said Wendy Jabusch, president of the Canadian Home Builders' Association – Calgary Region and a vice-president with Brookfield Residential.
In particular, housing demand fell sharply in 2015 as the provincial economy sputtered through an oil patch slowdown that eventually led to pronounced job losses.
Yet after operating at near record levels for most of 2014, the slowdown this year was a welcome opportunity for the new home industry to re-think planning and concept, said Jabusch.
"It's given us the opportunity to take a step back and be more thoughtful and to really prepare for the future," she said. "We are really in a market that is much more in balance than in previous years. When you look at 2014 and earlier, we were maxed out; we have been on an extraordinary growth trajectory in our city and province."
Jabusch noted the slowdown has allowed CHBA – Calgary Region to further its proposed merger with the Urban Development Institute.
"It's pretty exciting," she said. "Homebuilding and land development are already perceived as one industry. It just makes sense for us to combine our resources."
The industry has also made a stronger commitment to creating eco-friendly homes. Builders such as Avalon and Mattamy Homes, for example, have stepped up to fashion a series of net-zero designs. In early December, Mattamy unveiled the first of five such homes in the northeast community of CityScape.
Overall, new show home parades, new phases in established communities and new concept communities also came online in every quadrant of the city in 2015.
Qualico Communities, for example, launched two new show home parades this year – one in its northwest community of Evanston and the other in its northeast community of Redstone.
Both communities in the city's "new north" have literally exploded, said Qualico communications manager Maribeth Janikowski (pictured above).
"There is no doubt the economy has slowed down this year and we expect to see similar if not even more challenging times next year," she said. "But we are looking at this from a long-term perspective. For us, it is business as usual."
Janikowski noted some of Qualico's early successes in its new communities stems from a diverse range of home offerings at lower price points – townhomes, single-family homes, zero-lot line option and duplex designs. It echoes recent homebuying trends wherein the luxury market is experiencing a steep decline in activity when compared to the lower-priced segment.
Richard Cho, principal market analyst for Calgary with Canada Mortgage and Housing Corp., noted job losses in the energy sector, coupled with uncertainty in the economy, is fueling this conservative buying approach.
"Many buyers are hesitant to take on more financially, such as putting more toward a down payment or committing to a higher monthly mortgage payment that higher-priced homes tend to require," he said.
Not that recent mortgage changes will help, say some local housing industry experts. Effective Feb. 15, 2016, the federal government will raise the minimum down payment for new insured mortgages from five to 10 per cent on the portion of the house price above $500,000.
Some experts say the change will significantly impact Calgary's already sluggish market. Based on Calgary's year-to-date detached benchmark price of $514,536, the average first-time buyer putting down five per cent would require an additional $727 under the new rule. Based on the average single-detached selling price of $537,165, the down payment required increases to $1,858.
"The intent of [the change] is to pull back demand, and they're slowing demand in a market where we're already seeing demand slow," said CREB® chief economist Ann-Marie Lurie, noting resale residential sales in Calgary have already dropped nearly 20 per cent from the 10-year average.
Yet Jabusch believes Calgary's housing market will adapt.
"Like any other change we will acclimatize to it," she said. "It's still giving the first-time buyer the opportunity to realize the dream of home ownership. So from that perspective, it is a positive."
Tagged: Calgary Real Estate News | Canadian Home Builders Association | CHBA | community development | construction | Homebuilding | homebuying | Mattamy Homes | new home market | qualico | Residential | Wendy Jabusch | YYCRE
---
---
Connect With Us