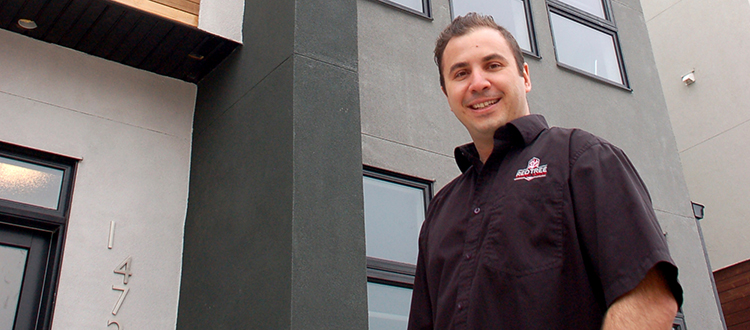 Brett Taylor is owner of Red Tree Custom Homes and shows a three-storey townhome show suite in Montgomery on 4727 17th Ave. N.W. Taylor said a third floor provides space for luxury features. Photo by Lindsay Holden/For CREB®Now.
Feb. 26, 2016 | Lindsay Holden
Lucky number three
Inner-city homeowners look up, not out
Good things come in threes – or so goes the superstition.
Calgary's homebuilding industry seems to have taken this to heart, with three-storey infill homes emerging as a solution to what experts say is growing demand for "vertical" detached living options in inner-city communities.
"It is very cost effective to build up versus build out," said Ron Butler, president of New West Luxury Estate Homes, which builds about 10 infills per year. "And building out is not an option given the limits of the lot."
The City of Calgary currently limits the amount of land a home can occupy in a given lot, ranging from 40 to 50 per cent, depending on its zoning and size. Three-story homes provide a solution to providing additional living space where that ratio is already being tested, said Butler. At New West, Butler mostly works with clients who come to him with ideas to build a full-width home on an inner city lot they have already purchased, versus plans to turn a site into a pair of narrow duplex units.
His company is currently working with an Elbow Park family, which is building a new home on an existing lot. New West is creating a a third-floor penthouse room designed as a hangout spot to spend time as a family, as well as a rooftop balcony to capture a city view.
Red Tree Custom Homes Brett Taylor, whose company has worked on a number of three-story infill lots in Calgary, said most of his clients want to capture a city view or create a retreat on a separate floor.
"You don't just have to blow out a ton of square footage ... It's about making every square of it count because inner city square footage is expensive," he said
The third floor is typically stepped back from the bottom levels and thus less visible from the street, said Taylor. That allows the home's front façade to have a staggered effect, breaking up the height and massing for better curb appeal.
Red Tree's townhome show suite in Montgomery features a third floor dedicated to a private master bedroom. The four-plex unit measures just 650 square feet, but has enough space on the top floor to accommodate a king bed, sitting area, walk-in closet, and ensuite where two adults can manage a morning routine in tandem, said Taylor.
The sky is not the limit for three-story homes, however. The City of Calgary currently limits the height of detached homes to 10 metres
(32.8 feet). In addition, the average size of adjacent homes is part of a formula that can limit some homes' heights to 8.6 metres (28 feet), according to a 33-page document published by the City of Calgary titled A Guide to Contextual Dwellings.
Neighbouring homeowners also have a chance to provide input during the permitting process, said Butler.
Still, Butler says the effort is worth it. He estimates third floors can add about an extra five per cent to existing home values.
"It is added value," he said.
Tagged: attached | Calgary Real Estate | Calgary Real Estate News | City of Calgary | detached | Development | homebuilders | Homebuilding | infills | Inner City | townhome | Uncategorized | YYCRE
---
---
Connect With Us