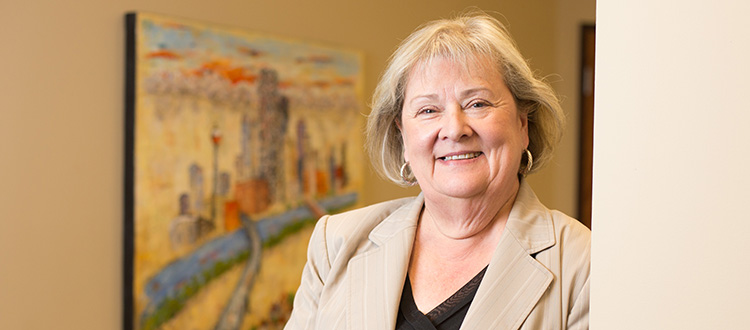 Canadian Home Builders' Association-Alberta CEO Donna Moore said one of the organization's top concerns when it comes to the development of a national housing strategy is to address affordability for first-time buyers.. Photo by Adrian Shellard/For CREB®Now
Aug. 08, 2016 | Kathleen Renne
Starting out
The changing face of the first home purchase
A starter home has long been understood to mean a dwelling that represents someone's first foray into home ownership.
Mattamy Homes' vice-president of sales and marketing in Calgary, Warren Saunders, says, at its core, "It's a home that offers the best price and the best value for a new family starting out."
Donna Moore, the outgoing co-CEO of the Canadian Home Builders' Association (CHBA) – Urban Development Institute (UDI) Calgary Region Association, qualifies, however, that what constitutes a starter home today is very different from one of 30 years ago.
"What baby boomers referred to as a starter home was a home young families could afford. It would often be a one- or two-bedroom home, sometimes an older home," Moore says, adding "that concept has really changed in our large cities today." For example, the once-affordable half duplex has morphed into the attached home, which, today, usually comes with a much higher price tag than its humble predecessor.
"It comes down to affordability, first and foremost. Even ten years ago, we'd see starter-home product in the low $200,000s. Today, those prices have eroded due to factors including land prices and the cost of construction.
We're now looking at $320,000 to $350,000, depending on the location of that product," she says, adding that buyers also expect more amenities.
Lai Sing Louie, a regional economist with the Canada Mortgage and Housing Corporation (CMHC), says first-time home buyers should consider starter homes as "a chance to build equity," and that a buyer might need to compromise on those wants out of cost considerations.
On the plus side, Saunders says there is more choice today when it comes to starter homes. "There are a lot more options for first-time home buyers," he says, listing townhomes, laned houses and those with attached single garages as examples.
Mattamy Homes, for example, offers a three-bedroom, single-car townhome starting at $249,000. It also has townhouses that feature two master-bedrooms, reflective of the evolving profile of the first-time homebuyer, which may include roommates sharing mortgage payments.
As family formation often starts later these days, more singles are buying first-time homes and first-time home buyers are also older than they were in years past...in their thirties, instead of in their twenties, something Moore attributes to money. "Salaries have not increased at the same rate as the cost of homes," she says, adding it's not uncommon for baby boomers to help fund their childrens' first home purchases.
"As an industry, and working in partnership with government, we need to be concerned about one thing: A huge group of Millennials want to purchase their first homes, and we need to be able to meet that demand. We need to ensure we have some positive measures in place that will increase affordability and access to home ownership," Moore says.
Saunders maintains that first-time home buyers are an important market wedge for Mattamy Homes. "We put a lot of importance on that sector, and we always strive to provide value for starter homes," he says.
When it comes to re-sale value, Louie references those two real-estate chestnuts: land and location. "Those are real assets when considering re-sale value," says Louie, adding that proverbial rule-of-thumb applies even to starter homes.
Saunders adds those homes located in master-planned communities – like those Mattamy builds (e.g. Cityscape) – tend to have better value retention. Moreover, he says, master-planned communities are one reason why there's more choice in today's starter-home market. "A master-planned community is designed to have varied architecture with streetscapes that are appealing. When we have those designs integrated into the community plan, it ends up offering more choice for consumers," says Saunders, adding that a "good portion" of residents in master-planned communities are first-time homebuyers.
Despite the price tag, Moore maintains that buying a home remains a solid investment strategy. "Market conditions and economy can have an impact but, over the long term, home ownership remains a great investment," she says.
"The interest rates are the lowest they've been in a long time, and mortgage rates are likely to remain low for at least another year," says Louie, adding that, from a financing perspective, now is an opportune time to make the leap into home ownership.
"Calgary is in a great environment for the starter market. Prices are at levels they haven't been at for some time, which offers a huge opportunity for new-home buyers," echoes Saunders.
Tagged: attached | Calgary Real Estate | Calgary Real Estate News | canada mortgage and | chba-udi | CMHC | donna moore | Feature | first-time homebuyers | Homebuyers | Lai Sing Louie | lane homes | master-planned | Mattamy Homes | starter home | townhomes | YYCRE
---
---
Connect With Us