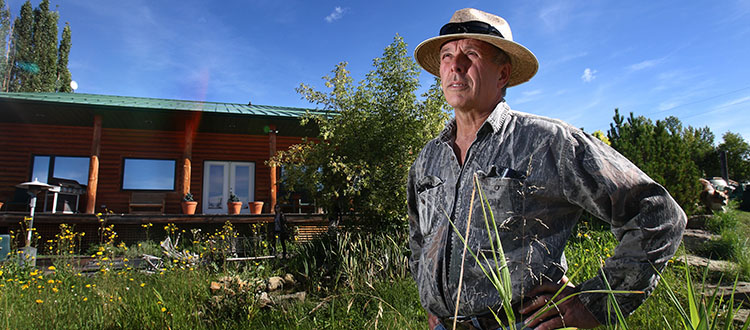 DeWinton Community Association president Dusty Dancer says acreage living appeals to homeowners looking to create their own oasis. Photo by Wil Andruschak/for CREB®Now
Aug. 26, 2016 | Alex Frazer Harrison
The appeal of acreages
Out-of-town living resonates for those looking for laid-back lifestyle
Dusty Dancer likes his privacy – a natural evolution having owned an acreage property south of Calgary for nearly two decades.
So he gets the appeal of how some homeowners might be looking to leave the city for a little r 'n r.
"Some have their own nine-hole mini-golf course. You can make it whatever you want to be. You can't do that in the city," said Dancer, president of the DeWinton Community Association.
"It all goes back to lifestyle and good health. You can buy an acreage for less than $500,000, but some want to pay $3 million for a killer condo in Eau Claire."
And while he can see the appeal of having city services nearby, "I'd rather have [the acreage] further away," because there's less traffic and more privacy.
That said, Dancer admits the acreage lifestyle isn't for everybody. Older or busy homeowners, for example, can find it a challenge to maintain larger properties. Yet he points to a growing number of rural communities with single-family homes, too.
"We all have the feeling that we're on an acreage."
When Sherry Hewitt retired, she and her husband wanted to move just outside Calgary. They found their dream home in Elbow Valley, a community of about 600 homes just west on Highway 8.
"We all have the feeling that we're on an acreage," said Hewitt, adding the community's proximity to hiking trails and nature was a big selling point.
"It has everything we wanted while not being in the city, but we can get to the city instantly. I like the fact you can be rural without having to do the whole acreage thing. There are beautiful villas up in Bearspaw, and a lot of retired people have moved in there. They have the whole rural feel, but it's lock-and-leave."
The timing to shop for an acreage home might also never be better. According to CREB® chief economist Ann-Marie Lurie, sales year-to-date in the Rocky View region are down "double digits" over the previous year, sitting at 186 as of the end of July, leading to price declines.
The benchmark price in Rocky View dropped seven per cent, with a year-to-date benchmark price of $949,014 (compared to a more-than-$1 million average at the end of 2015.
"New listings have also been declining at a rate that's similar to a decline in sales," said Lurie, noting CREB®'s stats combine acreage and non-acreage properties.
Sales in the Foothills region are also "off significantly," said Lurie (105, year-to-date), though the inventory levels are "fairly similar to last year."
Year-to-date prices in the Foothills sit at $674,971, compared to the 2015 annual average of $704,817.
Calgary real estate professional Rob Copping confirms changing winds in the economy has shifted the types of acreage buyers he now typically works with.
"In 2014, it was all oil and gas. Now I'm seeing professionals like doctors, lawyers who are looking for a bargain in this economy," he said.
Tagged: Acreages | Calgary Real Estate | Calgary Real Estate News | CREB® Chief Economist Ann-Marie Lurie | Feature | Home Sellers | Homebuyers | MD of Foothills | Rocky View County | Rural | YYCRE
---
---
Connect With Us