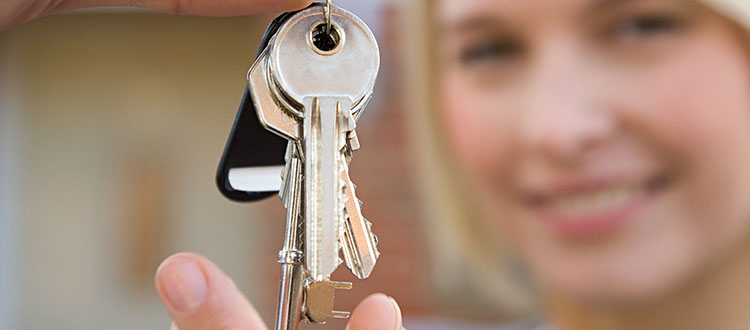 Before taking the keys for your first home, experts suggest buyers plan for expenditures that go beyond the purchase price such as appraisal fees, legal fees, taxes and furnishing. Supplied photo
Sept. 22, 2016 | CREBNow
Five tips for first-time buyers
Advice from the experts
Buying a home will be the biggest purchasing decision most of us will face in our lifetimes. Adding to the weight of that decision is going through it the first time.
"Buying a home can bring together both excitement and stress, especially for a first-time homebuyer," said RBC Financial regional vice-president Joshua Johner.
"First-time homebuyers often need extra advice throughout the process. It's difficult to know exactly what to expect, but most issues can be resolved by doing a little homework at the outset."
The good news is first-time homebuyers are not on their own. Here are five tips from the experts:
1. Get pre-approved
Johner urges first-time buyers to get pre-approved for a mortgage so they know how much they can spend.
"Talk to a mortgage specialist about mortgage products, terms, payment options and rates," he said.
"Share the pre-approval with your REALTOR® so they only show houses that are a fit for your budget."
2. Don't forget hidden costs
Plan for expenditures that go beyond the purchase price, said Johner – for example, appraisal fees, legal fees, taxes and furnishing inside and outside.
3. Get a home inspection
A home inspection could identify a simple cosmetic problem or safety isssue that could be potentially life threatening, noted Wayne Finnley, president of the Canadian Association of Home and Property Inspectors – Alberta.
Finley said many first-time buyers walk into a home, "and they love the kitchen or the bathrooms, or the general layout, and they look right past everything else." That's why you need an unbiased, independent review of the home.
"Your CAHPI inspector should not care whether (you buy) the home or not. They have no vested interest in it," he said.
4. Use the services of a REALTOR®
Canadian Real Estate Association president Cliff Iverson said many homesbuyers research potential homes using the realtor.ca, "but what's really important is the interpretation of that data, and that's where a REALTOR® comes in.
"A REALTOR® can get (a homebuyer) all the information to make an informed decision in terms of comparable prices in the neighbourhood, market conditions and also make them aware of the steps they need to go through in a home purchase."
5. Do your research
Ask questions and do your homework, said Johner. Speak with other homeowners to get a real-life perspective on what it's like to own property.
"Know where you want to be today and five years from now, and plan accordingly."
Tagged: advice | Calgary Real Estate | Calgary Real Estate News | CREA president Cliff Iverson | Feature | first-time homebuyers | home inspection | Homebuyers | Mortgage | RBC | REALTOR | YYCRE
---
---
Connect With Us