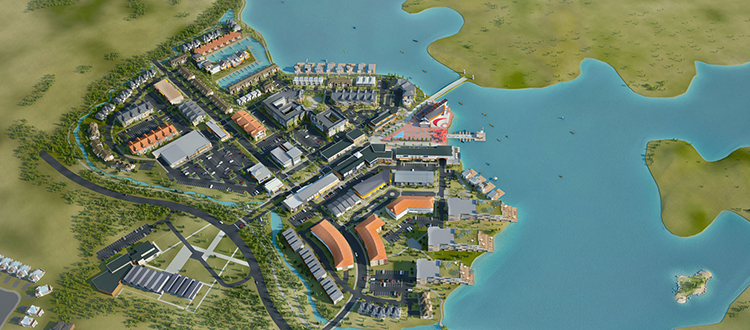 Harmony, located west of Calgary, will not only have 3,500 homes when all is said and done, but will also have its own village retail core and a large lake and wetland area. Illustration courtesy Bordeaux Developments
May 09, 2016 | Joel Schlesinger
The great balancing act
Urban developments are playing nice with rural areas, say experts
Responsible urban development currently taking place outside of Calgary proves that growth doesn't have to come at a cost, say local agriculture and planning officials.
As subdivisions push evermore into rural areas — with neighbourhoods bordering on fields of wheat and other crops — their impact on agricultural land has recently become a hot-button topic, said Tim Dietzler, an agricultural expert with Rocky View County.
"This is not a new issue in this area or any area in Alberta with development new agricultural land," he said. "But many municipalities now pay much more attention to the potential problems that can arise."
He points to Harmony in Springbank as an example of the emphasis now being placed on buffer zones, both natural and man-made.
Calgary's Bordeaux Developments has been working on the much-anticipated master-planned community west of the city for the better part of a decade. And it's done so while working closely with county officials and neighbouring agricultural producers to minimize impacts to nearby sensitive areas through thoughtful design, said spokeswoman Meghan Donaldson.
"As Rocky View balances growth pressures and its rural heritage, it is working diligently to make sure any development is a positive addition to the region."
"As Rocky View balances growth pressures and its rural heritage, it is working diligently to make sure any development is a positive addition to the region," she said. "What we can do by working closely with the county is make sure that we understand its objectives."
The development once fully built out will eventually be home to 10,000 people with about 2,500 residences, a golf course, various amenities and even a 57-hectare lake.
Rocky View County is also taking steps to address these challenges that include implementing a new set of guidelines for developers that will reduce the impact of new subdivisions on their farmer neighbours.
Dietzler said the potential for the introduction of pest, invasive weeds and disease is a real concern among agricultural producers.
"Even on a small four-acre development, traffic coming in and out of the construction site can bring in pests that threaten the bio-security of an agricultural operation," he said.
Farmers have other concerns too, including "problematic pets," added Dietzler. "That's a nice way of saying that often livestock are harassed by dogs that are off-leash."
Rocky View has managed to stem many of the problems by limiting most development to about 10 per cent of its available land, with the remainder set aside for agricultural use. Still, development can and does occur adjacent to agricultural operations. That's where Rocky View's new guidelines will play a major role in mitigating some of the potential sore spots that can arise.
Among the guidelines are having larger lot residences on the outside of the subdivision with the more high-density residences in the centre.
While rural-bordering subdivisions present challenges that need to be managed by both developers and municipal districts, they can also raise concerns for their larger urban neighbours, said Beth Sanders, an Edmonton-based urban planner.
"Many people who live in these developments work in the city and use city facilities," she said, adding they often use city's leisure facilities – such as arenas and libraries – and roadways to commute.
"They use all of those facilities that actually don't make money," said Sanders. "They cost money, so there can be tension between new developments in counties and larger municipalities."
This issue too is now being addressed more than in the past as communities like Airdrie, and Okotoks grow around Calgary.
Dietzler noted "it's all about good neighbours," pointing to non-binding inter-municipal development plans that currently exist between developers and municipalities in the region.
Tagged: agriculture | bordeaux developments | Calgary Real Estate | Calgary Real Estate News | Development | Feature | harmony | Rocky View County | Rural | Springbank | Urban | YYCRE
---
---
Connect With Us