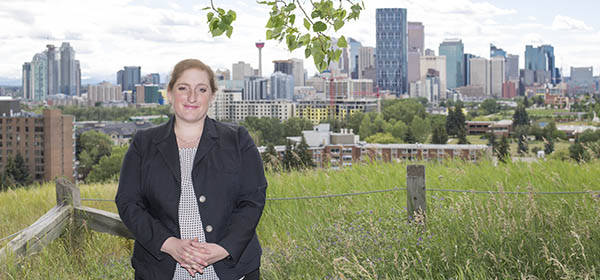 Often-overlooked statistics such as months of supply and sales-to-new-listings can be key indicators of what's really going on in the housing market, says CREB® chief economist Ann-Marie Lurie. CREB®Now file photo.
June 06, 2016 | Mario Toneguzzi
Dissecting housing demand indicators
CREB® chief economist walks through often-overlooked housing statistics
Months of supply is a statistic that often gets lost in today's housing market, yet it is an important indicator of the relationship between supply and demand, says CREB® chief economist Ann-Marie Lurie.
"It gives us one indication of balance in the market," she said of months of supply, which is the amount of time it would take to sell current inventory.
"If the number is really high – so you have a higher level of months-of-supply – that essentially just means that there's more supply than demand in the market and it generally correlates with declining prices in the market.
"If it's really tight – so there's not a lot of supply in the market – then that generally means that there's not enough supply relative to demand. That causes stronger price increases. This is a fairly important stat because it gives you a bit of an indication on price."
At the end of May, months of supply in Calgary was more than three, higher than last year as supply levels have risen and demand has fallen.
While this scenario has persisted over the past nine months, it has started to ease lately, particularly in the detached market. Since the beginning of the year, months of supply have decreased from 6.57 in January to 5.03 in February, 3.84 in March and 3.54 in April.
Sellers' conditions emerge once months of supply are less than two months for a period of at least three months, said Lurie. Conversely, the market can start to demonstrate buyers' conditions when months of supply push above three.
"Over four months is when we really start to see a lot more challenges. In our market, we typically see normal activity between two and three months," said Lurie.
The sales-to-new listings ratio also looks at the supply relative to the demand in a market. But new listings do not take into account the existing inventory.
"The ratio gives us some indication of if it's a sellers', buyers' or balanced market," said Lurie. "If that ratio is really high, it tells us that most of those new listings are selling and it's limiting that additional inventory on the market.
And if that ratio is really low, then it just means not a lot of product is selling."
In May, that ratio was near 56 per cent, down from 64 per cent during the same period last year.
The sales-to-list price ratio is sometimes used as another gauge of what's happening in the market, particularly when it comes to prices. Lurie cautioned, however, that the ratio does not deviate as much as other statistics because it's based on the last list price of a home.
"So it doesn't necessarily reflect actual price adjustments occurring in the market," she said. "When I'm looking at that, I'm just looking on how it's trending – up or down. Obviously, if it's trending down, that means people aren't getting as close to their list price as they were originally getting."
Tagged: benchmark price | buyers | Calgary Real Estate | Calgary Real Estate News | CREB® | CREB® Chief Economist Ann-Marie Lurie | Homebuyers | housing statistics | months of supply | new lisitings | sales | sellers | Uncategorized | YYCRE
---
---
Connect With Us