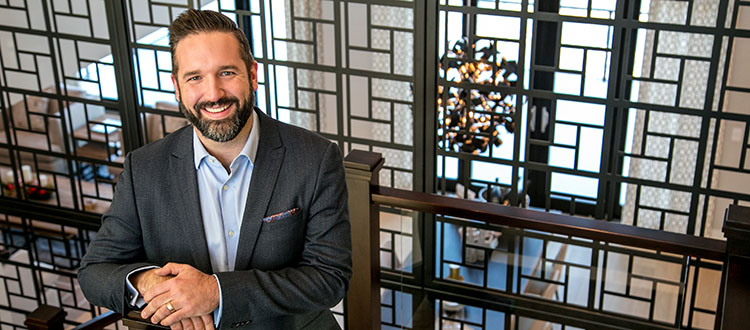 Matthew Jones, senior director of development with Macdonald Development Corp. Photo by Michelle Hofer/For CREB®Now
Dec. 21, 2016 | Paula Trotter
March of the million-plus
Luxury sales numbers rebound; experts point to demand's impact on pricing
Calgary's luxury resale housing market bucked the trend in 2016, posting modest improvements in sales volumes throughout the year and recovering somewhat from the significant decline experienced in 2015.
Yet industry observers urge caution at interpreting this past year's numbers at face value, saying a return to long-term averages is still far away.
Despite sluggish economic conditions, 575 residential properties (homes and apartments) valued at $1 million or more sold between January and November, compared to 483 within the same time frame in 2015.
More than 800 higher-end homes sold in the first 11 months of 2014, a record for the city.
"Even though sales increased slightly, it is still far lower than what we are used to seeing," said CREB® chief economist Ann-Marie Lurie.
Price adjustments driving growth
Lurie has not been surprised to see luxury transactions increase this past year, especially considering the segment saw such significant declines in 2015.
"It was the first segment to be impacted, which is really consistent with overall economic conditions – most of the job losses occurred in the higher-paid professions," she said.
She also noted demand for million-dollar homes has been down longer than lower- and mid-range segments, which has influenced pricing more favourably in buyers' favour. Communities with a benchmark price of more than $1 million experienced much steeper price declines than elsewhere in the city.
"We have seen price adjustments range, depending on the area, from six to 12 per cent," said Lurie.
"Whereas citywide, that adjustment has been closer to four per cent."
"The higher-end segment is not as challenged as it once was, but it is still facing some challenges."
She added the segment is unlikely to fully rebound until the province's economy demonstrates sustained improvement, creating growth in higher-paid professions.
People are still buying
While overall sales remain down from highs in 2014, there is still considerable interest in the luxury housing market, said Matthew Jones, senior director of development with Macdonald Development Corp., the developer behind Watermark at Bearspaw west of the city where luxury homes start at $1.1 million.
New home sales in the community stayed fairly consistent between 2015 and 2016 at 20 and 19, respectively, said Jones.
Twenty-six luxury spec homes were also sold in 2015, compared to 11 in 2016.
"We weren't sure what to expect in 2016," Jones said. "So the builders started to slow down on building [spec homes] and didn't offer as many this year just because of the uncertainty."
Jones believes low mortgage rates have continued to drive interest in the higher-end housing market.
He also thinks homebuyers continue to consider the pros of purchasing a new estate home to outweigh the cons.
"They maybe decided it is better to move and to take the money out of their home now, to invest in a new luxury home that will only increase in value," said Jones.
Tagged: Bearspaw | Calgary Real Estate | Calgary Real Estate News | Community | CREB® Chief Economist Ann-Marie Lurie | Homebuyers | Housing Market | luxury | million dollar market | Watermark | YYCRE
---
---
Connect With Us