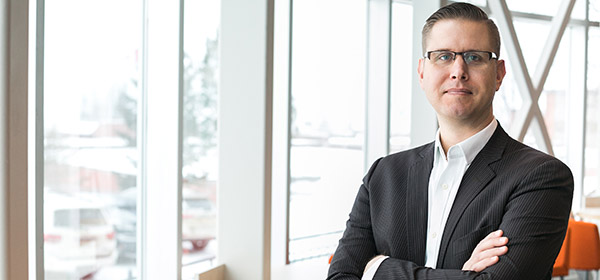 CREB® president Cliff Stevenson. Photo by Michelle Hofer/for CREB®Now
June 11, 2016 | Mario Toneguzzi
Sellers adjust to buyers' market: CREB®
Reality starting to sink in, says board president
Calgarians looking to sell their homes are slowly coming to the realization that it's a buyers' market and are beginning to manage their price expectations, says CREB® president Cliff Stevenson.
"I think there's still something to the fact that sellers are still adjusting to this – to the fact the pendulum has definitely swung in the buyers' favour. I think you've got some sellers that are obviously taking a bit longer to figure this out than others," said Stevenson, noting CREB® officially labelled it a buyers' market in November 2015 after three consecutive months of inventory increases.
"But sellers are still getting enough media pumped their way to understand the market has shifted. It's just figuring out to what degree. And that's a case-by-case basis, for sure."
In May, the benchmark price – which CREB® describes as for typical properties sold in a market – was $439,700, down 3.95 per cent compared with May 2015. At the same time, listings increased year-over-year by nearly five per cent to 3,319 units and months of supply rose nearly 30 per cent to more than three.
"The definition of 'priced right' is what some home sellers are really trying to get their minds around."
Although location has traditionally been the primary factor in purchasing decisions, Stevenson said pricing is currently driving the market.
"It's the watercooler subject of the day," he said. "Buyers are all talking about what kind of deal they think they can get, and sellers are talking about the fact that they've adjusted their prices. Quite frankly, when the two of those intersect, that's when the house is selling.
"The definition of 'priced right' is what some home sellers are really trying to get their minds around."
Despite the dynamic between lower demand and higher inventory, prices in the Calgary real estate market have remained resilient, added Stevenson.
"Our volume is dropping double digits year-over-year every month, but our pricing has been incredibly resilient. It flies in the face of every comment made by any expert out that was predicting 20, 25 per cent reduction in our market,'' he said.
Residential benchmark prices in the city peaked at $462,400 in January 2015, which is 4.9 per cent above May's price, according to CREB®.
Tagged: benchmark price | Calgary Real Estate | Calgary Real Estate News | CREB® | CREB® president Cliff Stevenson | demand | Home Sellers | Homebuyers | inventory | Uncategorized | YYCRE
---
---
Connect With Us