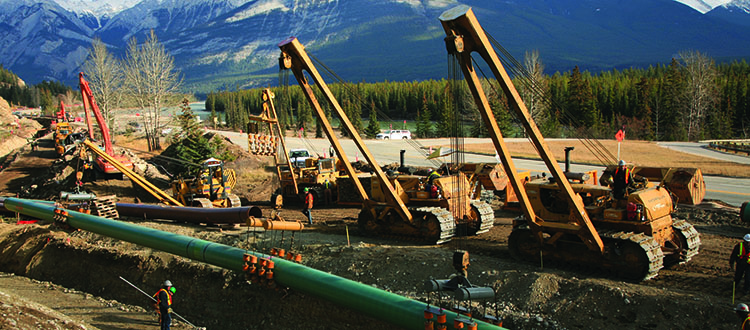 Kinder Morgan's Trans Mountain line would increase access to Asian markets. Photo courtesy Kinder Morgan
Dec. 21, 2016 | Brian Burton
In the pipeline
Energy project approvals spark good news for real estate; just unclear as to when, say experts
In the closing days of 2016, Calgary's oil-driven housing market has received a welcome jolt of excitement from the federal government.
Ottawa approved not one, but two multi-billion-dollar oil pipeline projects, promising to move nearly one million barrels per day (bpd) of additional oil to United States and global markets upon completion. The two new pipeline projects would increase Canadian oil shipping capacity by 24.9 per cent.
When projects will actually break ground — and spur major new oil developments — remains unclear. Experts say while long-awaited pipeline approvals will give a much-needed lift to business sentiment in both the energy and real estate markets, tangible improvements in employment levels and housing sales are likely still some distance in the future.
"It's a signal," CREB® chief economist Ann-Marie Lurie said of the approvals. "It's good for confidence, but, at the same time, it needs to translate into activity. We need to see an actual change in employment."
Across Alberta, the seasonally adjusted unemployment rate for Dec. 2 reached nine per cent, up from an annual average 4.7 per cent in 2014. But in Calgary, where head office cutbacks are concentrated, unemployment levels that opened 2016 at 7.1 per cent rose to 10.5 per cent by years' end.
Job losses reflected a glut on world oil markets that saw global prices drop from $100 US per barrel in the first half of 2014 to lows around $32 at the beginning of this year, before climbing to around $50 in mid-December. As a result, CREB® figures show total resale housing turnover has dropped some 30 per cent from the record pace of sales in 2014.
Remarkably, the benchmark price has declined less than three per cent over the same two years, including a slight recovery in 2016.
Don Campbell, senior analyst with the Real Estate Investment Network of Canada, predicts the incoming administration of U.S. president-elect Donald Trump will quickly approve the long-delayed Keystone XL pipeline project.
"2017 will be another difficult year for Calgary real estate."
But Campbell said the days of making money on a short-term-flip strategy in the Calgary real estate market are over for the foreseeable future. In Calgary, investors have to be prepared to hold new real estate purchases a minimum of five years if they expect to make a profit, he said.
"Despite the pipeline announcements and the current 'positive glow,' our analyses of economics and demographics are showing that 2017 will be another difficult year for Calgary real estate," Campbell said.
He attributed this to the housing market being a lagging indicator, following some 18 to 24 months behind general economic trends. But he said market recovery will also be restrained by a federal increase in minimum qualifying rates for mortgages, as well as by the impact of a new Canada-wide carbon tax framework.
"The sad part of it is that this represents jobs that no longer exist."
In commercial real estate, many Calgary office towers, "have joined the one-acre club," meaning they have at least one acre of vacant office space – though some buildings have multiple acres that are empty.
"The sad part of it is that this represents jobs that no longer exist," said Campbell.
There's little doubt pipelines, if and when they are built, will be important to the Alberta economy. The Enbridge Line 3 project would cost $7.5 billion to refurbish 1,660 kilometres of transmission line between Hardisty, Alta., and Superior, Wisc., enabling a boost in operating pressure and increased deliveries of 370,000 bpd.
Kinder Morgan's $6.8-billion expansion of the 980-kilometre Trans Mountain line from Edmonton to Burnaby, B.C., would increase its capacity by 580,000 bpd — and open access to Asian markets for the first time — while the 1,900-km Keystone XL project, from Hardisty to Steele City, Kan., would cost $8 billion and carry some 830,000 bpd of Canadian- and American-produced oil.
Warren Mabee, director of the Institute for Energy and Environmental Policy at Queen's University, pointed out the major economic impacts of pipeline construction are still months or even years away. He attributes the delay to anticipated "pushback" from environmental groups, some of which are opposed to oil development of any kind.
"That hard line that a lot of environmentalists draw is a false one," said Mabee.
Still, the oil industry has to articulate a future that looks different from its past if it hopes to gain public support for major new infrastructure, he added.
"Just saying the industry has to keep going because it's so important isn't good enough," said Mabee. "Climate change changes everything."
Tagged: Calgary Real Estate | Calgary Real Estate News | carbon tax | Commercial Real Estate | CREB® Chief Economist Ann-Marie Lurie | Don Campbell | Economy | enbridge | Energy | keystone xl | kinder morgan | pipelines | YYCRE
---
---
Connect With Us