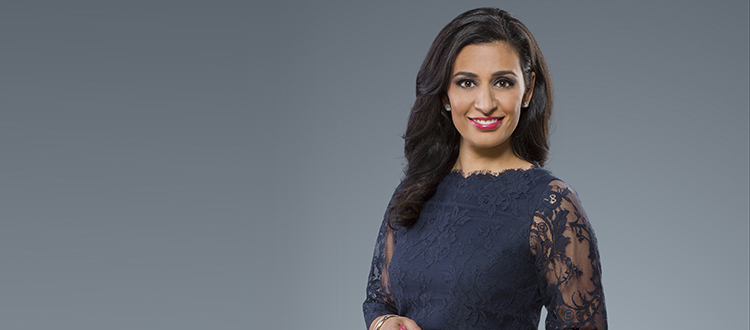 Manjit Minhas - who is CEO and co-founder of Minhas Breweries & Distillery, as well as a Dragon on CBC's Dragon's Den, will be the keynote speaker at the 2017 CREB® Forecast and Tradeshow.
Dec. 16, 2016 | Jamie Zachary
'People need to plan to weather storms:' Minhas
CREB®Now sits down with 2017 CREB® Forecast and Tradeshow keynote speaker Manjit Minhas
Manjit Minhas is a name brand – literally. She's CEO and co-founder of Minhas Breweries & Distillery, makers of Boxer Lager, Lazy Mutt Ale and Huber Bock. And for the past two years, she's gained national fame as a Dragon on CBC's Dragon's Den. In January, Minhas will be the keynote speaker at the 2017 CREB® Forecast and Tradeshow.
CREB®Now
recently had the opportunity to sit down with her to get a sneak peek at what she plans to talk about.
CREB®Now:
Can you provide a sneak peak of what you plan to talk about at the 2017 CREB® Forecast and Tradeshow?
Minhas:
I plan to talk about leadership and how it pertains to a lot of what's going on in this day and age – and how, over the past decade and a half, my own leadership has been tested and what mottos I live by when it comes to that. I also plan to talk about entrepreneurship. I really do believe REALTORS® are their own entrepreneurs, even though many of them don't think of themselves that way always. Just because there's so many in the same business doesn't mean that has to cast a shadow on what they do or how they do it. There's still many ways to still do things differently.
CREB®Now :
What advice would you give an entrepreneur, regardless of the economy?
Minhas:
Everything goes up and everything goes down. We don't have any control over it, for the most part. So you have to take the good with the bad and plan for the bad when it's good. And when it's bad, you look to diversify, work a little bit harder and take advantage of those opportunities in front of you a little more seriously than when things might have come easier.
People need to plan to weather storms. Whether you have control over it or not, everyone has times that are not good – including situations where people experience failures, of which I have had more than a couple of. People bounce back from those times. It's about coping mechanisms and how you manage that as a team.
CREB®Now:
Do you feel failing is part of succeeding in business?
Minhas:
I have no problem talking about my own failures. It's part of who we are and our story. It's important for entrepreneurs especially to know that it happens, and just because things are not going in the direction they'd like it to, they should not jump ship. The line to success is not a straight curve up for anybody. It's about managing those failures and learning from them.
We've has many mis-steps. For every one product that comes out that's successful, there are three behind it that have not been. About a decade ago, we had a line of wines that was a complete disaster. We also had struggles in Ontario about 12 years ago that almost cost us our company. There have been many different defining moments in the last 17 years. It's just about how we been able to manoeuvre them and how we've been blessed and lucky enough to have some successes after them that have at least covered those failures up.
CREB®Now:
How do you feel your story relates to real estate?
Minhas:
Whether you're selling beer or selling homes or commercial real estate, it's about loving what you do. Entrepreneurs are more alike than they think they are – even between industries – because we all have the same challenges: HR, accounting, sales, marketing ... So I think people will be surprised when they hear my stories and how they can relate to them.
CREB®Now:
?What experiences will you take from your time on Dragon's Den and bring to the 2017 CREB® conference?
Minhas:
I feel I have become more of a person who not only invests in companies, but more in people. Over the past two years, I have really got to know who I like to work with rather than the business, industry or product. That's really how the needle goes in determining whether I pull my chequebook out. It has been interesting too in my own life and my own company to see how the rest of the world works.
CREB®Now:
Lastly, is there one thing you hope people take away from your keynote?
Minhas:
The importance of mentors in people's lives. I really hope think about either being one or finding one – not only in their professional lives, but personal lives, too. Especially during these times, we need to lean on one another and provide support as a community.
Tagged: Calgary Real Estate | Calgary Real Estate News | Dragon's Den | Economy | Economy | entrepreneurs | Forecast Conference | Manjit Minhas | Real Estate | REALTORS | YYCRE
---
---
Connect With Us