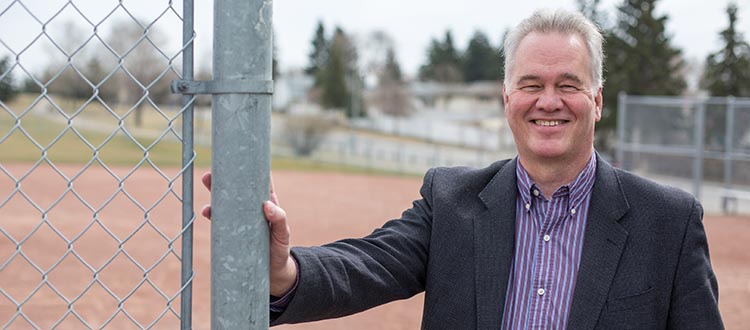 Bob Jablonski, who coached baseball for 17 years, said his motivation to become CREB® president in 2012 stemmed from his desire to make a difference. Photo by Michelle Hofer/For CREB®Now
Nov. 19, 2016 | Cailynn Klingbeil
55 Years of Calgary Real Estate: 2012 CREB® President Bob Jablonski
Former CREB® president Bob Jablonski recalls 2012 as the year it started to turn around
Bob Jablonski doesn't have to look back too far to remember the last time Calgary's economy was booming.
During his year as CREB® president in 2012, the city was running at a full sprint due to good fortunes in the oil patch. Completion of the new West LRT, The Bow and Peace Bridge were just three of the many major initiatives that came to fruition in Calgary that year, noted Jablonski, who remembered, "the city was getting big and busy."
For many, particularly those in the real estate sector, the good news was overdue. Calgary's housing market had slumped since the 2008 financial crisis, not recovering at the same pace as other Canadian cities.
"It was good to have a normal marketplace, with increasing consumer confidence, in which to work," Jablonski wrote in his final 2012 president's message.
The resale home market in 2012 achieved a "nice, consistent balance," Jablonski said, fair for buyers and sellers. By year's end, sales volume was up 15 per cent compared to 2011, while the benchmark price was up 2.5 per cent to $384,992.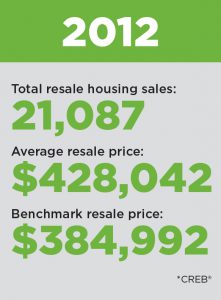 While Calgary's growth ran contrary to national trends, the local market was still only recovering, not overheating, reminded officials.
"Calgary's housing market had finally started to recover," said CREB® chief economist Ann-Marie Lurie, reflecting on the 2012 market.
"While prices remain shy of the highs recorded in 2007, this was a move in the right direction."
Lurie attributed growth in the energy sector with fueling the recovery, affecting employment and migration, which, in turn, led to increased housing demand. As new listings of single-family homes declined, prices increased. That led to buyers exploring housing alternatives and boosting sales in sectors such as condominiums.
While the market recuperated and city bustled with activity, CREB® experienced its own transition in 2012. That year the first full year for new CEO Alan Tennant, whose predecessor, Ron Esch, served 25 years at the helm.
"It was a huge change," Jablonski said. "In transition, you learn lots about life and people."
Jablonski has been part of numerous changes throughout his real estate career, which began in 1987. One of the biggest has been in the way real estate professionals and their clients communicate – away from face-to-face interactions to digital exchanges.
That shift is something Jablonski sees first-hand through his business partnership with son David. The duo makes up Jablonski Real Estate Group.
"He's taught me lots and I've taught him lots," Jablonski said. "He's shown me lots of things technologically, and I've shown him the old routine, the basics of real estate: be yourself, show the value of your services, talk to people."
Technological change manifested in other ways that year, too, as CREB® launched a pilot program for a new condominium lobbybox system in the city. The program followed a member-led task force to address safety concerns after an agent was assaulted while trying to access a lockbox in a dimly lit area.
Jablonski looks back at initiatives such as the lobbybox program, which benefited the real estate community, with a sense of pride. Early on in his time volunteering for CREB®, Jablonski decided one day he would be president so that he to help make a difference.
"I liked being part of what's going on here, and I was made aware of how I could make change," said Jablonski, who coached baseball for more than 17 years, and is continuing the volunteer tradition alive by currently serving as president-elect of the Alberta Real Estate Association.
Tagged: 55 years of calgary real estate | benchmark price | Bob Jablonski | Calgary Real Estate | Calgary Real Estate News | CREB presidents | CREB® | CREB® CEO Alan Tennant | CREB® Chief Economist Ann-Marie Lurie | past presidents | Ron Esch | sales | Technology | Uncategorized | YYCRE
---
---
Connect With Us