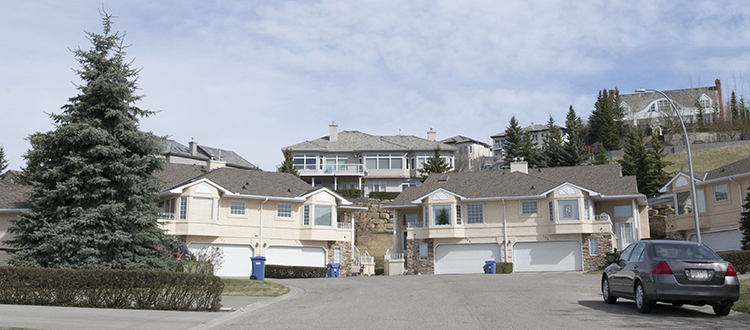 May 16, 2016 | Mario Toneguzzi
Calgary is still among most affordable: experts
Household income strong when compared to housing prices, other cities
Calgary homebuyers will continue to fare well as the city's affordability index will likely outpace other major urban centres in the country for the rest of this year, say experts.
RBC Economics senior economist Robert Hogue attributes Calgary's affordability moving forward to continued high household incomes in the city – especially when compared to cities such as Vancouver, Toronto and Montreal
"It's not because house prices are so cheap. It's because it's the market in Canada where the income is the highest," he said. "We measure affordability as a percentage of household income."
Each quarter, RBC releases its affordability measure, which takes in the proportion of median pre-tax household income that would be required to service the cost of mortgage payments (principal and interest), property taxes and utilities.
RBC's affordability measures for the country in the fourth quarter of 2015 pegged Calgary at 35.3 per cent, compared to the national average of 46.7 per cent.
Vancouver outpaced all centres at 81.1 per cent, followed by Toronto (60.6 per cent), Victoria (46.4 per cent) and Montreal (43 per cent).
At the other end of the spectrum, Saint John, N.B., was the most affordable place to live, according to the survey, with residents needing only 27.1 per cent of their household income to service a home. It was followed by St. John's (27.6 per cent), Regina (28.3 per cent) Halifax (29.7 per cent), Winnipeg (29.9 per cent), Ottawa (31.1 per cent), Edmonton (31.4 per cent), Saskatoon (32.7 per cent) and Quebec City (33.3 per cent).
Calgary's affordability measure increased only slightly, by 0.2 per cent both from the previous quarter and from a year ago. Nationally, it was up 0.6 per cent on a quarterly basis and by 1.7 per cent annually.
RBC's report also indicated Calgary's average for the measure since 1985 was 40.1 per cent, compared with 42.7 per cent nationally.
RBC said resilience in property values has traditionally kept affordability trends stable in Calgary. Early data for 2016 shows evidence that downward price pressures are intensifying, which is expected to benefit affordability in the year ahead.
Hogue, who believes Calgary housing price declines in recent quarters have been minimal, expects further improvement in the city's affordability measure when the next RBC report comes out on the first quarter data later this spring.
However, that measure could also be affected by lower income levels in the province due to contractions with the economy. Statistics Canada reported average weekly earnings in Alberta fell by 3.4 per cent in February from a year ago, continuing a trend of year-over-year declines since last summer.
According to CREB®, the benchmark price – which it says reflects typical properties sold in the market – during the first quarter of 2016 was 3.37 per cent lower than the same time last year. The average sale price rose by 0.28 per cent and the median price was the same.
CREB® chief economist Ann-Marie Lurie said prices have been falling in the Calgary market, which improves affordability. But she noted household incomes have dropped as well during that time.
"So it's really going to come down to what outweighs what," she said, adding there are other things that are weighing far heavier in our market right now rather than affordability such as overall economic conditions.
Tagged: affordability | Calgary Real Estate | Calgary Real Estate News | CREB® Chief Economist Ann-Marie Lurie | Economy | Economy | Housing Prices | Mortgage | RBC | YYCRE
---
---
Connect With Us