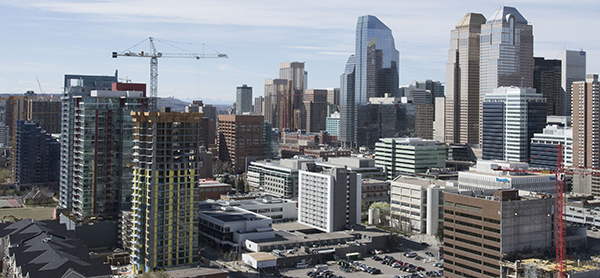 CREB®Now Archive
July 25, 2016 | Mario Toneguzzi
Rise of the office condo
Ownership model opening new doors for developers, businesses
Calgary's emerging office condo market remains hot this year, according to Barclay Street Real Estate.
The commercial real estate brokerage noted in a report earlier this month that development and sales activity in the local market has been robust thus far in 2016, which, "has led to a fertile market in which developers are diversifying their portfolios among different real estate assets such as office buildings, hotels, mixed-use retail and residential real estate by adding office condo buildings and professional centres to their holdings."
Historically speaking, office condo units have been developed in small quantities in suburban markets and geared toward professional and medical service industries. Barclay noted the office condo concept has created an opportunity for occupiers to own their office space with the advantages of having fixed and clear costs, full control over the design within the premises and, significantly, tax benefits not available to leasing tenants.
"There's a lot of people that want to own."
"Looking forward, strong capital appreciation of commercial real estate, coupled with a low Canadian interest rate, presents an opportunity for developers to build additional office condos and subsequently attract an increasingly diverse group of occupiers and investors, while owners benefit from overall cost-savings and growing equity," said the report.
Calgary's southeast quadrant currently hosts approximately 65 per cent of Calgary's office condo and professional centre inventory, both current and under construction. Barclay expects the southeast Green Line LRT will increase and expedite transit access to and from this area, thus spurring further commercial condominium development, particularly in the massive mixed-use Seton community.
Barclay Street principal and associate broker Dan Harmsen said some businesses choose to own rather than lease for a number of reasons, including the opportunity to see capital appreciation on their properties over time, as well as the chance to gain equity by paying down the mortgage. Other factors include the ability to control costs and have the flexibility to utilize office space dependent on varying circumstances.
And of course, like the residential real estate market, there is the element of pride of ownership, he noted.
"There's a lot of people that want to own," said Harmsen.
He added businesses looking for less than 10,000 square feet of space have traditionally had a hard finding their own free-standing building. If they are looking to participate in ownership, the condo office market offers them another option.
Bedrock Realty Advisors Inc. principal and office leasing specialist John Savard said many of his clients are showing interest in office condo ownership.
"Driving the escalation are factors such as a municipal focus on 'complete communities."
"I start the conversation with my client's growth plans," he said. "If they tell me they will most likely be the same square footage in seven years, then I highly recommend purchasing an office condo. It is at the seven-year point that the mortgage paydown is substantial enough – assuming only a minimal asset appreciation – that your return on investment is greater than paying rent.
"If my client's seven-year plan has it growing its square footage, then a purchase may not be a wise choice. If my client outgrows its condo before the seven-year point, then it has to find new space and put the condo on the leasing or for sale market."
The Barclay report also noted sizeable increases in lease rates across all types of office space over the previous decade in Calgary, notwithstanding the economic difficulties of 2015 and year-to-date 2016.
"Driving the escalation are factors such as a municipal focus on 'complete communities' in which office, recreation and residential developments are placed in close proximity to one another as a means of reducing the strain on infrastructure," it said.
"Additionally, suburban markets have demonstrated a strong demand for space in higher-quality, often LEED-certified buildings. With lease rates continuing to rise and with Canadian interest rates remaining near-zero, local firms have been taking advantage of opportunities to own their office space at costs competitive with leasing.
Barclay noted the demand for office condos is typically driven by professional service firms – small to medium-sized businesses such as engineering, law, consulting, accounting or contracting firms looking to build equity, as well as local and international investors seeking predictable cash flow.
"While demand varies across markets and building types, the increased office leasing price per square foot and the desire to own have created sought-after investment asset class within the office condo market," said the report.
Tagged: Barclay Street Real Estate | Calgary Real Estate | Calgary Real Estate News | Commercial | Commercial | office condo | YYCRE
---
---
Connect With Us