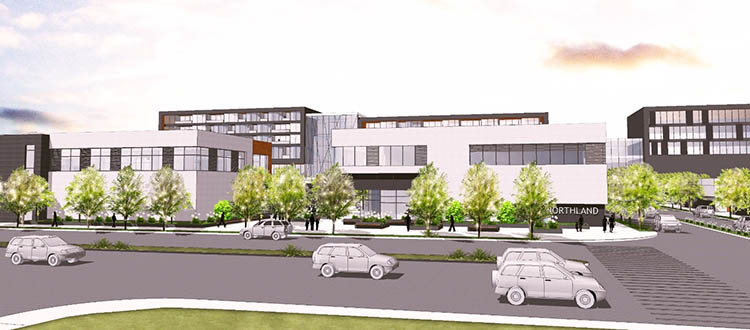 The Northland Village, redevelopment is part of a coming of age for Calgary's retail sector, say officials. Illustration courtesy Primaris
Oct. 26, 2016 | Mario Toneguzzi
Rethinking retail
Calgary's collection of decades-old malls are getting much-needed facelifts
Consumer demand is driving a wave of commercial real estate development in the city with several major shopping centres poised to get major makeovers this year and next.
Deerfoot Mall in the city's northeast, as well as Northland Village Mall and Stadium Shopping Centre in the northwest, are all in the planning or development stages of redevelopment.
Michael Kehoe, an Alberta-based retail specialist with Fairfield Commercial Real Estate Inc., said the collective changes reflect landlords' attempts to breathe new life into decades-old retail hubs, of which there are plenty in the city.
"The Calgary market is experiencing a moderate development phase led by the redevelopment and densification of several mature shopping centres," he said.
"This trend to update aging shopping centre infrastructure is driven by consumer demand for expanded retail offerings that include more than just new retail space. In the past, it seemed that it was enough for a shopping centre landlord to lease a project with fashion and specialty retail tenants to attract shoppers and be successful.
"In the age of e-commerce, consumers are eager to seek-out experiences. Successful shopping centres are often adding entertainment and dining options to the tenant mix that can be replicated online.
Kehoe noted these major redevelopments are possible because of Calgary's stable suburban retail rental rates and competitive leasing environment.
"These factors are driving several high-profile retail redevelopment construction projects in venues such as grocery-anchored community centres, enclosed malls, power centres, mixed-use/lifestyle centre projects, freestanding retail, and main-street/high street retail fuelled by consumer demand," he said.
Western Securities Ltd. vice-president Mike Brescia, whose company owns Stadium Shopping Centre north of Foothills Hospital, said a development permit has been approved for the site's redevelopment, which includes five major buildings and a large open plaza area.
The plan calls for a medical office building (120,000 square feet), office building (215,000 square feet), 189-key hotel, residential mid-rise tower and low-rise residential building with a grocery store on the main floor. All of the buildings will have retail on the main floor.
Brescia said the completed project will include about 260 residential units, as well as about 100,000 square feet of retail space, including the 30,000-square-foot grocery store. There will also be a drug store as well as several food and beverage establishments.
"Now we're just working through drawings to try and refine the concept and get all the engineering done so we can get it built," he said.
"We're hoping to start construction in the mid to latter part of next year. For the full build out, we expect it to take probably about five years."


Brescia said the Stadium Shopping Centre redevelopment will be a legacy project for the city and something different than the traditional development Calgarians have seen in the past.

Deerfoot City will be a similar legacy project for Shape Properties, which is in the process of converting the older enclosed Deerfoot Mall into a regional power centre.

Company executive vice-president Darren Kwiatkowski said the site is in the middle of the transformation with about 400,000 square feet already under construction.

"Given the size of the property – 80 acres (32 hectares) – we have the ability to kind of do the multiple-phase neighbourhood development and still keep it pretty clean and accessible for shoppers that are coming out today," he said.

A new Canadian Tire store is scheduled to open in the fourth quarter. The former Sears store is also being redeveloped with about 40,000 square feet under construction for the Rec Room, a new concept by Cineplex that will likely open in the first quarter of 2017.

The project's most ambitious change involves demolishing part of the old mall to allow for a High Street that would connect the property's north and south sides.

"That will be a big character change. That starts in February and will be opening early 2018," said Kwiatkowski, adding there will be about 30 street-front stores, as well as front parking. Bigger plans for the future include lengthening High Street to accommodate additional shops.

Kwiatkowski said Shape Properties is undeterred with Deerfoot City despite the economic slowdown. In fact, he said retail sales in Calgary are still relatively strong.

"In the retail world, there is a focus on urban large markets. And in Canada, there's only so many and Calgary is still near the top of the list. It's definitely on the radar," he said.

"Secondly, it's a shift in the retail industry as to where retail is going. What you see across North America is a lot of what's called experience-focused centres, which really means something new, something exciting. Usually, it's an outdoor experience – a wider mix of uses, a lot of restaurants, a lot of coffee shops."

Similar plans are in place by Primaris for Northland Village Mall, which will eventually become a multi-leveled, outdoor mixed-use development with a strong retail base including residential and office use.

Officials with the company would not be interviewed at this time, but a spokesperson confirmed the redevelopment would consist of 539,000 square feet of retail space, 68,000 square feet of office space, 61,500 square feet of luxury condo rentals (62 units) and a community plaza with restaurants, coffee shops and social gathering place.

The spokesperson said the company is have shovels in the ground by April 2017.

Tagged: Calgary Real Estate | Calgary Real Estate News | Commercial | Deerfoot City | Deerfoot Mall | Fairfield Commercial Real Estate | foothills hospital | Michael Kehoe | mixed-use | northland village | permit | retail | shopping centre | Stadium Shopping Centre | YYCRE
---
---
Connect With Us