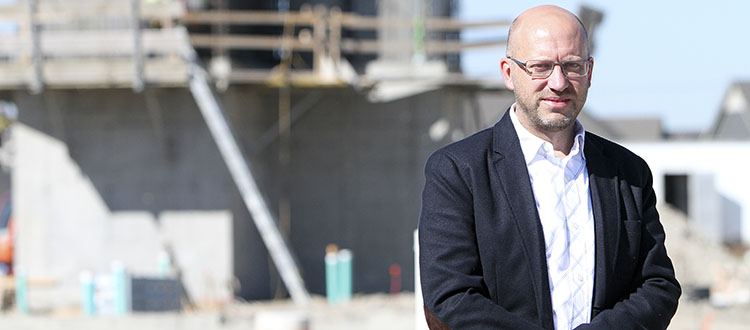 Westmark Holdings general manager Paul Gerla envisions the Cooper's Town Promenade commercial area that's current being developed will be vibrant, functional open-air plaza to harmonize with existing community. Photo by Carl Patzel/For CREB®Now
Aug. 26, 2016 | Carl Patzel
Open for business
Commercial development in Airdrie steady despite downturn
Paul Gerla has long had a vision to develop a vibrant neighbourhood shopping destination in Airdrie's flourishing southwest quadrant.
And he wasn't about to let a downturn in the provincial economy distract him.
"When we evaluate a project like this, we think in terms of decades, not necessarily what's happening today," said Gerla, general manager of WestMark Holding Ltd., which is behind a new five-hectare Cooper's Town Promenade commercial district in the upscale Cooper's Crossing community.
"Places like Cooper's Town Promenade – which will include a grocery store, medical services and large day care – tend to be quite resilient in challenging economic times. The smaller retailers in the centre will really benefit from the constant traffic these anchor tenants generate."
The promenade, scheduled for completion in 2017, is being designed as an attractive walkable commercial space serving several communities along Airdrie's booming Eighth Street S.W corridor and new 40th Avenue S.W. thoroughfare.
Anchoring the southwest corner of Copper's Crossing, which is also being developed by Westmark, the promenade will include a Save-On Foods, wine and spirits outlet, Shoppers Drug Mark, day care and pre-school, coffee shops and restaurants, as well as smaller boutique shops.
"We're pretty happy with how the retail is coming on considering the economy."
Ronmore Developers Inc. is co-ordinating project design and construction of the promenade. Once complete, Gerla pictures a vibrant, functional open-air plaza to harmonize with existing community.
"(We) redesigned the extensive linear park system so that it directly connected to the shopping centre for easy pedestrian access," he said. "We also modified the internal road network so Cooper's Crossing residents can get to the shopping centre without having to head out onto the major perimeter roads."
Despite feeling the pinch of Alberta's sluggish economy, commercial development in Airdrie is strong, say city officials.
In a report issued this week by the City of Airdrie Economic Development department, 87 per cent of local commercial businesses surveyed said they've retained all their employees to date. Of the 76 business surveyed (out of 616 in the city), more than a quarter (20) are still hiring, while only 13 per cent (10) have conduct layoffs — for a total of 26 workers.


"We're pretty happy with how the retail is coming on considering the economy," said City of Airdrie economic development leader Kent Rupert. "Through business licenses and businesses opening up it's been fairly decent, even comparing the last few years."

In addition to Cooper's Town Promenade, the popular Sierra Springs commercial district parallel to the Queen Elizabeth II Highway continues to expand, with the construction of several new restaurants, retail outlets and city services either recently finished or scheduled for completion in early 2017.

The 17-hectare master-planned development by Hopewell Development, which has more than 310,000 square feet of leasable space, is already home to several mid-large box outlets such as Walmart Supercentre, Home Depot, London Drugs, Michaels, Rona, Co-op, Visions and Comfort Inn & Suites

Down the street, Wenzel Developments is still planning for a light-density commercial district within its new Midtown development along Eighth Street S.W. Midtown Plaza will be part of its new 16-hectare development that calls for up to 800 residential units once complete.

The current plan calls for restaurants, cafés, convenience stores and/or retail sales on the northwest corner of Midtown to complement the nearby Creekside Crossing and Bayside Village commercial developments north and south of the site, respectively.

"We sit at about 2.6 per cent vacancy rates. That's still relatively low."

On Airdrie's eastside, the Melcor-developed Kings View Market has similarly added several new restaurant such as State & Main, Save-On-Foods and a five-bay strip mall in recent months. The master-planned development, which opened in 2010, expects to have 332,000 square feet of leasable space available once complete.

Ranked by Alberta Venture magazine as one of the top places in Canada to start a business, Airdrie is attractive to entrepreneurs due to its partnership programs, low tax base and growing population, said Rupert.

"We sit at about 2.6 per cent vacancy rates. That's still relatively low," he said. "Even adding in some the newer developments like Cooper's and Midtown, it takes us up to about 4.5 per cent."

Rupert noted one area that has slowed slightly has been the development of mid-size and large industrial projects, over 5,000 square feet.

"We're in the process of hopefully bringing on more industrial lands in the next couple of years, which will be really exciting for the community because it opens up that much more inventory," he said.

For Gerla, projects like Coopers Town Promenade, as well as nearby shopping outlets such as CrossIron Mills and the future Horizon Mall, will add to further stability in Airdrie's commercial sector.

"I feel these huge destination style centres simply add to the appeal of living in the Airdrie area, but you don't go to CrossIron for groceries or to see the dentist," he said.

"There are already well over 10,000 people living within a kilometre of this site, and that number will increase to something closer to 20,000 once Cooper's Crossing and neighbouring communities are fully built out."

Tagged: Airdrie | Calgary Real Estate | Calgary Real Estate News | Commercial | Commercial | construction | Cooper's Crossing | Kent Rupert | retail | Wenzel Developments | Westmark Holdings | YYCRE
---
---
Connect With Us