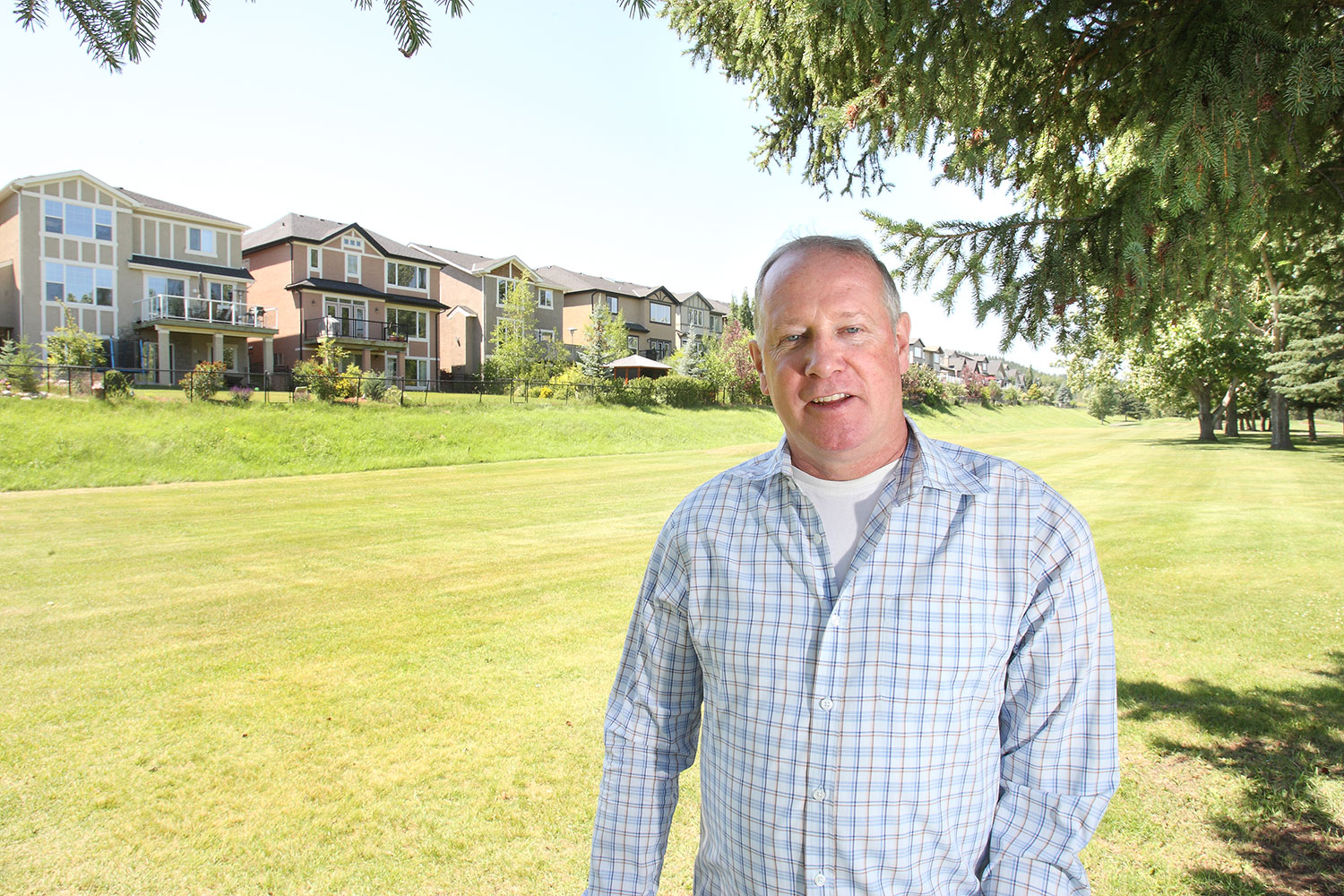 David Roberts was willing to pay a premium for a home bordering the Valley Ridge Golf Course for the wide-open green space and proximity to the game. Wil Andruschak / For CREB®Now
July 19, 2017 | Kathleen Renne
Hole in one
Golf course communities offer homeowners space, privacy and a slice of the action
David Roberts and his wife moved to the northwest community of Valley Ridge in search of open spaces. "We liked the idea of backing on to green space, one way or another," he said.
Valley Ridge, which borders the western edge of Calgary, is one of many communities in the city that features a golf course within its boundaries. That course now provides the green space Roberts and his family were seeking – they live behind the course's first green.
"It's gorgeous. The trees are well established and you don't feel like you're backing on to a bunch of other people. It looks like you're backing on to a forest almost," said Roberts, adding he also gets a great view of the Bow River.
Roberts bought his home along the Valley Ridge Golf Course in 2008. He recalls it cost him about $50,000 more than comparable homes elsewhere in the community.
Greg Macdonald of Sage Appraisals confirms that property values do increase for those properties adjacent to a golf course, or overlooking one. "Mere proximity to a golf course doesn't result in increased value," said Macdonald, highlighting the fact that unlike a public park, one needs to pay green fees to access a golf course, so it's not an area open to members of the general community looking for a casual stroll.
Furthermore, Macdonald says, some areas of a golf course are "more valuable" than others when it comes to home proximity. For example, being close to a green is preferable than being close to a tee box, because of the noise associated with teeing off. Homes backing onto water features are also "quite desirable."
Despite the general attractions of golf-course living – green space, the view and the privacy – Macdonald says there remain some less-desirable locations to live along a golf course, including those houses situated 135-180 metres down the right-hand side of a fairway. This is because many golfers are prone to hitting a "slice," a shot where the ball curves dramatically during flight – to the right side for right-handed golfers – and could hit neighbouring homes.
Another less-desirable location on the course for homes is along a curved "dogleg" hole, where golfers might try to take a shortcut and end up driving a ball directly into a house or yard.
"It's gorgeous. The trees are well established and you don't feel like you're backing on to a bunch of other people. It looks like you're backing on to a forest almost." - David Roberts, Valley Ridge homeowner
"Some people erect large screens to prevent golf balls from landing in their yards or hitting their homes," said Macdonald. However, he adds, even with the risk errant balls pose, there's still a net increase in value for homes bordering golf courses.
Additionally, Macdonald says homes edging golf courses are often of higher value in terms of finishings, or are subject to superior architecture controls, which also contribute to their generally higher resale value.
In the nine years Roberts has lived near a golf course, not once has a ball landed in his backyard. "Once in a blue moon, I'll hear somebody yell, 'Fore!' but that's not really a distraction," he said.
Another obvious advantage to living near a golf course is proximity to the game. Roberts, for example, takes advantage of a five-hole deal the Valley Ridge Golf Course offers to play with his eight-year-old son once a week.
The existence of a golf course isn't guaranteed in perpetuity, however. And that's something residents in the northwest community of the Hamptons, including Vince Amabile, are currently grappling with.
Amabile and his wife purchased their property along The Hamptons Golf Course a dozen years ago. "We paid a premium for this property," he said, adding he bought it for the view and the proximity to nature, which has even included wandering moose.
The City of Calgary, however, recently approved the re-zoning of a portion of the golf course right next to Amabile's home for residential development. Amabile says he has no recourse, despite his property investment and community opposition.
Similar fates have also befallen homes along the now defunct Shawnee Slopes Golf Course and the Harvest Hills Golf Course, something Macdonald says has resulted in homes adjacent to these courses seeing "substantial decreases" in their values.
"A prudent buyer would be finding out who owns a golf course and would be speaking with city planners to see if there have been any re-zoning applications," said Macdonald.
Tagged: Calgary Real Estate News | David Roberts | Feature | golf | golf communities | golf course | golfing | Greg Macdonald | Hamptons Golf Club | Harvest Hills | Sage Appraisals | Shawnee Slopes | the Hamptons | Valley Ridge | Valley Ridge Golf Course | Vince Amabile
---
---
Connect With Us