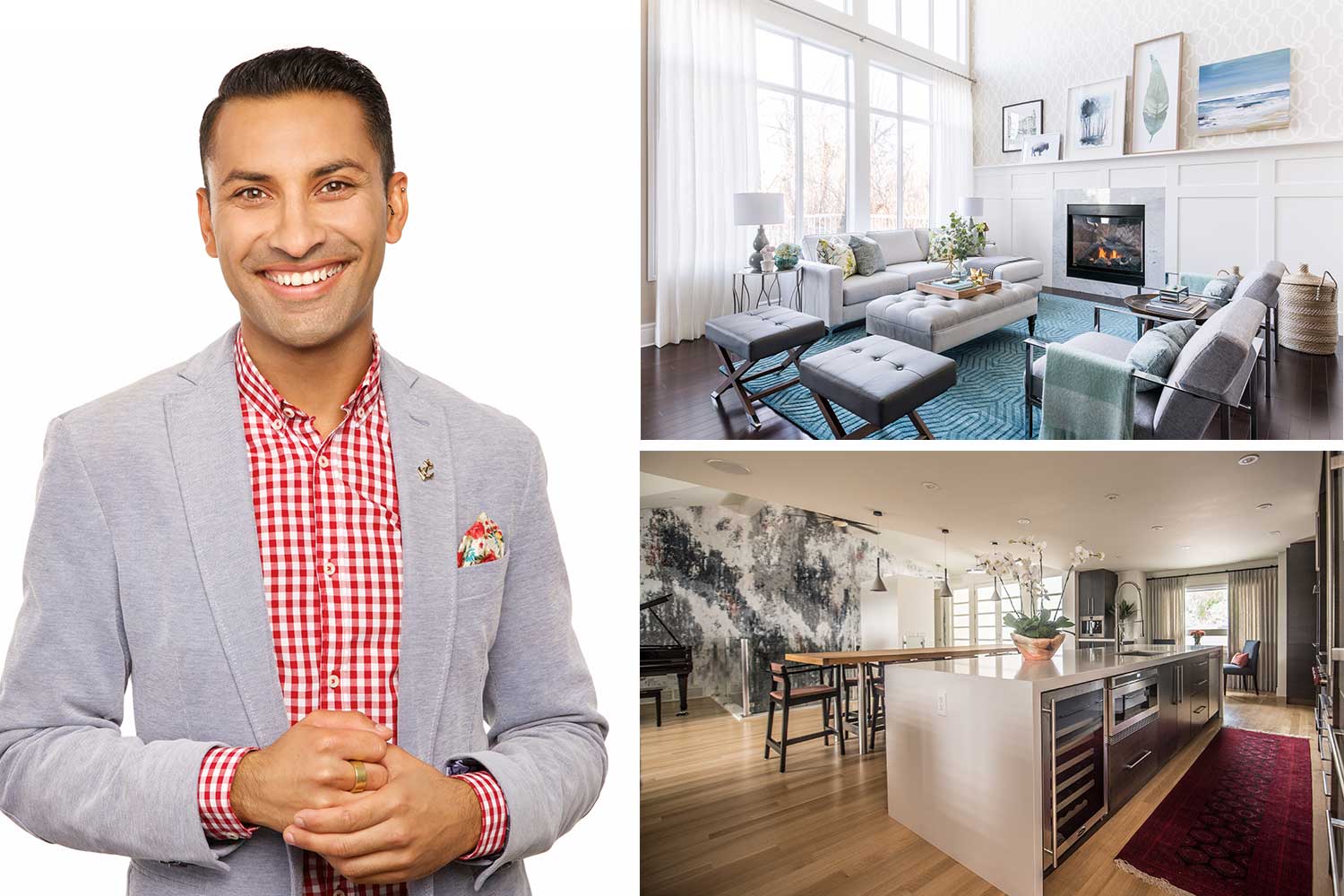 Luxurious looks with interior designer Alykhan Velji. Photos courtesy Joel Klassen, Brian Bookstrucker and Alykhan Velji Designs
Sept. 15, 2017 | Natalie Noble
Design diaries
In 2016, Alykhan Velji Designs celebrated 10 years of award-winning design, décor and lifestyle experience. Known for creating timeless spaces that combine modern and classic trends, the company's designs are personalized for both residential and commercial clients.
"Nothing makes me happier than to create spaces my clients love and that reflect their personalities," said principal and senior designer Alykhan Velji. "Each space we design is unique and caters to our client's needs."
Velji believes that luxury comes with well-curated spaces that bring joy to the homeowner.
"Luxury means coming home to a space that makes you feel comfortable, warm and at ease," he said. "It's surrounding yourself with things you love and creating amazing memories."
Showcasing some of his favourite luxury design projects, Velji shared photos and memories from three impressive Calgary homes.
Scarboro: Multi-functional luxury
This detached home located in southwest Calgary – described by Velji as "classic bones with modern touches" – features large windows, high ceilings and custom window treatments.
"We really wanted to play up the fireplace focal wall," he said. "We loved creating a light-filled space that was initially devoid of any colour. We added subtle patterns through the wallpaper treatments, fabric choices and carpets."
The office in this home showcases a custom map-mural wall and custom built-ins on the wall opposite of the sofa. Warm and inviting furniture pieces help to create a child-friendly zone that also works for the parents. The layered custom art prints create a gorgeous focal point and allow the homeowners to easily change the pieces in the room.
Collingwood: Versatile luxury
This detached home in northwest Calgary contains open-concept kitchen, living and dining areas with an abundance of natural light that Velji says was incredible to work with.
"When we saw the blank wall in the staircase, we knew that we had to do something there," he said. "A piece of art was not going to cut it. So, we decided to go with a custom wall treatment that not only adds so much depth, but makes that the focal point of the home."
This custom kitchen features the stunning, large, open staircase and focal wall. The double-island design serves the family well, allowing separate spaces for both casual dining and a large prep surface, while including plenty of storage, hidden appliances and ample space. The fireplace that divides the living area from the kitchen makes this design both unique and comfortable.
The angled ceilings and angular windows of the living room let in an amazing amount of natural light. Custom furniture pieces with hand-selected fabrics and a bold navy-and-persimmon colour palette create a beautiful flow from the focal wall in the stairway.
"The goal was to make this space feel inviting and to be great for entertaining lots of guests," said Velji. "This layout lends itself to hosting a great party on Saturday night and curling up with a good book on Sunday afternoon. It is a very versatile space."
Kensington: Subterranean boutique luxury
For this unique basement renovation the Alykhan Velji Design team completed in Kensington, the goal was to achieve a boutique-hotel-like feel. Velji says the bar had to be a focal point.
"We pulled out all the stops for this lower-level development and created a gorgeous custom wall of marble that housed the TV and was flanked with two fireplaces," he said.
The rooms feature limestone floors and accents in Kenya black marble throughout, highlighted with LED light accents. Velji and his team selected custom furniture to complement the boutique vibe.
"The chaise lounges and custom pillows are made to order," he said. "The idea here was to make it feel inviting and luxe at the same time. We love working with textures and patterns, and I think mixing them up really helped to achieve the desired feel."
This spectacular wine room was designed with custom-build acrylic wine racks brought in from California and accented with built-in LED lights. The Kenya black marble was also used for the island in the wine room to allow the homeowner to host wine tastings, with the back walls clad in smoked mirror to make the space feel bigger.
Tagged: Alykhan Velji Designs | Collingwood | House & Home | Kensington | Luxury living | Natalie Noble | Scarboro
---
---
Connect With Us