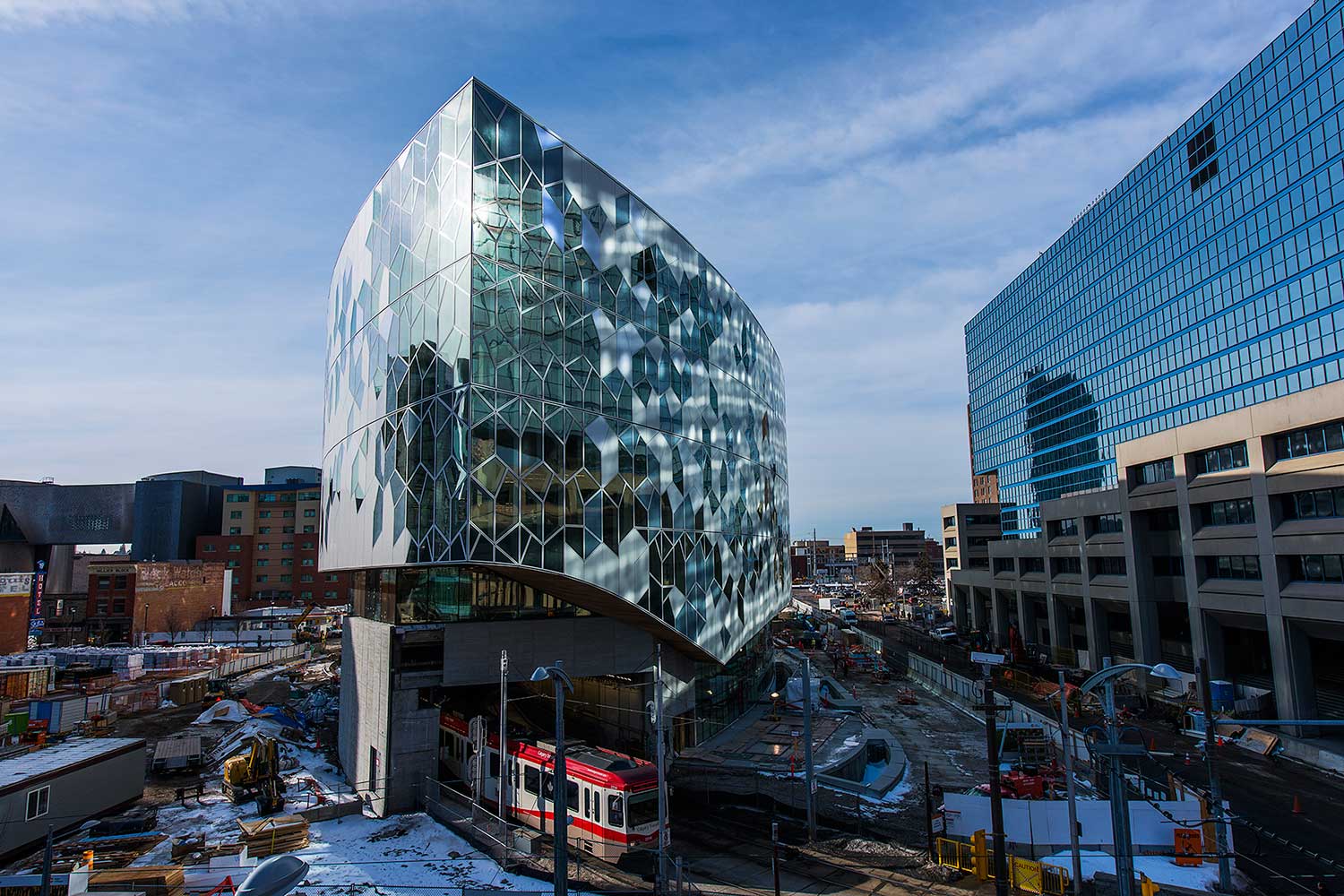 Courtesy George Webber Photography
Oct. 24, 2018 | Geoff Geddes
Highly anticipated central library grand opening approaches
Many people talk about designing unique buildings, but the minds behind the new Calgary Central Library have truly succeeded. Located one block east of the former central library building and just behind city hall, the new digs are distinctive for all the right reasons.
"Architecturally, the design is world class," said Clare LePan, director of marketing and communications for the Calgary Municipal Land Corporation (CMLC), one of three partners on the project along with the Calgary Public Library and the City of Calgary.
"The site itself was a huge challenge given there was an active LRT line running beneath it throughout the development. From a construction standpoint, the engineering piece was a critical first step to make the building design work in that space."
The unique design also allows for 66 per cent more space than the existing central branch. Given everything that's included in the new building, not one square foot will go to waste.
"It's the cultural cornerstone of the East Village redevelopment and the largest civic investment since the '88 Olympics." - Mary Kapusta, Calgary Public Library communications director
"As you walk in, your eyes are drawn to the massive skylight, incredible woodwork and curved staircases that surround the centre area," said Mary Kapusta, communications director for the Calgary Public Library.
Passing the performance hall and café, visitors will come to the children's library, a 12,000-square-foot area with a nursery, toddler nook, interactive play zone and daily story time. Next up is a grade-school space with a kids' technology area, while the top level has more of a "classic library feel," sporting a reading room, white oak tables and dramatic bookshelves.
"Yes, we have books, but there is so much more," said Kapusta. "You can print for free, take online courses, book one of our 30 meeting rooms or reserve a production studio for your podcast or YouTube channel. As long as you have a library card, there's no charge for any of this."
It's also free to attend the library's grand opening on Nov. 1. Visitors will be treated to an opening ceremony with the mayor, free tours and an event with a special guest, Col. Chris Hadfield. That weekend, there will also be everything from stilt walkers and live music to story time and giveaways, with lots of activities for all ages.
"For surrounding communities and the city as a whole, the new library represents a community hub," said Kapusta.
"It's the cultural cornerstone of the East Village redevelopment and the largest civic investment since the '88 Olympics. We see it as a new landmark for Calgary and Alberta that will attract two million visitors a year and people from around the world."
Tagged: Calgary | Calgary Municipal Land Corporation (CMLC) | calgary public library | Calgary Real Estate | Calgary Real Estate News | Calgary Real Estate News | CMLC
---
---
Connect With Us