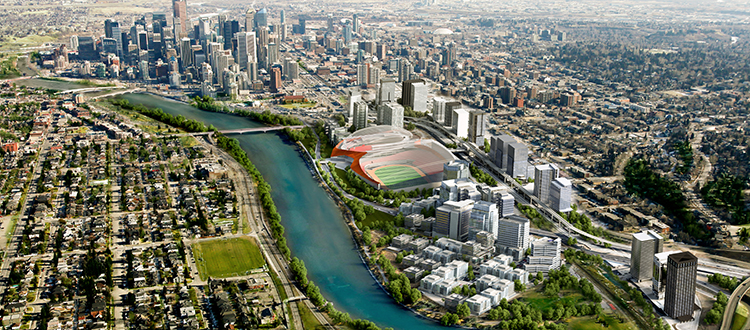 CalgaryNEXT would include a 19,000 seat arena/event centre and a 30,000-seat 'multi-sport fieldhouse stadium.'
April 15, 2016 | Cody Stuart
What's NEXT?
Soil contamination a major hurdle for any West Village development
The Calgary Flames' season may be over, but that doesn't mean hockey talk in the city has come to a close.
In addition to fans' usual examination of how things could have gone differently, the question of where the team is going to play its home games in the not-too-distant future remains.
Part of that answer will come to light April 25 when Calgary Municipal Land Corp. (CMLC) reports findings to city council from its six-month environmental assessment of land in West Village where Calgary Sports and Entertainment Corp. (owner of the Flames, Calgary Stampeders and Calgary Roughnecks) is proposing to build the much-debated CalgaryNEXT project.
The report by CMLC – a wholly owned subsidiary of the City of Calgary that is currently behind the East Village revival and would oversee development of the West Village site – analyzed the scale of creosote contamination and options to remediate the land.
Noting a similar, albeit smaller-scale, clean-up having taken place in the East Village, CMLC senior vice-president of strategy and business development Susan Veres said the work needed to move the West Village forward will require a lot more work than many are expecting.
"Let's not be naïve. The contamination issue in the West Village is far, far greater than East Village and would require a lot of support from a lot of groups," she said in advance of the report's release.
"Aside from market assessment and whether the market is there or not, I think you have to have a really long view for West Village because the work that would need to be done to get the land to a state where it could accommodate anything is an enormous undertaking."
"Let's not be naïve. The contamination issue in the West Village is far, far greater than East Village and would require a lot of support from a lot of group."
Last August, Calgary Sports and Entertainment unveiled its plans for CalgaryNEXT in West Village that would include the construction of a 19,000-seat "arena events centre" along with a 30,000-seat "Multisport Fieldhouse Stadium" with a covered roof and retractable seats to accommodate a 400-metre track.
The proposal also includes plans for residential housing in the form of condominiums, as well as hotels and commercial space – similar to the sort of development that has transformed the East Village from a blighted community to a master-planned neighbourhood.
Currently home to an assortment of car dealerships, the Greyhound bus station and a handful of empty lots, the 56-hectare West Village is bordered on the north by Bow Trail westbound and the Bow River, on the east by 11th Street S.W. and sits alongside the recently opened Sunalta LRT.
It was once home to Canada Creosote (later known as Domtar), which ceased operation in 1962. Creosote is a compound of about 200 organic chemicals that was used to preserve wood products such as railway ties and power poles. Made up of a variety of chemical compounds that mostly do not dissolve in water, a small portion of the compounds is lighter than water and sits on top of the water table. A larger portion of the compounds is denser than water and settles and moves along the bedrock by gravity.
Health risks range from respiratory irritation from breathing in the vapour, skin damage from long-term skin or air contact and long-term exposure resulting in some cancers. In the early 1990s, environmental monitoring determined that contaminants from the site had migrated under the Bow River and into the community of West Hillhurst.
Starting last November, Worley Parsons initiated a site/assessment and field program of West Village around the site. This program will form part of the CMLC's report being produced City Hall.
With more information on the clean-up likely to be revealed in CMLC's report, early estimates have pegged costs between $50 and $300 million – numbers Veres said could be equally accurate depending on development intentions for the land.
"It depends to what extent you're mitigating and for what purpose are you mitigating? Are you mitigating the land so that it can house people or so it can house a park? Living on it and visiting it are two different things, so I can see why there is a broad spectrum in the number," she said.
The clean-up process is also a bit more complicated than simply trucking out the old contaminated soil, noted Jan Quinlan, soil and contaminated sites specialist for Alberta Environment and Parks.
"Cleaning up a creosote contaminated site is a major undertaking and is very complex because of mixture of contaminants that make up creosote," said Quinlan.
"It isn't as simple as just digging everything up, as the contamination can travel into areas where it is hard to access. Usually a multi-faceted approach is required to address soil, water/groundwater and potentially bedrock."
Since such a clean-up will likely be required long before any infrastructure improvements, Veres said those looking for any major development take place in West Village could have long wait in front of them.
"It took years of pre-planning to get East Village to a position where it could be marketed; where the infrastructure could be delivered; where the financing mechanisms were in place – it took years before we started," she said. "So I would suggest a similar scenario would have to unfold in West Village. If it is going to be a redevelopment site, there's a lot of work ahead."
For now, Veres sees CMLC's involvement, at least at this point, as a natural fit given the corporation's similar experience developing East Village.
"If the future of West Village is for a mixed-use community, sort of a brownfield redevelopment, then yes, that would be our specialty and we demonstrated that skill set in East Village," she said.
"But I think it's not yet espoused the complete and holistic vision for West Village, and I think that's why we were asked to do some work and that's why the City is doing some work."
Tagged: Calgary Flames | Calgary Municipal Land Corporation (CMLC) | Calgary Real Estate | Calgary Real Estate News | calgary sports and entertainment | CalgaryNEXT | City Council | CMLC | creosote | East Village | Environment | Uncategorized | West Village | YYCRE
---
---
Connect With Us