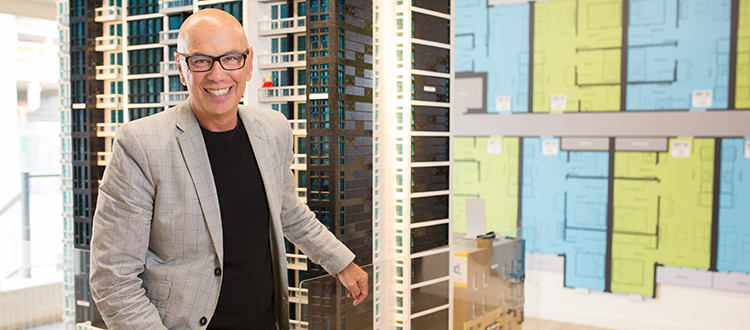 Knightsbridge Homes partner Joe Starkman said only 20 of N3's 168 units are still available. Photo by Adrian Shellard/For CREB®Now
May 27, 2016 | Kathleen Renne
Window of opportunity
Condo developers using downturn as opportunity to build
The downturn in Calgary's economy is creating a much-needed opportunity for developers to reset and plan for the long-term, say experts, who also believe the apartment-style condominium sector stands to benefit the most.
Susan Veres, senior vice-president of strategy and business development for Calgary Municipal Land Corp. (CMLC), admits sales "have slowed" in the popular East Village community on the banks of the Bow River, but also said the timing of the current downturn is "almost fortuitous" for the up-and-coming area.
"It's serendipitous that we're actually focusing on construction this year," she said, whose company, CMLC, is wholly owned subsidiary of the City of Calgary that is currently revitalizing East Village.
For example, construction is set to commence Verve, the second skyscraper in the area by FRAM + Slokker. Only 50 of the tower's 230 units are still available, which range in price from $230,900 to $799,900.
"Those sales were made 24 months ago," said Veres.
"We targeted a different market – a younger market."
She added East Village doesn't currently, "have a lot of standing inventory," noting many of the area's current condo projects have either already been occupied (i.e. Embassy Bosa's Fuse), or are under construction (Knightsbridge Homes' N3).
N3, which is Canada's first carless condo, came on the market in September 2015 and sold approximately 75 per cent of its inventory within the first 48 hours.
"We started selling in a recession," said Knightsbridge partner Joe Starkman.
He credits much of N3's success to price point and that the building services an oft-ignored demographic.
"We targeted a different market – a younger market. N3 came in on the market at $199,000. There's no product around like that," said Starkman.
"With projects like N3, we're looking for a small, niche market. Our product is not competing with everyone else's."
About 20 of N3's 168 units are still available for purchase, with construction on target for completion by March 2017.
Embassy Bosa is also working on its Arris condo tower project in East Village, which is expected to include 500 units when completed in 2020.
Embassy Bosa vice-president of sales and marketing Robert Marchand said the developer will start construction on Arris this year, and then open it up for sales next year.
"We have turned the standard program around, as you typically run a pre-sales campaign and then start construction," he said. "But we feel this is a really good time to be building. What do you do when the market is down? You push forward with construction."
Arris represents the second development in the area for Embassy Bosa. Its first was Evolution, a 600-condo unit mixed-use project. The first phase of Evolution, titled Fuse, has already sold out, with first occupancies expected this summer. The second phase, titled Pulse, is also nearly sold out, according to the company.
"Calgary is a cyclical marketplace and always has been," said Marchand, noting it's important to "acknowledge where you are at in the cycle and weather it.
"We think things are sitting close to the bottom of that cycle right now, and we're looking at the market recovering."
According to CREB®, apartment-style condominium sales in the city declined by nearly 23 per cent last month to 272 units, while the benchmark price dropped by more than four per cent to $280,400. New listings are up more than nine per cent to 665 units.
Year-to-date sales have fallen by more than 19 per cent to 825 transactions, according to CREB®, while the benchmark price has decreased by more than five per cent to $282,275.
Tagged: Apartment | Calgary Municipal Land Corporation (CMLC) | Calgary Real Estate | Calgary Real Estate News | City of Calgary | CMLC | Condo | East Village | Embassy BOSA | Feature | Knightsbridge Homes | mixed-use | N3 | YYCRE
---
---
Connect With Us