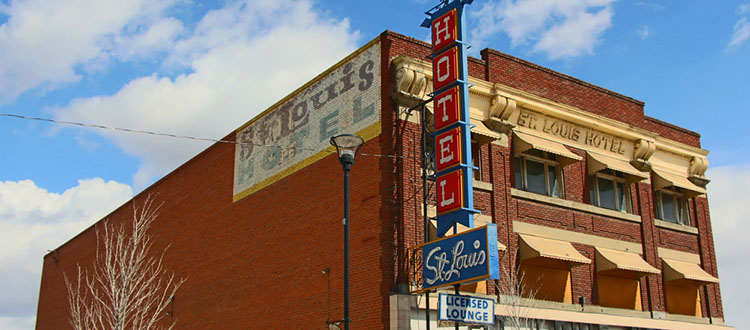 Calgary Municipal Land Corp, which behind the East Village revitalization, has relocated its offices to the historic St. Louis Hotel. CREB®Now file photo
Aug. 05, 2016 | CREBNow
CMLC relocates into renovated St. Louis Hotel
Facade to respect original design
Trading one of Calgary's historic landmarks for another, Calgary Municipal Land Corp. (CMLC) – the organization responsible for transforming East Village into one one of the city's most sought-after neighbourhoods – has relocated its offices from the Hillier Building at 429 Eighth Avenue S.E. to the historic St. Louis Hotel right across the street.
In anticipation of the Grand Trunk Pacific Railway's arrival at Fort Calgary, Colonel James Walker developed the St. Louis Hotel in 1914. It underwent a major renovation in 1959, and in 2008 the City of Calgary designated the building as a Municipal Historic Resource.
CMLC began by fortifying the historic building with a new steel structure. Mimicking the style of the façade installed in 1949, the St. Louis's front façade includes three light wells clad with white panelling to cast light throughout the building, which features a four-stop elevator, concrete-topped floors with existing milled floors exposed below, and exposed brick, mechanical, electrical and structural elements to evoke the original building's rustic feel.
In addition to housing CMLC's offices, for the next 30 months the New Central Library construction site office will be located in the basement, while the main floor will be programmed by CMLC with a variety of community programs and events. Once the library construction program is complete, CMLC will seek full time retail operators to occupy the 12,000 square feet of space located on the lower two levels.
The move out of Hillier Block, which CMLC has used as its headquarters since April 2012, makes way for a new Library Experience Centre.
CMLC designed this storytelling initiative to familiarize Calgarians with the library construction program, Calgary Public Library's long-term strategy and the diverse, exciting programs the New Central Library will deliver.
Before setting up shop in Hillier Block, CMLC's offices occupied yet another heritage building that the organization restored and renovated: the historic Simmons Building on the bank of the Bow.
Tagged: Beltline | Calgary Community | Calgary Municipal Land Corporation (CMLC) | calgary public library | Calgary Real Estate | Calgary Real Estate News | CMLC | Downtown | East Village | St. Louis Hotel | YYCRE
---
---
Connect With Us