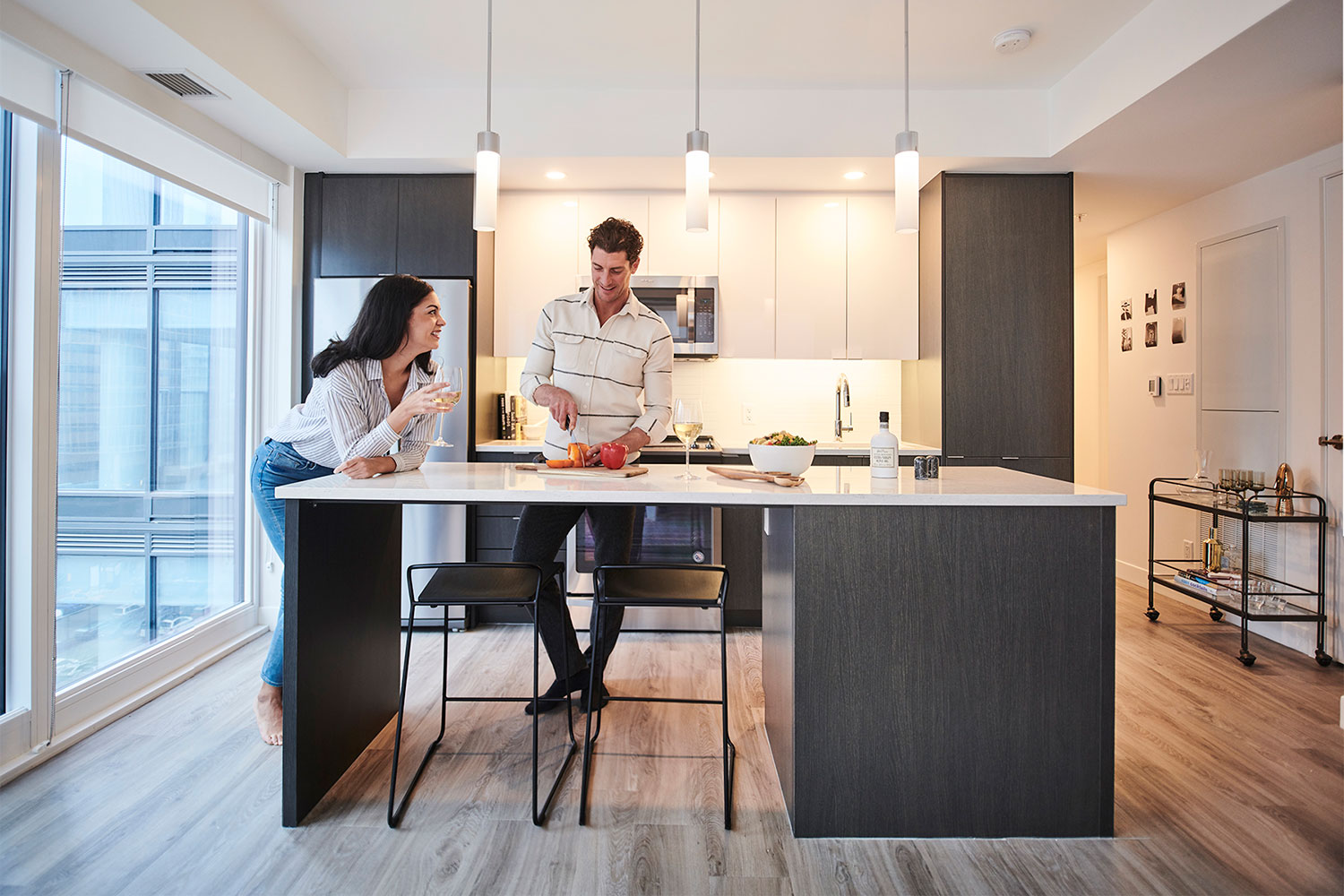 One of the rental units at Sodo Residences in the Beltline. Courtesy QuadReal Property Group
May 01, 2019 | Barb Livingstone
High-end rental options flourish in the Beltline
In two short months, Sodo Residences has 31 per cent of its luxury rental apartments occupied and 40 per cent of the 305 units already leased.
The biggest draw for the new 36-storey building has been 38,000 square feet of amenities, including a state-of-the-art fitness centre, a designated dog run (plus dog grooming and electric dog wash stations), a chef-inspired demonstration kitchen, a games room and an above-ground, heated garage with electric car-charging stations.
However, Nav Sidhu, QuadReal Property Group's marketing manager for Western Canada, says "the location in the Beltline is one of our biggest amenities," with its walkable access to multiple parks, restaurants and CTrain stations.
He says a large percentage of Sodo renters are young professionals who work in the core – "they want to live away from downtown, but close to it" – and Sodo's lease rate in only two months is double QuadReal's expected mark.
A significant draw, he says, is Sodo's dog-friendly features. "More and more, pets are an extension of the family," he said.
Rents for remaining units range from $1,500 for a one-bedroom layout to $1,725 for two bedrooms.
"The Beltline is incredibly fantastic for urban living. It is quieter, more laid back, but minutes away from the hub." - Sarah Itani, Cidex Group of Companies
Sarah Itani, business development manager for Cidex Group of Companies, agrees the neighbourhood is a big draw for prospective renters.
The company has two Beltline rental buildings and just announced a third – a 55-storey project that will be Calgary's tallest residential building. The three-tower development is in its first phase and will eventually feature 1,252 apartments.
"The Beltline is incredibly fantastic for urban living," said Itani. "It is quieter, more laid back, but minutes away from the hub."
While Cidex does not release occupancy rates for its 23-storey twin luxury rental towers Aura (2014) and Arch (2016), the company, which once built housing developments for the ownership market, has switched entirely to purpose-built rentals.
"We have seen an uptick in the Calgary economy, but people continue to choose rental (over purchase) because of a shift in lifestyle," said Itani.
This is part of a global trend, Itani says, with many renters who could qualify to buy choosing low-maintenance, high-quality rental options instead, leaving them disposable income to travel and take advantage of other lifestyle activities.
Arch and Aura offer a mix of home styles and layouts, including studios, one- and two-bedroom designs, townhomes and penthouses. Rents range from $1,425/month for a one-bedroom to $2,870/month for a two-bedroom penthouse.
While millennials account for a large chunk of the renter pool at Arch, Itani says Arch and Aura also attract families, older professionals and empty-nesters because Beltline's advantages include good schools, festivals and area beautification projects.
Tagged: apartments | Arch | Aura | Beltline | Calgary | Calgary Real Estate | Calgary Real Estate News | Calgary Real Estate News | Cidex Group of Companies | Condos | Condos | Housing Market | luxury | QuadReal Property Group | rental | Sodo Residences
---
---
Connect With Us