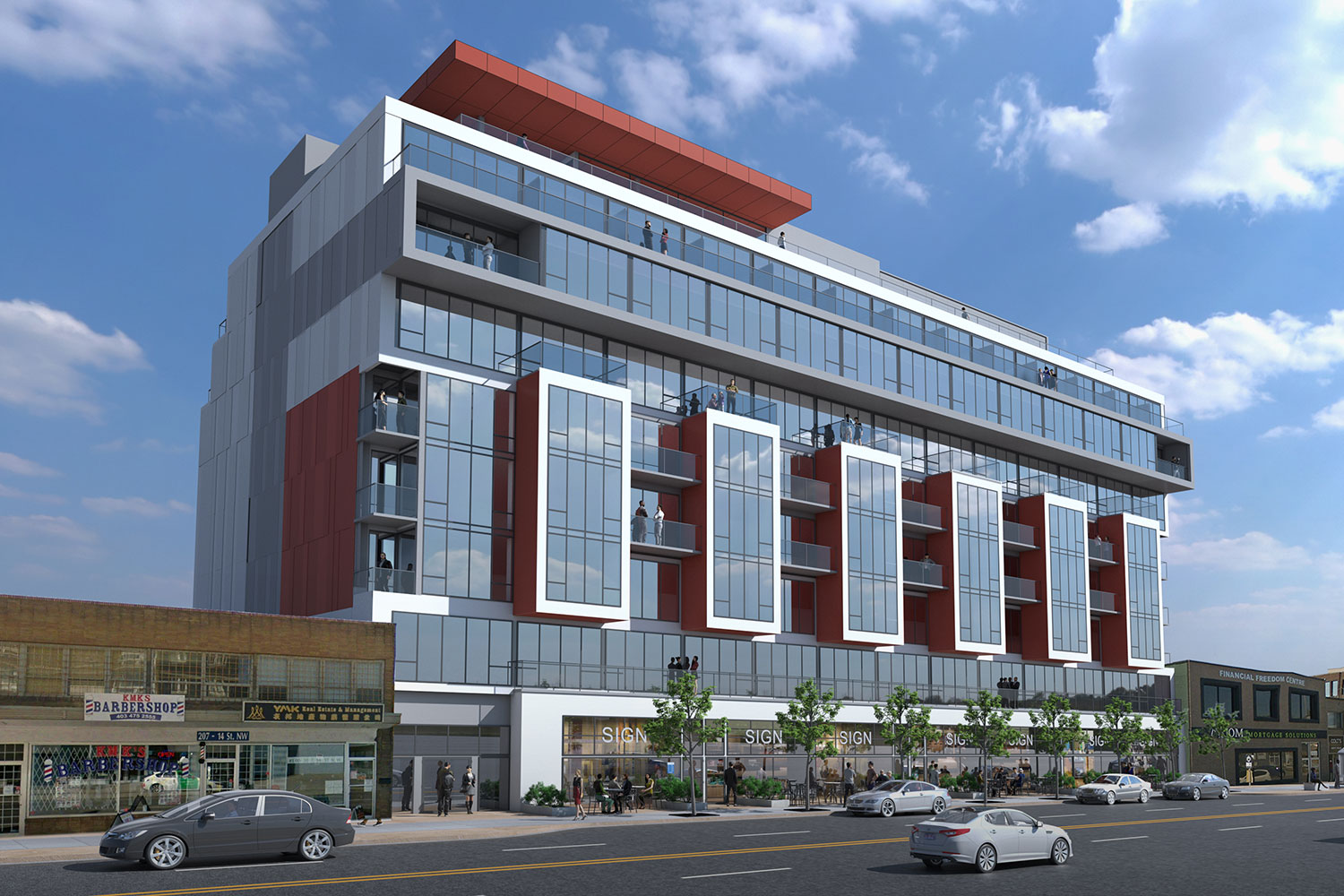 SOLA, a new "smart" condo development in Kensington, is one example of how developers are shaking up their offerings to stand out in a crowded marketplace. Courtesy of the Ocgrow Group of Companies
March 09, 2021 | Stefan Strangman
Adapt or die: Calgary condo developers embrace innovation and affordability to succeed in crowded COVID-19 market
COVID-19 has undoubtedly changed how Calgarians live their lives. According to market analysts, it has also started to affect where they live and how they buy homes, and condo developers have been forced to adapt.
Lately, low interest rates have fuelled record home sales in the Calgary area, according to real estate market analysis firm Urban Analytics. However, not all market segments have been affected the same way. While high demand for single-family homes has created more balanced conditions in that segment, the condo market has remained oversupplied, with many projects converting to purpose-built rental and developers offering radical incentives to entice buyers.
"We've seen some condos offering to cover the first year of mortgage payments," said Jackson Cornelius, market and advisory manager for Alberta at Urban Analytics.
Urban Analytics has also seen a shift away from purchasing in the downtown core, with more buyers looking to suburban communities. The unique market forces created by the pandemic have led many families to take advantage of low interest rates to upgrade their current housing or move on from rentals to first-time homeownership.
"I think the tech innovation will continue to penetrate into different real estate projects coming up." - Harish Consul, Ocgrow Group of Companies president and CEO
"I don't see a massive shift away from that attraction to the outer communities because I still think that affordability is going be a major driving factor for unit absorption," said Cornelius. "That being said, there has been an addition of new projects in areas that have been previously more expensive for purchasing or have had a higher barrier to entry."
In response to these market trends, Calgary's new condo developments are expected to yield not only more affordable options, but more innovative ones.
For SOLA, a new condo development in Kensington, the Ocgrow Group of Companies partnered with Amazon to integrate its Alexa smart technology directly into each unit. The project also boasts luxury features, such as bike lockers, heated ski and bike storage, and a panoramic fitness centre.
The unique offerings of SOLA have kept the development competitive and helped weather the challenging condo market, even with the new difficulties introduced by COVID-19. That success demonstrates that post-pandemic condo builds will have to stand out to increase their appeal, and Calgarians can expect to see greater innovation in the market, says Harish Consul, president and CEO of the Ocgrow Group of Companies.
"I think the tech innovation will continue to penetrate into different real estate projects coming up," he said. "I think it'll take some time. Certain developers are more proactive than others. I think you will start to see that become more and more commonplace."
Even though data shows many young Calgarians are leaving to find work, Consul believes Calgary's best hope going forward is in the tech sector, and the city's condo market still has a bright future.
"The tech industry is growing very fast, and no one talks about that and everyone talks about the gas," he said. "It's very little competition and, frankly, new condo sales have dropped because the market has been so depressed. It takes time for that cycle to change, and it's changing now."
Tagged: Adapt | affordability | Alexa | amazon | Calgary | Calgary Real Estate | Calgary Real Estate News | Calgary Real Estate News | Competition | Condos | Condos | Coronavirus | COVID-19 | COVID-19 | Feature | Housing Market | Housing Market | Incentives | Innovation | inventory | Ocgrow Group of Companies | Prices | rental | sales | SOLA | supply | Urban Analytics
---
---
Connect With Us