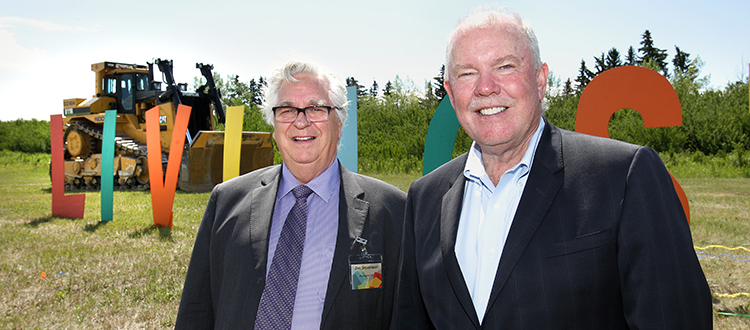 Ward 3 Coun. Jim Stevenson and Brookfield President and CEO Alan Norris were both on hand for the launch of the new Livingston community in north Calgary. Sales in the master-planned development are expected to start early next year. Photo by Wil Andruschak/for CREB®Now
June 30, 2016 | Alex Frazer Harrison
Veil lifted
Livingston to eventually house 30,000 people
Calgary's newest community came online this week as Brookfield Residential lifted the veil on its new Livingston development in the city's north that, when completed, will house as many as 30,000 people.
Covering more than 500 hectares straddling Centre Street north of Stoney Trail, Livingston is the first master-planned community in north Calgary within the past 20 years. It will include an estimated 10,000 homes, and will be anchored by a major activity centre that will include an estimated one million square feet of retail and institutional space,
Ward 3 Coun. Jim Stevenson, who attended the official construction launch June 28, calls Livingston "a new city north of the ring road."
"I think we're seeing market demand in the north that really gives us the confidence to start a project like this."
He said even though the local economy is in a slump right now, it will eventually bounce back, so it's important for projects such as Livingston to go ahead now so they're ready for demand when that does happen.
"The attitude of the builders and developers is very positive," said Stevenson. "They see that the economy is not as bad as they thought it was going to be, and even this year we're expecting 18,000 to 20,000 people to move into Calgary. You've got to have housing for these people ... and also (be) creating jobs. This (development) is creating a huge number of jobs."
When completed, Livingston's retail and service hub is expected to provide as many as 7,000 full-time jobs, not counting the more than 19,000 jobs the development is expected to generate.
There is strong demand for homes in north Calgary, and Livingston will help meet this need, said Jason Palacsko, vice-president of Calgary communities for Brookfield.
"I think we're seeing market demand in the north that really gives us the confidence to start a project like this," he said, adding Livingston's broad range of housing choices will be a major selling feature.
Although Palacsko could not confirm a future north health campus within Livingston, Stevenson did confirm land has been set aside, adding there is a growing need for one in that part of the city.
"We need the next hospital. We're hoping AHS (Alberta Health Services) will put the next campus there," said Stevenson, indicating the proposed site near the junction of Centre Street and Stoney Trail N.E.
Those who attended the official launch June 28 took turns helping to create an art installation by Dean Stanton that will eventually be part of Livingston's homeowners' association.
Palacsko said home sales in the first phase of Livingston are expected to begin in early 2017. Builders involved in the first phase include Brookfield Residential, Cedarglen Homes, Jayman Built, Morrison Homes, Homes By Avi and Avi Urban.
For more information, visit
experiencelivingston.com
.
Tagged: Avi Urban | Brookfield Residential | Calgary Community | Calgary Real Estate | Calgary Real Estate News | Cedarglen Homes | Community | community development | Councillor | health campus | Homes by Avi | jayman built | Jim Stevenson | livingston | Morrison Homes | new homes | north calgary | Ring Road | Stoney Trail | YYCRE
---
---
Connect With Us