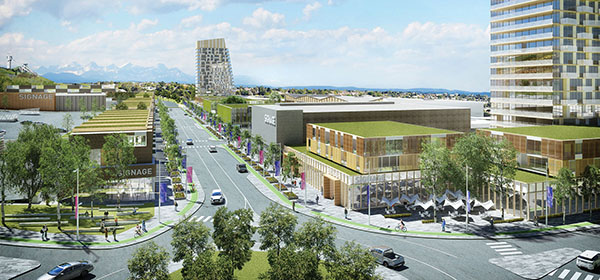 Nov. 13, 2015 | Cody Stuart
Development plans revealed for Trinity Hills
New vision for Paskapoo Slopes area
A controversial mixed-use project slated for west Calgary has revealed its development plan.
Located along the Trans-Canada Highway, Trinity Hills would bring 700,000 square feet of retail space, 250,000 square feet of office space along with 1,500 residential units to the East Paskapoo Slopes area adjoining Canada Olympic Park.
The plans for site, which had been met with fears of over-development from some local residents, calls for nearly three million square feet in total development which would consume roughly one-third of the existing green space.
Included among the major tenants being considered for the site is Real Canadian Superstore, which plans on opening a 100,000 square foot store on the site, as well as Cineplex, which plans on opening a 50,000 square foot multiplex.
With work already well underway on the planned interchange at Sarcee Trail and 16th Avenue N.W., the eventual plan for the site will see the remaining two-thirds of the 105-hectare site given to the City, which plans on investing $3-million to make the area into a regional public park.
With an expected completion date of fall 2017 or spring 2018, the project will serve the nearly 200,000 Calgarians that live in the area.
Calgarians' reaction to the plan on Twitter was swift, especially following news that popular outdoor equipment provider Mountain Equipment Co-op would be adding a second location in the new development.
Loading Tweet:

https://twitter.com/Magill_C/status/664681933809446913
Loading Tweet:

https://twitter.com/SteveCoutts/status/663810882674233344
Loading Tweet:

https://twitter.com/jdkrabbe/status/663943619410202624
Loading Tweet:

https://twitter.com/activeinYYC/status/663779619267477504
Loading Tweet:

https://twitter.com/mountaincharm/status/663864675931545600
Loading Tweet:

https://twitter.com/DaleCalkins/status/663772577630785536
Loading Tweet:

https://twitter.com/PaulyHughes/status/663808468093046788
Tagged: Calgary Real Estate News | Commercial | mixed-use | Paskapoo Slopes | Residential | retail | Trinity Hills | urban development
---
---
Connect With Us