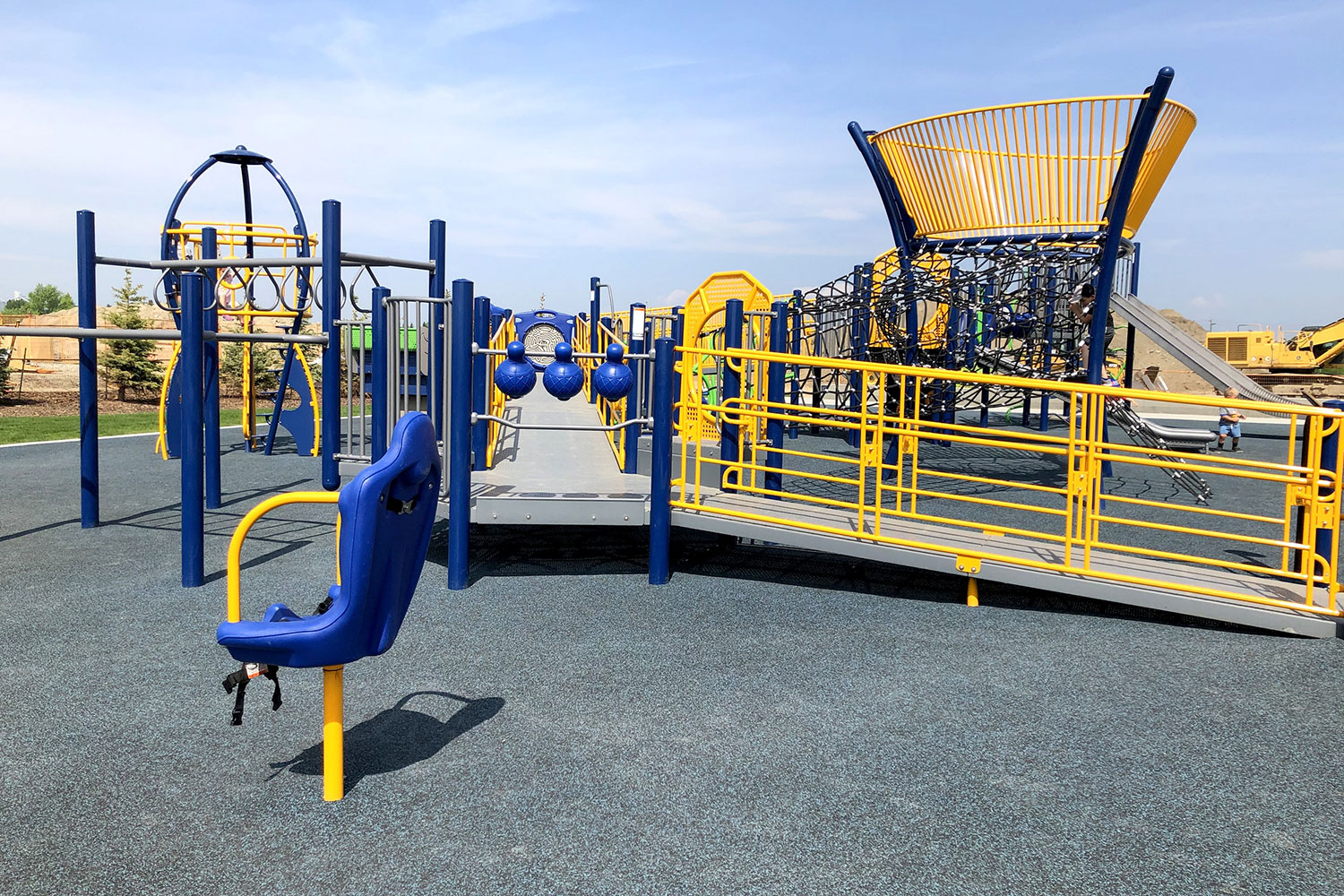 Courtesy Dana Wheatley
June 12, 2019 | Natalie Noble
Calgary's top playgrounds are accessible, innovative and inclusive
The city of Calgary is home to more than 1,000 playgrounds that families can choose from for a fun-filled outing.
"What I love most about Calgary is there are so many options here," said Dana Wheatley, founder of
Calgary Playground Review
and mom to three children.
"There's a lot of diversity, a lot of accessible playgrounds and natural playgrounds. I like playgrounds that cater to a wide range. The best playgrounds consider little kids, big kids, people with different kinds of needs. It's about the whole community that will use the space."
In her nine years reviewing city playgrounds for her website, Wheatley has noticed a few evolving trends in terms of style and equipment.
The first is an increase in playgrounds that incorporate natural materials, such as rocks, logs and hills, rather than simple bars and platforms. "These require a different kind of movement the kids have to use to navigate while playing," she said.
"The best playgrounds consider little kids, big kids, people with different kinds of needs." - Dana Wheatley, Calgary Playground Review
She's also seen an increased emphasis on accessibility and inclusiveness.
Finally, she has watched the zipline return to favour as a playground feature. Wheatley said this last development is especially exciting for older kids, while noting that the new ziplines are much safer today than the ones parents might remember from their own childhoods.
Here are three playgrounds Wheatley's children are currently enjoying:


1. Shouldice Park
This playground in northwest Calgary offers 15,000 square feet for inclusive play on its creatively designed equipment.

"It's such a great playground," said Wheatley. "It's accessible and there are really fun things for kids with physical needs, but it's not just for them. It's exciting for all of the kids, and those are the best kind of playgrounds for me."




2. University District
This playground is wheelchair accessible, with wide-ramp access to monkey bars, slides, swings and a climbing net. The rubber matting, made from recycled tires, demonstrates a clear commitment to safety.

"They've got accessible flooring and ramps, tactile components and the look of it is really cool," said Wheatley.




3. Haysboro Natural Playground
Children can play and learn while navigating natural playground features, such as hills with small and large slides, a rope nest, rocks, a labyrinth, and even a log jam.

"This is the most 'natural' natural playground in Calgary right now," said Wheatley. "The playground is quite different from a more traditional metal-and-plastic playground and provides different kinds of challenges that kids can miss out on in the city."

Tagged: accessibility | Calgary | Calgary Playground Review | Calgary Real Estate | Calgary Real Estate News | Calgary Real Estate News | Children | Dana Wheatley | Families | Family-Friendly | Feature | Haysboro | Inclusive | nature | playgrounds | shouldice park | university district
---
---
Connect With Us