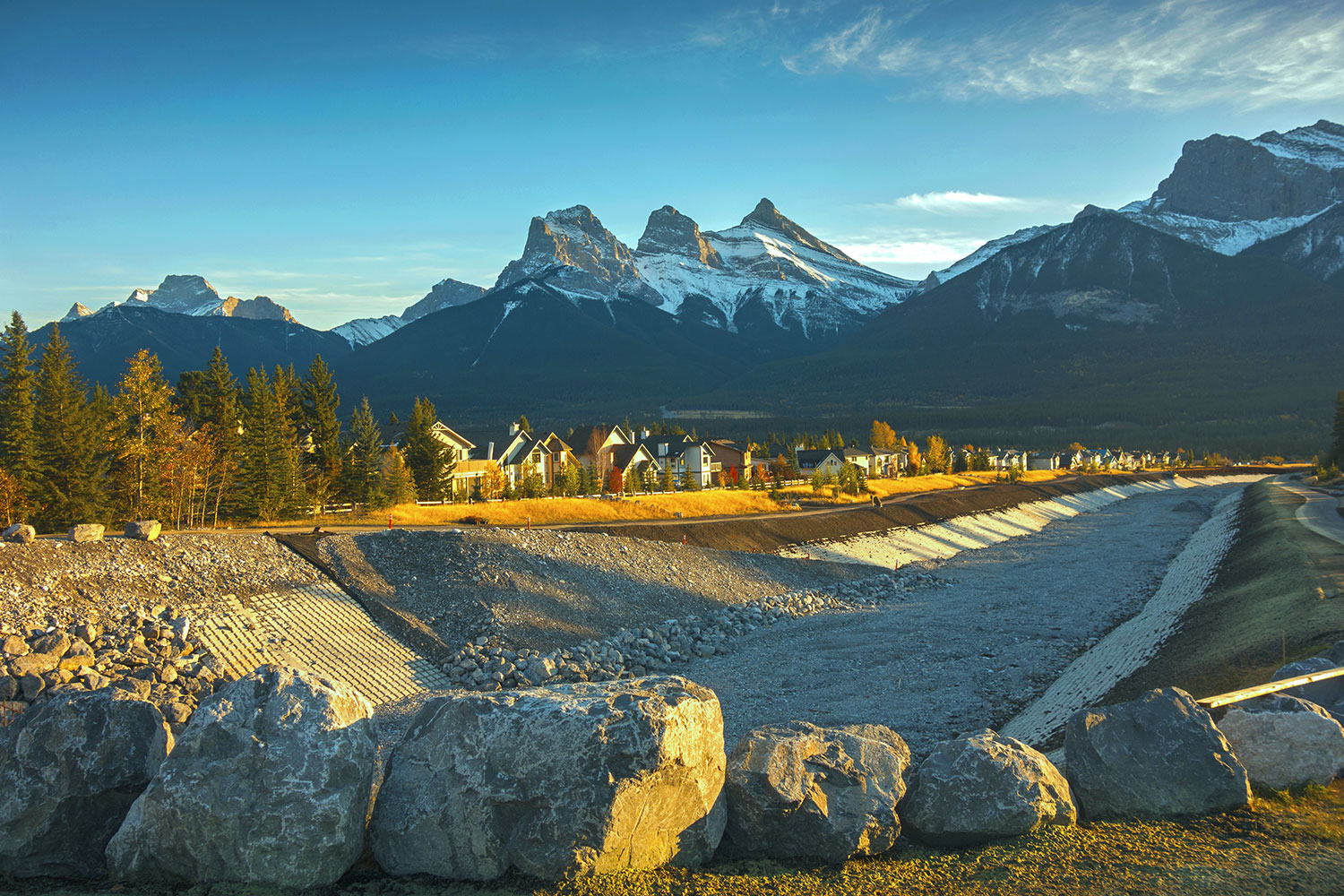 Getty Images
Nov. 13, 2019 | Andrea Cox
Canmore: Calgarians' mountain retreat continues to evolve
Amenities and stunning natural beauty are continuing to draw both recreational and full-time buyers to Canmore, despite struggling real estate markets across the rest of province.
"The market here is really independent of other Alberta markets," said Ingrid Couillard, an area REALTOR® with RE/MAX Alpine Realty.
One of the aspects that makes Canmore so desirable as a recreational destination is its convenient location one hour west of Calgary. Add to that a stunning locale in the heart of the Rocky Mountains, a burgeoning food scene, abundant outdoor recreation opportunities, a small-town vibe and plenty of big-city amenities, and it's no wonder that the town remains a popular choice for homebuyers of all stripes.
"There will never be a lack of desire for people to be around places like this," said Rob Stevens, another Realtor with RE/MAX Alpine Realty.
"It's the outdoors that really makes this town. Here you just turn the corner and you are in the forest, nothing drops blood pressure faster than that."
Stevens adds that the mountain beauty and outdoor amenities are at the heart of Canmore's business, tourist and real estate communities.
"In the past few decades, it was mainly weekenders buying property here, but in the last couple of years, we have seen a shift." - Ingrid Couillard, RE/MAX Alpine Realty
Both Stevens and Couillard have lived in Canmore for close to 25 years. During that time, they have seen many changes in the town, including population growth and a shift in demographics.
"In the past few decades, it was mainly weekenders buying property here, but in the last couple of years, we have seen a shift," said Couillard. "There are a lot of people moving here full-time, retiring, working virtually or finding work in the valley. I'm also seeing a lot of young people in their 20s and 30s who grew up in Canmore returning to live here full time."
Certainly, with the rise in virtual offices, many buyers are migrating to Canmore from Calgary and working from a home office, perhaps commuting one or two days a week to the city.
"Your commute from Canmore to downtown Calgary literally takes the same amount of time as it would from McKenzie Towne during rush hour," said Stevens. "The difference is that from Canmore, you are going 110 down the highway with no traffic."
Couillard says Canmore's real estate market is strong and there is adequate inventory. Currently, there are more than 250 active listings, a stark change from the past few years when limited housing stock drove up prices.
According to statistics provided by RE/MAX, listing inventory has grown by 23 per cent in 2019.
"New construction has definitely contributed to those numbers," said Couillard. "In April of this year alone, 30 new apartment-style condos were added."
A variety of new-build condos, townhomes, duplexes and single-family homes emerging from the new communities of Spring Creek and Three Sisters, plus a healthy inventory of resale product, provide buyers with plenty of choices in town.
The latest offering at Spring Creek – Tamarack, an apartment-style condo project – even offers tourist home designation, allowing owners to live in the property full-time or rent it out as a vacation property.
"Definitely, the market here is moving," said Couillard, noting that so far in 2019, the median price for a single-family home is hovering at $1.11 million, while condo-style homes are coming in at $435,500.
Tagged: Calgary | Calgary Real Estate | Calgary Real Estate News | Canmore | Feature | Housing Market | nature | REALTORS | Rockies | Rocky Mountains | Spring Creek | Surrounding Areas | Surrounding Areas | Tamarack | Three Sisters
---
---
Connect With Us