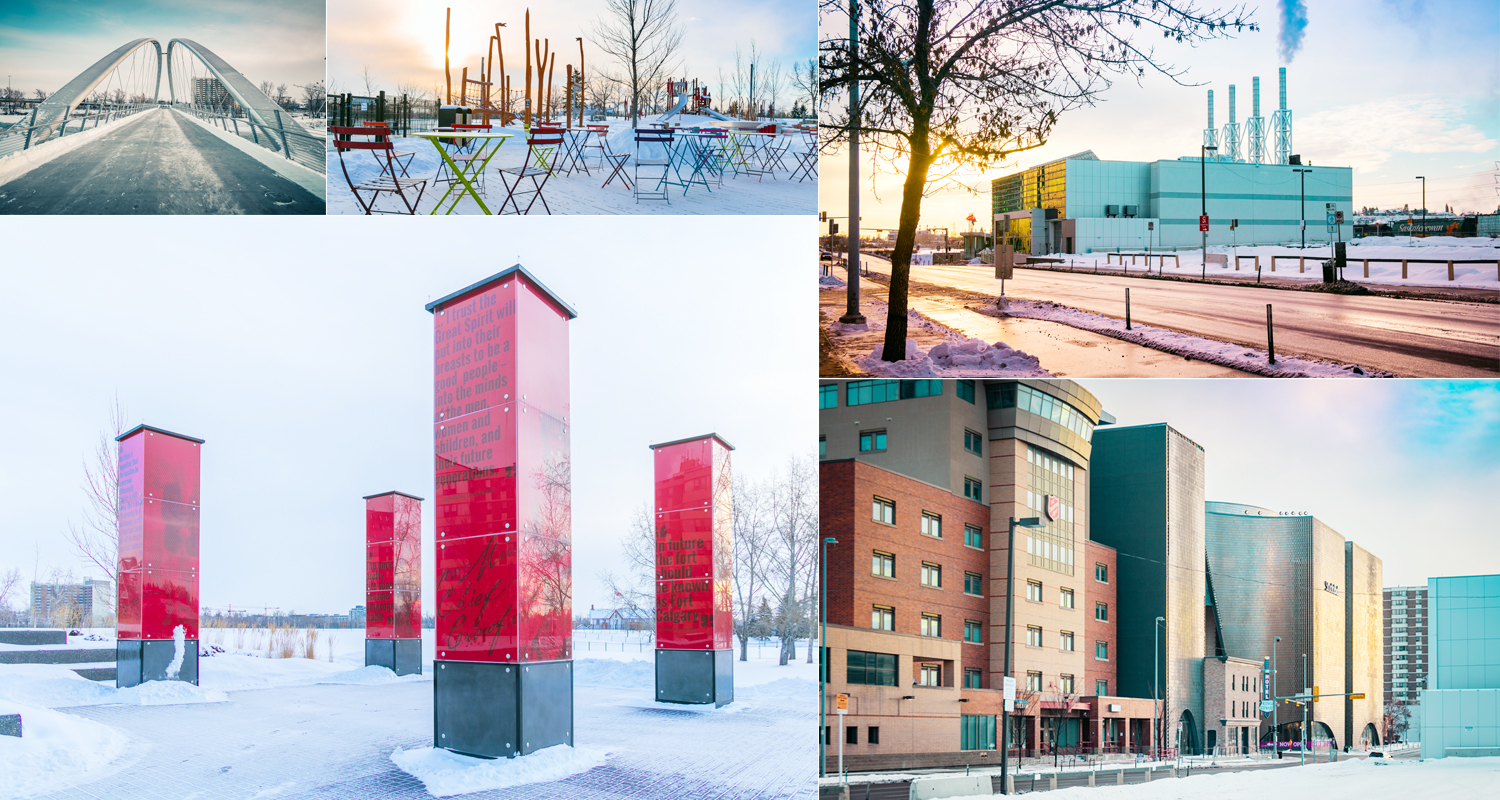 In addition to lake access, Kinniburgh residents can enjoy the several beautiful parks and pathways just outside their doors. Andrea Cox / For CREB®Now
March 05, 2021 | Andrea Cox
Under the radar: the low-profile appeal of Mayland Heights
Perched high on the bluff overlooking Deerfoot Trail in Calgary's northeast sits the iconic Calgary Herald building. But few know that behind the iconic structure lies the thriving residential community of Mayland Heights.
Originally named Crossroads, the community was annexed to the city of Calgary in 1910, long before shovels hit the dirt to carve the two super highways that now bind it. Running along its northern edge is the Trans-Canada Highway, while to the west, Deerfoot Trail carries hundreds of thousands of cars, as Calgary commuters make their way to work and others pass through the city on their way to other destinations.
A smattering of homes on small acreages popped up in the decades that followed annexation, but concerted residential development didn't begin in earnest until the 1960s. Today, the area has 2,807 homes, 46 per cent of which are single-family dwellings. The population since those early days of development has swollen significantly – the 2017 civic census puts it at 5,808 residents.
Patrick Dunn is in his mid-40s and was a relatively recent addition to the community. He's a chef and wine expert and has been living in the community for five years, moving from a townhouse in the inner-city to a single-family home that he shares with his partner, their four cats – Lucky, Squeaks, Dusty and Marley – and their eight-year-old dog, Meka.


"I love the fact that we are so close to Bridgeland and all of the interesting eateries, coffee shops, cool markets and grocery stores," he said. During weekend mornings, he and his partner Margaret can often be found enjoying a coffee at Baya Rica Cafe and strolling by the boutiques along 1st Ave N.E. after making the short trip across the 8th Avenue overpass from their Mayland Heights home.

Although he enjoys these little outings, Dunn says there is often no need to leave the community. "We have all of the amenities we need, with a smaller Family Foods grocery store, several liquor stores, a drug store, gas stations and independent restaurants nearby," he said.

The only community fixture that's missing is a bank. Last year, the doors of the Mayland Heights Scotiabank closed. This was a shock to the community's seniors, many of whom had been banking at the branch for decades, some since the late 1960s. It was walkable and convenient. For these seniors, the bank was their community hub – a place where they connected with other residents and chatted with the tellers.

Thankfully, all the major conveniences, including shopping malls, movie theatres, hardware stores and banks, are located within a 10-minute drive of the community.

Additionally, for those who love nature and getting outdoors, the area provides access to several greenspaces. Dunn and his partner enjoy taking long walks with Meka as part of their daily routine.

"We definitely plan on staying here for a while. We have everything we need here." - Patrick Dunn, Mayland Heights resident

"There are so many on- and off-leash parks in the area, from the 18-acre Tom Campbell's Hill Natural Park overlooking the Bow River, to Deerfoot Park and the off-leash park near the Inglewood Golf Course," he said.

The couple embodies the profile of the typical Mayland Heights homeowner – young professionals who fall within the 25-to-54 age demographic.

Their L-shaped bungalow graces a corner lot and features a 1,500-square-foot main floor with a finished lower level adding another 1,000 square feet of usable space. Built in the 1950s, the home originally had the "Mad Men" aesthetic of the era. The couple has completed many renovations since moving in – new windows, patio doors, laminate flooring throughout and exterior landscaping, including a new fence and patio.

Like many who have moved into the area before them, the couple plans to stay put in Mayland Heights.

"We definitely plan on staying here for a while," said Dunn. "We have everything we need here."

Tagged: Baya Rica Cafe | Bridgeland | Calgary Community | Crossroads | Deerfoot Park | Deerfoot Trail | Inglewood | Inglewood Golf Course | Mayland Heights | Patrick Dunn | Tom Campbell's Hill Natural Park | Trans-Canada Highway
---
---
Connect With Us