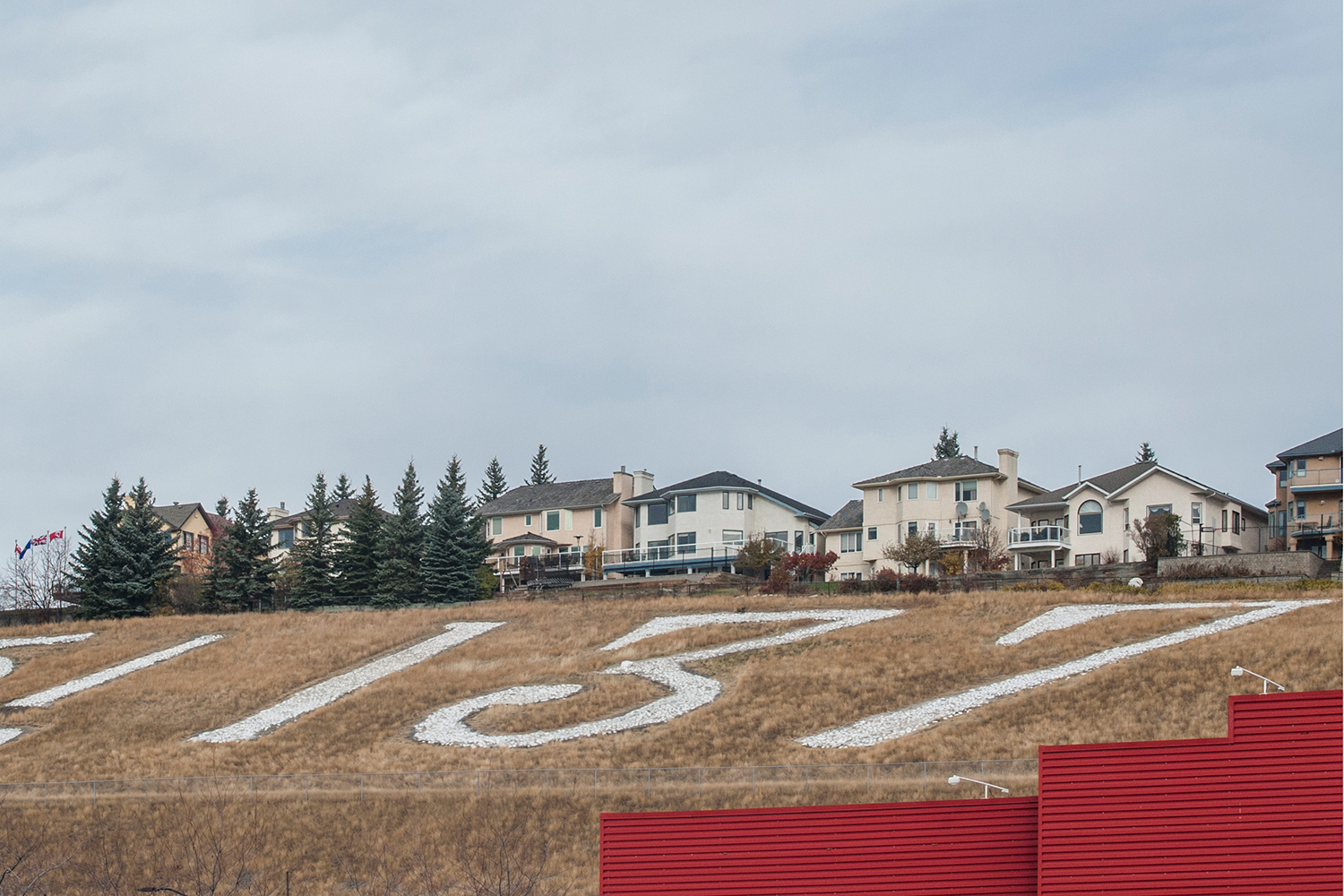 The giant numbers on the hill at Battalion Park are composed of 16,000 stones hauled and arranged by soldiers in 1991 to commemorate the four battalions of the Canadian Expeditionary Force that trained at that location before leaving to fight in the First World War. Cody Stuart / CREB®Now
March 05, 2021 | Andrea Cox
Signal Hill and other "Westhills" communities provide residents with beauty and functionality in equal measure
Carla Nelson and her husband moved to Signal Hill seven years ago, attracted by the home styles and location. "We were looking for a bigger home to raise our family in – a home with a developed basement and a yard that was already established and larger than what was available in the newer areas," said Nelson.
The couple purchased a two-level split that amply accommodates their two boys, ages five and seven, and rambunctious puppy.
Signal Hill has proven to be an excellent fit for the family. "Moving into a community that has been established for 20-plus years comes with many benefits," said Nelson.
The community features ample green space and parks, with mature trees and playgrounds for the children. Several public and private schools pepper the community and the broader Westhills area, from the new Ernest Manning High School to Rundle College, Calgary Academy and Webber Academy. Signal Hill is also home to the Battalion Park Elementary School, drawing close to 700 students from kindergarten to Grade 6.
"Proximity to schools was one of our biggest priorities," said Nelson. "That and minimizing the downtown commute time."
And with Westhills Towne Centre, Signal Hill Centre, Westmarket Square and Signature Park Plaza literally on the doorstep, the level of access to amenities and upscale shopping options rivals the inner-city. Residents can pop over to Sunterra to pick up locally raised meats to toss on the BBQ or, if the day has been hectic, a premade, gourmet entrée to heat at home and enjoy with a bottle of wine from one of the several local liquor stores. A litany of big-box stores and outlet shopping services, along with a library and movie theatre, add to the selection.
Bounded by 17th Avenue, Sarcee Trail, Glenmore Trail and the community of Springbank Hill, Signal Hill features outstanding elevations and mountain views. Perhaps the area's most iconic landmark is the public art installation on the sloped hill of Battalion Park. The giant numbers – 137, 113, 151 and 51 – are composed of 16,000 stones hauled and arranged by soldiers to commemorate battalions of the Canadian Expeditionary Force that trained at that location before leaving to fight in the First World War.
"Participating in local programs and getting involved in the community association has been the best way for us to get to know our neighours and really establish a sense of belonging." - Cara Nelson, Signal Hill resident
A series of public art initiatives followed, beginning in 2000, including Steel Houses on the south side of Sirocco Drive, Stone Sculpture on Signal Hill Drive and Pillars of the Community located east of Battalion Park School on the walking path.
Gord Vogt moved to Signal Hill in 1989. Over the years, he has watched the community mature and evolve into the coveted neighbourhood that it is today.
"We purchased because of the home style – it has a stucco exterior with tile roof – city view from our lot, access to downtown work and its location on the west side to enjoy the mountains," said Vogt, who, along with his wife, raised two boys in the home who are now in their 20s and living on their own.
Vogt, who is recently retired, is actively involved in the Signal Hill Community Association, and spends time biking and enjoying the area's plentiful amenities.
"We can walk to either West Market Square or Westhills for shopping or restaurants," he said. "The area also has lots of walking paths and lots of elevations so we get a good workout whether on foot or bike."
But Vogt says that what makes Signal Hill really stand out is the sense of connectedness. "We live on a cul-de-sac and know all of our neighbours," he said.
Lively community events, including block parties, semi-annual garage sales, kids' soccer games and local school events, act as social hubs that strengthen connections between neighbours and foster community spirit.
Nelson would agree. Her kids are involved in a range of sports, including soccer, skiing, skating, fitness and hockey.
"Participating in local programs and getting involved in the community association has been the best way for us to get to know our neighours and really establish a sense of belonging," she said.
Tagged: 17th Avenue | Battalion Park | Battalion Park Elementary School | Calgary Academy | Calgary Community | Canadian Expeditionary Force | Cara Nelson | Ernest Manning High School | Feature | First World War | Glenmore Trail | Gord Vogt | Pillars of the Community | Rundle College | Sarcee Trail | Signal Hill | Signal Hill Centre | Signal Hill Community Association | Signal Hill Drive | Signature Park Plaza | Sirocco Drive | Springbank Hill | Steel Houses | Stone Sculpture | Sunterra | Webber Academy | Westhills | Westhills Towne Centre | Westmarket Square
---
---
Connect With Us