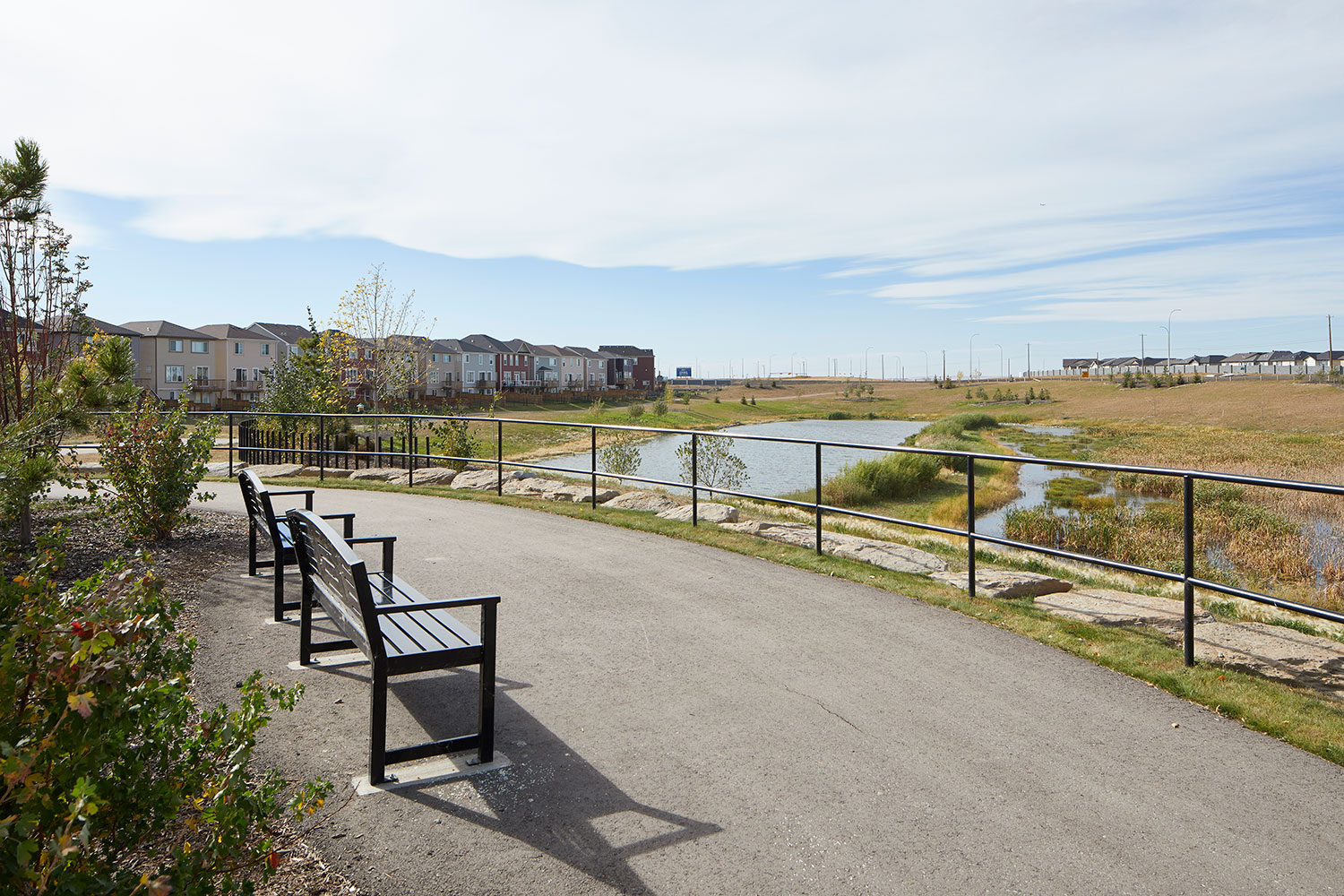 Cityscape, a new northeast community by Mattamy Homes, offers housing options for people in every stage of the homebuying journey. Courtesy Mattamy Homes
Dec. 13, 2017 | Kathleen Renne
Area evolution
Calgary's new northeast offers exciting opportunities and value for homebuyers
"A full, master-planned community destination." That's how Mattamy Homes vice-president of sales and marketing Warren Saunders describes Calgary's expanding – and evolving – northeast quadrant.
"That means choice for homebuyers," he said, noting that wasn't always the case in decades past.
In the "new northeast," Saunders says the expanding range of housing options allows different generations of homebuyers to remain in that sector of the city throughout their lives.
Mattamy is the builder and developer behind Cityscape, a new northeast community located near the eastern edge of the city, just north of Saddle Ridge. Launched in 2012, Cityscape offers a variety of housing choices for all stages of the homebuying journey, from townhomes (including those with both single- and double-car garages) to single-family, detached dwellings upwards of 2,500 square feet.
There are options starting in the $250,000 range for those who are buying their first home, Saunders says. Cityscape also offers a range of townhomes – with more square footage and double-car garages – for move-up homebuyers, as well as single-family homes that range in price from the low $400,000s to the mid $500,000s.
Laura Field, marketing co-ordinator with Qualico Communities, says many of the residents in Qualico's new northeast community of Redstone are looking to live close to other family members within the same community. Like in Cityscape, the range of housing options in Redstone offers that opportunity. There are townhomes in Redstone starting from around $250,000, right up to large, 2,600-square-foot homes around the $700,000 mark.
"With the growth that's going on in the northeast, people can come together and live in new homes and plant new roots." - Laura Field, Qualico Communities marketing co-ordinator
Historically, Calgary's northeast quadrant is considered the most culturally diverse in the city, and that multicultural makeup remains a key aspect of the northeast's identity. A segment of the market buying into Cityscape is looking for housing that supports multigenerational living, Saunders says, something often associated with diverse cultural backgrounds.
Saunders cites features like floorplans with five bedrooms upstairs, as well as options for amenities like spice kitchens, as selling points for some multicultural buyers. Mattamy Homes also built a cricket pitch in one of Cityscape's parks this past year.
"There is lots of multigenerational living in Redstone," said Field. "It's a community in which people can stay connected to one another that also offers amenities like nice parks where people can come together."
In fact, Field says, there is lots of green space in Redstone, including 3.5 kilometres of pathways once the community is complete. She adds Redstone is particularly visually appealing, thanks to architectural controls that have been put in place to ensure that homes in the community don't look identical.
When it comes to green space, Saunders says Cityscape also has a lot to offer. The Rotary/Mattamy Greenway, a massive pathway-and-park network that encircles the city, runs through the community.
Another benefit of Calgary's northeast is the amount of bang for your buck the housing options provide.
Saunders says, at least in Cityscape, there is value for money. As a builder and developer, Mattamy Homes creates lot sizes that are a little larger than average, resulting in home layouts that generally feel roomier.
And if market determination is anything to go by, Field says Redstone is currently Qualico's fastest growing community in Calgary, with 259 homes sales in 2016 and 205 sales so far this year.
"We almost can't keep up to the permits," she said.
Both Cityscape and Redstone have areas set aside for future commercial and retail development, as well as future school sites. And lest one thinks that being in the northeast restricts one's access to the rest of the city, Saunders says Cityscape is only about five minutes away from Stoney Trail and Deerfoot Trail, and a downtown commute will take around 20 minutes.
"With the growth that's going on in the northeast, people can come together and live in new homes and plant new roots," said Field. "It's just all brand new."
Tagged: Calgary Real Estate News | Cityscape | Deerfoot Trail | Feature | Laura Field | Mattamy Homes | new northeast | qualico communities | redstone | Rotary/Mattamy Greenway | Saddle Ridge | Stoney Trail | Warren Saunders
---
---
Connect With Us