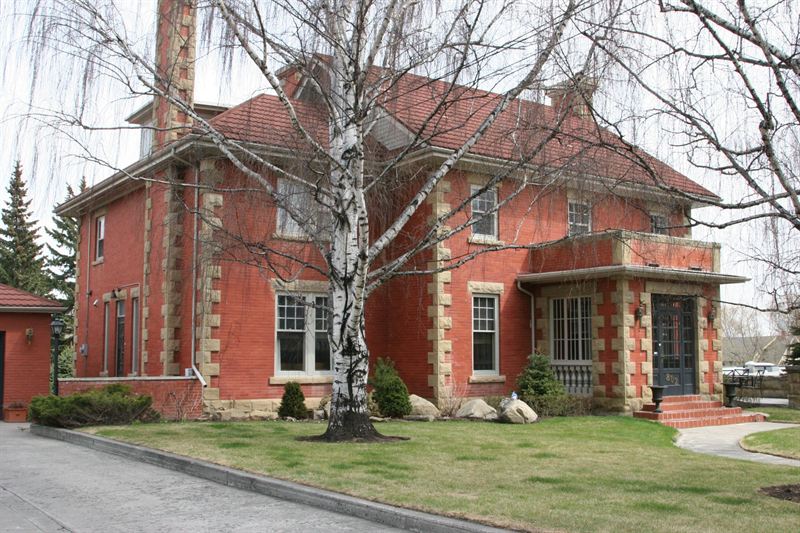 The R.B. Bennett House in Upper Mount Royal. Courtesy of the City of Calgary
March 09, 2021 | Tyler Difley
Historical Home Spotlight: R. B. Bennett House
Year of Construction:
1912
Address:
802 Prospect Ave. S.W.
Community:
Upper Mount Royal
Architectural Style:
Georgian Revival
Oddly enough, the most famous owner of this stately brick home in Calgary's upscale Mount Royal neighbourhood never actually lived there. As the house's modern moniker suggests, that owner was R. B. Bennett, Canada's 11
th
prime minister and a man who, despite growing up in New Brunswick and spending his final years in England, is indelibly linked with Calgary's history.
Bennett got his law degree at Dalhousie University before heading west to Calgary in 1897 to serve as junior partner in the law office of Senator James Lougheed. It didn't take him long to get involved in politics, as he went on to serve as a member of the legislature of the North West Territories from 1898-1905 and an Alberta MLA from 1909-11.
In 1911, Bennett was elected to the House of Commons, beginning his time in federal politics. He became leader of the Conservative Party in 1927 – having previously been a member of Prime Minister Arthur Meighen's cabinet for brief periods in 1921 and 1926 – and prime minister in 1930. His government was toppled by William Lyon Mackenzie King's Liberals in 1935, and Bennett resigned as Conservative leader and retired to England a few years later. A memorial plaque honouring him now sits in the Beltline's Central Memorial Park.
Malcolm E. Davis built the Georgian Revival-style home in 1912 and it was later occupied by Lewis M. Roberts, a lawyer and one of Bennett's colleagues. In 1920, Bennett, who was engaged to be wed, purchased the home with the intention of moving in with his new bride. However, the wedding was eventually called off and Bennett sold the house without ever living there.
The home – which was likely quite impressive when it was built but is now dwarfed by many of its neighbours – has a distinctive, round tower in one corner and sandstone quoins (masonry blocks at the edges of a wall). A 1968 photo of the residence is available through one of the Calgary Public Library's historical photo collections
here
.
Tagged: Alberta | Calgary | Calgary Real Estate | Calgary Real Estate News | Canada | City of Calgary | Feature | Georgian Revival | Heritage | Heritage Home | Historical Home | historical homes | history | history | Mount Royal | Prime Minister | R.B. Bennett | Senator James Lougheed | Upper Mount Royal
---
---
Connect With Us