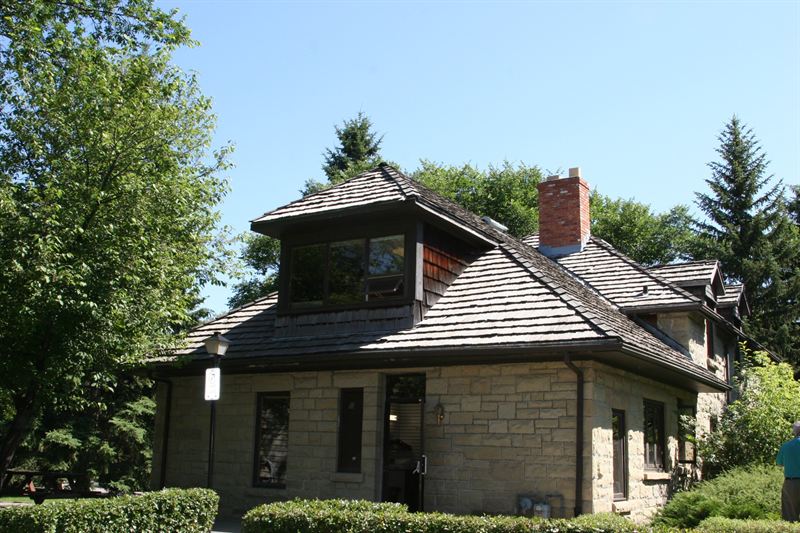 Courtesy of the City of Calgary
Dec. 22, 2020 | Tyler Difley
Historical Home Spotlight: Alfred McKay Home
Year of Construction:
1905
Address:
35 Point Drive N.W.
Community:
Point McKay
Architectural Style:
Vernacular
This pioneer vernacular home was built in 1905 by Alfred McKay (1860-1940). His work as a member of Canadian Pacific Railway survey crews took him from his home in Woodbridge, Ont., to the Prairies in 1880 and he eventually settled in the Calgary area in 1886.
Originally, McKay lived as a squatter in a log cabin on Cochrane Ranch Co. land, before securing his own piece of land in 1891. Many years later, he donated a portion of his homestead to the City of Calgary, which became part of Shouldice Park.
McKay built his home – which seems to have been constructed in a few distinct sections over time – out of sandstone he quarried and transported across the frozen Bow River with his own hands. Featuring two full storeys at completion, the home started as a single-storey residence with only part of a second floor, before additions eventually expanded it to its current design.
McKay and his wife, Catherine Hemmings, had at least five sons, who maintained possession of the home and surrounding property until 1953. Eventually, the home was abandoned and entered a state of serious disrepair. However, the historic property was restored and is now used as a recreation centre.
Tagged: Alfred McKay | Bow River | Calgary | Calgary Real Estate | Calgary Real Estate News | City of Calgary | Cochrane | Cochrane Ranch Co. | construction | Design | Feature | Heritage | Heritage Home | Historical Home | historical homes | history | history | Pioneer | Point McKay | Sandstone | shouldice park | Vernacular
---
---
Connect With Us