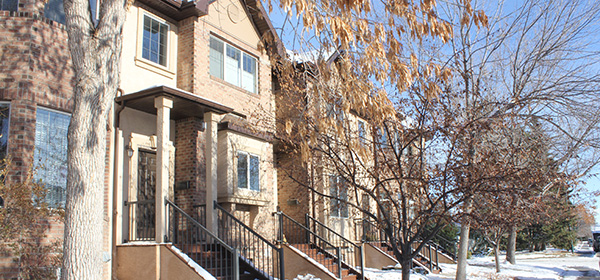 Dec. 19, 2012 | CREBNow
Single-Family Living with Benefits
Buying a condominium means you're buying into a form of home ownership that's different from a single-family dwelling.
A condominium generally refers to the privately owned unit you'll call home and the common areas, which can include hallways, the exterior of the building, green space and other areas for which owners share responsibility. But did you know there are different types of condos?
Most people are familiar with the conventional condo, an apartment-like building divided into units with the areas outside the units designated as common property.
Another type that seems to be gaining in popularity in Calgary and area is the bareland condo.
In a bareland condo project, units are created from the land. Unit holders own the land that is within the condo's survey pins.
Bareland condos are a series of homes – and these can be duplexes, townhouses, single-family houses or villas – that are built and sold individually. This allows the developer to build the houses one at a time and transfer title to people as soon as the homes are ready.
The Ranche and The Lake at Heritage Pointe, Elbow Valley Estates, Elmont Green, Okotoks Air Ranch and Royal Oak are examples of developments where bareland condos can be found in and around Calgary.
Although bareland condos aren't for everyone, they offer benefits to homeowners who want to avoid some of the obligations that come with a single-family residence.
A recent online ad for one bareland condo screamed "You are not buying a home, you are investing in YOU!"
The ad played up the benefits, namely that it offers home ownership with condo amenities, such as lawn care, snow removal, security and bylaws to help protect your investment.
The different types of bareland condo developments fit many lifestyles, offer a variety of service levels and come with a range of condo fees.
In a bareland townhouse development, you would own the inside but share ownership of the exterior and any facilities, such as a swimming pool or party room. You'd pay your monthly condo fee, but normal repairs would be covered by the condo corporation's reserve fund.
In a bareland condo subdivision of single-family homes, individual property owners would each own their entire house, inside and out, but the lawn would be cut for you and the snow would be removed.
Although privately owned, the lots are maintained by the condo corporation, the costs of which are covered by your condo fees.
Regardless of whether you're looking to buy a building site within a condominium subdivision, a prebuilt condo townhouse or a condo in a retirement villa, your REALTOR® will walk you through the steps in the buying process.
He or she will make sure you see the bareland condo plan, the condo corporation's bylaws and a statement of the lot or unit's monthly condo fees.
You should also ask to see documents outlining any legal action or claims against the condo corporation.
And, depending on your needs, be sure to ask a few bylaw questions about rules for parking, RV parking, pets and interior and exterior home design and finishing.
If you have the help of your real estate professional and you know the rules, you'll then be able to ask yourself if condo, or bareland condo, ownership is right for you.
CREB® President
Bob Jablonski
Tagged: Bob Jablonski | Calgary Real Estate | Calgary Real Estate News | Condo | Residential
---
---
Connect With Us