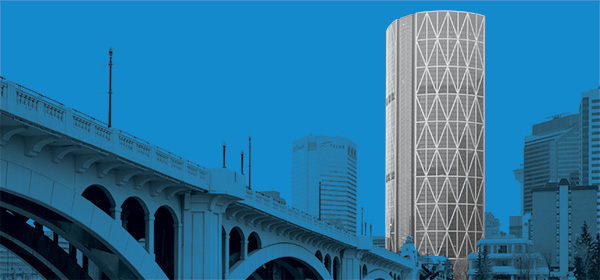 Oct. 23, 2012 | CREBNow
Silver Lining
Proposed downtown developments in Calgary will be more than welcome as the city has an office vacancy rate of only 5.4 per cent.
According to Barclay Street Real Estate's Office Market Review, year-to-date office absorption in Calgary as of August was 2.38 million sq. ft. due to the addition of 1.84 million sq. ft. from the recently completed Bow Building. "Had it not been for (the Bow Building), Calgary's year-to-date absorption would be at 540,000 sq. ft. which is half of the amount of office space absorbed in the first half of 2011," said the report.
The report added tenants frustrated with a diminished selection of class A and AA product are delaying making decisions on purchasing office properties due to escalating rental rates and limited tenant inducements.
"Nevertheless, Alberta continues to be the silver lining amidst the turmoil," stated the report. "Alberta's growth has been fuelled by a robust energy industry these past two years, which has resulted in a rapid recovery of the Calgary office leasing market."
Despite the tight market in Calgary right now — downtown vacancy sits at 3.2 per cent, the Beltline at seven per cent and suburban vacancy at 9.8 per cent — there are several commercial projects on the go for the city.
In the Beltline, Hanson Square will add 45,000 sq. ft. to inventory while the suburban market has about 600,000 sq. ft. on the way thanks to Quarry Central, Parkside at Quarry Park A and B, Westmount Corporate Campus Building #4, Westwinds Business Campus Phase III and Royal Vista Professional Centre. Downtown, Eighth Avenue Place West has been fully leased while other upcoming projects include Eau Claire Tower, City Centre and Tower Centre/Palliser West.
Commercial properties aren't the only new kids on the block in Calgary as four new schools have opened in the city in time for the new school year. More than 2,000 students are attending the new Twelve Mile Coulee School in Tuscany, Captain Nichola Goddard School in Panorama Hills, Nose Creek School in Coventry and Ted Harrison School in Taradale.
"It's an exciting year for us," said Pat Cochrane, chair of the Calgary Board of Education board of trustees. "We will be building on our outstanding academic results from last year and continuing to build our reputation as a world-class learning organization."
Also new this year is the opening of a fourth location for the Calgary Board of Education's Early Developmental Centre preschool program at Terrace Road School in the northwest.
What do you think of Calgary's ever growing downtown?
Tagged: Calgary Real Estate | Calgary Real Estate News | Commercial | Commercial Real Estate | Residential
---
---
Connect With Us