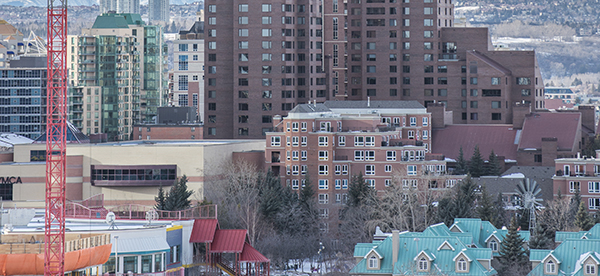 Dec. 23, 2014 | CREBNow
2014: The year in commercial
A 'fantastic' year for Calgary businesses despite dropping energy prices
Despite plummeting oil prices, commercial activity in Calgary remained robust throughout 2014, creating what many industry analysts are calling one of the most competitive markets in Canada heading into the new year.
"I think it's been a fantastic year despite the last quarter of the challenging energy prices. We had some great revenue streams that were available for the first three quarters of the year," said Calgary Chamber president and CEO Adam Legge.
"Building projects are strong. You see some of the new towers going up in the downtown. You've got a lot of major infrastructure projects.
"Businesses recovered from the [June 2013] floods. Resiliency was strong. We only lost about one per cent of the businesses after the floods, and labour growth was good. So at the end of the day, I think it was a very strong year for Calgary businesses in 2014. But the last quarter has proven some headwinds, for sure."
Overall, companies snatched up 1.2 million square feet of space through the first nine months of 2014, the most recent data as of press time, according to commercial real estate firm CBRE Limited.
However, demand significantly outstripped supply over the same period, with net absorption reaching three million square feet, while new supply totaled just 730,141 square feet.
Although net absorption was above the 10-year average, it was still below the historic high of 3.4 million square feet in 2006, noted CBRE, which didn't expect momentous net absorption in the fourth quarter due to the scarcity of well-configured options in the current market. That said, the firm expected an additional 1.2 million square feet of space to come online before the end of the year.
High absorption rates, particularly in downtown, encouraged the announcement of several new construction projects in 2014. More than 841,000 square feet of office space was added to the core during the year, according to a report from Avison Young. Another 398 million square feet is under construction, including the 760,000 square-foot TELUS Sky tower and 2.4 million square foot Brookfield Place development.
With another 9.7 million square feet of office space proposed for the core, Calgary's downtown office market could expand by as much as 25 per cent over the next several years, according to a report from real estate firm JLL Calgary.
"Though tenant demand for office space is softening, this is not expected to be a long-term trend as the city is forecast to lead the country's GDP growth over the next five years, mainly driven by the strength of the local resource sector," said the report.
As for how much renters shelled out to obtain space in Calgary's thriving office market in 2014, the average Class A rent in the core was $33.40 per square foot, outpacing second-place Vancouver ($33.15 per square foot) and third-place Toronto ($27.31 per square foot).
Commercial real estate analysts Colliers International, meanwhile, reported Calgary's overall vacancy rate was at 8.7 per cent during the third quarter (the most recent data available as of press time) behind Montreal (7.3 per cent) and Toronto (6.6 per cent), which has the title of lowest vacancy rate in North America.
Downtown office space vacancy sat steady at 6.2 per cent, while suburban south office space decreased to 11.4 per cent and north vacancy increased to 12.2 per cent, according to Avison Young.
"Downtown is (always) going to have a high demand," said Rick Urbanczyk, senior vice-president of office leasing and sales with JLL Calgary. "The majority of oil and gas firms are here, law firms are here and we're a transit-oriented city where it all funnels into the downtown. That's just kind of the way it works."
The price of oil still has many industry observers cautious heading into 2015. Cenovus Energy Inc., for example, announced it would be reducing its capital spending in the new year by 15 per cent, as well as subleasing 500,000 square feet of space in The Bow building.
"If the recent slide in oil prices turns down the migration taps, construction activity could begin to soften again in Calgary," said BMO senior economist Robert Kavcic, noting that, in the interim, Calgary's market remains red hot.
However, Mayor Naheed Nenshi cautioned over-reacting, noting Calgary's been here before.
"Yes, we're a little bit nervous about what's going forward, about what will happen, but I'll remind all of you, we were also nervous at the end of 2008," he said at a recent Calgary Chamber of Commerce business luncheon.
"This city and this region, although we certainly had some pain, got through that better than just about everybody else in the world. And I think that that has a lot to do with the confidence and optimism of the people that live here."
Tagged: Calgary | Calgary Real Estate News | Commercial | Commercial | Oil Prices | Real Estate
---
---
Connect With Us