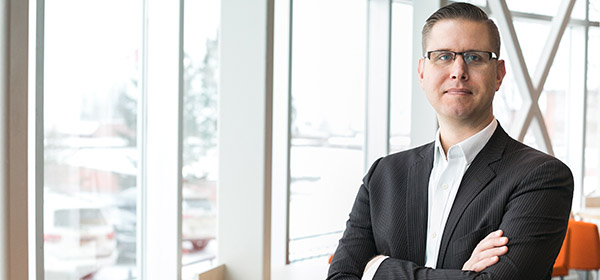 CREB® president Cliff Stevenson. Photo by Michelle Hofer/for CREB®Now
Jan. 14, 2016 | CREBNow
Five questions with CREB® president
CREB®Now sits down with incoming president Cliff Stevenson
Softness in the provincial economy is expected to challenge Calgary's resale residential housing market in 2016. How will the market react?
CREB®Now
recently had a chance to sit down with CREB®'s incoming president Cliff Stevenson to ask him five questions about the local housing industry in the year ahead.
CREB®Now:
?How will buyers and sellers react in what's expected to be a down economy?
Stevenson:
Sellers are going to be more choosy with their timing in this calendar year. Someone who is working with a real estate professional is going to spend a lot more time on strategy with respect to pricing and timing. And buyers, especially first-time buyers and investors, will do their best to time the bottom, but I think that will be really difficult. So, I think this year it will be the guessing game by first-time buyers and investors of when will be the best time to get into the market. But I would suspect there are going to be some challenges with that.
CREB®Now:
?Are there silver linings in this market?
Stevenson:
Definitely. You've got a combination of historically low interest rates and a great selection of product in the market, which has been a challenge for us the last couple years. And you have some pricing adjustments in certain segments of the market where sellers have to react to the reality of the market. That's not to say someone who is doing a move-up from an existing home is going to have a significant problem. I just think there is going to be a lot of focus on the strategy piece of selling their existing property.
CREB®Now:
?Are current and forecasted housing trends a sign that our market is overvalued?
Stevenson:
Overvalued compared to what? Historically speaking, Calgary has been a very affordable city compared with home prices in other major markets. I would say right now, affordability is a relative term. It's very difficult to set a benchmark when you're saying overvalued. With that said, I would say no, we're not. Calgary has an incredible array of industries, and diversification is definitely a focus for us going forward – not just in the city, but as a province. I would suggest we still have a great selection of homes, and Calgary is still a great city to raise a family. In the last 10 years, Calgary has become a world-class city. It's a hub for business and there are a lot of head offices here.
CREB®Now:
?How do you expect the real estate community will react?
Stevenson:
The real estate community is going to have to be very nimble. It is going to have to make adjustments and tighten its belt, just like any other industry in the province right now. I think real estate agents and their clients are really going to have to stay very, very closely connected – maybe even more so than any other year in the past – because they will need to be able to pivot and adjust. That could be on pricing or marketing techniques. Whatever it is, the reaction will need to be made quicker. Sure, sitting on a market for 60 or 90 days has been something that's happened in the past, especially in higher-priced segments. But, if the market is saying something, sellers and their real estate professionals will need to react quicker.
CREB®Now:
?What advice would you have for someone selling their home?
Stevenson:
Listen to your real estate professional. Really rely on the expert adviser that you've hired. They will give you information about what's happening in the market. The concept of sitting around and waiting for someone to show your home, to write you an offer, with large gaps in time, really needs to be challenged. You really need to be as nimble as you can – more so now than any other year. It could be the difference between you selling and not selling.
Tagged: buyers | Calgary | Calgary Real Estate News | CREB® president Cliff Stevenson | forecast | Housing Market | Real Estate | REALTOR | sellers | YYCRE
---
---
Connect With Us