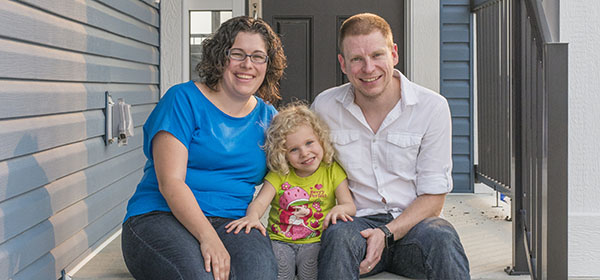 Aug. 28, 2015 | Cody Stuart
On the move
Calgary homeowners capitalizing on market by going bigger
When Stephanie and Robert Morgan decided to make a step up from their Evanston home, their biggest concern was space for them and their growing family.
After looking at several "lateral" options that would have seen them gain little in the way of square footage, the Morgans decided to make the jump to something significantly bigger
"We really wanted a place that would feel like a home for each member of our family – somewhere where we could each have our own space but also enjoy the common areas without tripping over each other," said Elizabeth, who, along with husband Robert, shares the home with their four-year old daughter.
"Our old house was very narrow and long and there was always this feeling that it was smaller than it actually was."
Along with something bigger than their existing 1,500 square feet, the Morgans' list of must-haves included an attached garage, three bedrooms, upstairs laundry and a larger kitchen.
After casually searching the market for three years to no avail, the family eventually decided on a 2,200-square-foot home located just two blocks away.
According to Elizabeth, finding the right home was a combination of patience and diligence.
"We had been looking at every new show home in Evanston for over three years plus, casually looking on MLS® to see what was available," she said. "We looked at our exact floor plan in a different phase of Evanston and really liked it but ultimately it didn't feel like the right time and we never looked into it past the, 'isn't this a great house?' stage.
"This past May we happened to be looking at the show homes with some friends and we went into them thinking, 'we are just looking for them, not us' and fell in love with the floor plan again."
Having purchased their home during a period of market uncertainty, Elizabeth said one of the keys to selling her home was employing the same level of patience.
"We had two very low-ball offers made that were more than $40,000 less than our asking price. But on the advice from our REALTOR®, we declined them. The last offer was right on our asking price," she said.
"In going through this process, my advice would be to just be patient as there are a lot of people who want to look at houses but not a lot of offers being made right up front unless they are lower than the asking price. Spending the time to stage the house, get good photos taken and work with a REALTOR® that you trust really went a long way for us."
The need for patience is demonstrated in the latest numbers from CREB®, which show the average days on market for a Calgary listing have increased substantially over the last year. Whereas an owner was waiting an average of 33 days for their home to find an owner last July, sellers this July were waiting an average of 40 days.
While patience may be the order of the day for those hoping to sell their home in favour of something larger, those already in the market for a move-up home may already be finding favourable conditions.
While benchmark prices in the city exhibited some month-over-month resilience in July, they still declined by 0.15 per cent annually and one per cent lower than levels recorded in January, marking the first time since 2011 that benchmark prices have posted a year-over-year decline. For buyers looking to move up, those declines can represent opportunity.
The share of sales of homes priced between $200,000-$299,999 have fallen from 15.5 per cent in 2014 to 15.1 per cent in 2015, while homes priced $400,000-$499,999 increased from 23.3 per cent to 24.88 per cent over the same period.
While Calgary's current resale residential housing market might present opportunities, buyers also need to be realistic in their expectations, says CREB® president Corinne Lyall.
"Some buyers expect they will get major price reductions in this market, but that's not always the case. In some areas, supply levels are more balanced with demand and that creates price stability," she said.
Tagged: buyers | Calgary Real Estate News | Home Buying | Housing Market | move-up homes | Residential | sales
---
---
Connect With Us