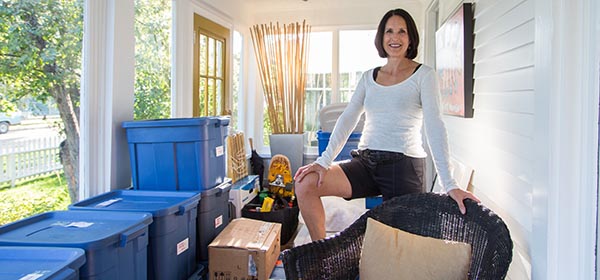 Donna Willams recently went from renter to homeowner when she purchased a 16-year-old, three bedroom, end-unit townhome in Garrison Woods. Photo by Adrian Shellard/For CREB®Now
Sept. 03, 2015 | CREBNow
Movin' on up
Housing market offering opportunities for would-be buyers
For Donna Williams, finding the right home was a relatively straight-forward and stress-free endeavour.
She had been renting a turn-of-the-century two-storey refurbished home built in the inner-city neighbourhood of Sunalta. Recently divorced, she wanted a place to land where she would be surrounded by friends and community, and where her university aged children could park themselves when they came to visit on school holidays.
"I knew that financially it didn't make sense to be paying rent when interest rates were so low," said Williams, who recently returned to school to study English at the University of Calgary.
But she was comfortable in the home and didn't feel any huge sense of urgency to buy — until, that is, her landlords, personal friends, bequeathed the home to their adult child and her partner.
"I started looking in the area, but couldn't find anything in my price range that I liked," said Williams. "I looked on the MLS® listings every night, but eventually ended up hiring a real estate professional to help me out."
Through the process, Williams looked at more than 30 homes — from four-plexes to duplexes and single-family homes in several inner-city neighbourhoods, ranging from Parkdale in the northwest to Altadore in the southwest.
"I really wanted some green space and all of the new builds were the same — a beautiful cookie-cutter that was repeated over and over again," she said.
Williams wanted something with some patina — some age; a home with a history — but she couldn't find anything.
She even considering building, but nothing felt right — until she walked into a 16-year-old, three-bedroom end-unit townhome in Garrison Woods that spoke to her.
With three bedrooms, an upstairs office, unfinished basement and more than 1,700 square feet of room above grade, the home had ample space for Williams and her two children who were returning to Calgary after finishing school.
It also had character and lots of light — two must-haves on Williams's list.
She said she was looking for signs that housing prices were dropping.
"People were lowballing because of the perception that it is a buyer's market, but the offers weren't being accepted," said Williams. "I believe in the old adage: you buy when you are ready to buy; you sell when you are ready to sell; and if you want something, you make a good offer."
She does admit that she did benefit from a few things transpiring in the current market — notably "the amount of property that is for sale and low interest rates."
She also didn't feel pressure to buy the first thing that she saw. She could saunter through the process. Williams began her search in May and found her home mid-July.
Williams's experience largely reflects what's currently going on in the move-up segment of Calgary's current resale residential housing market – of which the description varies, but is generally defined as anything between $200,000 and $600,000.
CREB® indicates that 61 per cent of the inventory in Calgary and area last month fell between these price markers.
"But inventory levels have been increasing across all sectors — detached, attached and apartment," said CREB® chief economist Ann-Marie Lurie.
She noted this has been especially true in the higher end as absorption rates have eased given the slower demand environment relative to the listings.
"This does not come as a huge surprise given that the majority of the job impact has been with higher wage earners," said Lurie, adding the overall job market is expected to further cool further in the second half of this year as the energy sector continues to face challenges.
She notes this could cause a further pull-back in the real estate market. And layered in with increased competition from the new home and rental markets, it could indicate further price moderation in the resale market.
Combine that with low interest rates, and buyers could wake up to an even more positive environment — particularly in the move-up segments.
But for Williams, it was about finding a warm, love-filled home where she could sit outside in her garden and watch kids play, while surrounded by cone-flowers and peonies.
"I saw something that worked for me and I didn't get my knickers in a knot about the fact that I could have got it for less," she said.
Tagged: buyers | Calgary Real Estate News | Housing Market | move-up homes | Residential
---
---
Connect With Us