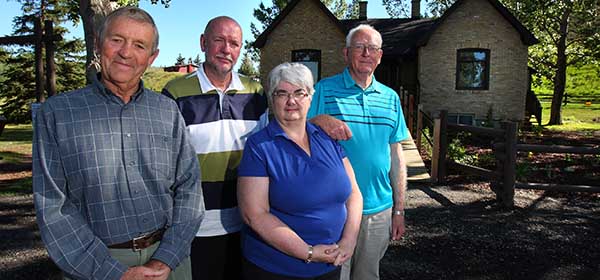 From left, Cochrane Historical Museum volunteers Mike Taylor, Frank Hennessey, Bernice Klotz and Gordon Davies. Photo by Wil Andruschak/For CREB®Now.
Aug. 19, 2015 | CREBNow
Roots run deep in Cochrane
New museum provides perspective of just how far growing town has come
Gordon Davies's roots run deep in Cochrane.
His family moved to the area in the early part of the 20th century, while Davies himself is president of the Cochrane Historical & Archival Preservation Society (CHAPS).
The society, in fact, is behind the new Cochrane Historical Museum, which opened May 31 and was nearly two decades in the making, according to Davies.
"Unlike many towns, Cochrane has never had a museum dedicated to its local history," he said, noting CHAPS has been planning the museum since the society's inception in 1999.
The museum actually occupies the house Davies's paternal grandparents built in 1909. (Davies's parents sold it in 1977; CHAPS gained possession of it in 2012.)
During its earliest years, the house also served as a convalescent home, a place in which folks suffering from illness or injury could recuperate and receive medical attention.
The Duke of Connaught – Canada's Governor General between 1911 and 1916 – even toured the facility in 1912.
"Back then, Calgary was a long way away," he said. "Today, you can get there in 15 minutes. But in 1910, when the convalescent home opened, there might have been one or two cars in Cochrane."
The new museum is located on the historic Cochrane Ranche site – arguably the town's most well-known attraction.
Inside are photos and explanations relating to Cochrane's early years. As homage to the building's past, one room is dedicated to showcasing some vintage medical equipment.
The exterior also reflects local history, as it's covered with Cochrane brick.
In the early 1900s, four brickyards operated in Cochrane, exporting hundreds-of-thousands of bricks to Calgary.
The brickyards shut down in 1914, however, with the outbreak of the First World War and the ensuing lack of available labour.
These are among the historical anecdotes Davies says are in danger of being forgotten with the recent growth of the community.
"Because Cochrane has grown so rapidly in the last 10 to 15 years, a lot of people aren't familiar with the town's history," said Davies.
From hamlet to burgeoning urban centre, Cochrane is now benefitting from its distinct western charm, proximity to the Rocky Mountains and diversity in residential housing product.
Despite current economic volatility in the province, year-to-date residential resale housing sales in Cochrane are 12 per cent over the five-year average and 28 per cent above the 10-year average, notes CREB® chief economist Ann-Marie Lurie notes
"Cochrane sales activity has grown significantly since 2012," she said.
"This is a product of overall growth in Cochrane. It has grown from a population of 13,760 in 2006 to 23,084. With a growing population, we have seen more starts activity and overall resale activity in the area.
Benchmark prices, which have started to dip elsewhere in the region, are also modestly higher than last year.
"Year-to-date benchmark prices are $444,929, 7.22 per cent higher than last year," said Lurie.
She notes, however, prices in the Cochrane market contracted from 2011 to 2013, mostly due to increased completion in the new-home sector."
"The high annual price was reached in 2010 with a benchmark price of $441,108, hence current prices are roughly one per cent higher than 2010 levels," said Lurie.
Attached homes and apartments represent "growing segments" of the market, added Lurie. In 2014, the share of attached-home sales was 23.5 per cent, rising to 29.9 per cent in 2015, after averaging 16 per cent a decade earlier.
As people buy into Cochrane real estate in increasing numbers, Davies believes "there are a lot of interesting things to know about the town" for newcomers.
One of those" interesting things? "That Cochrane might not even exist today were it not for historical happenstance.
Instead, a place called Mitford, just west of Cochrane, may have taken its place. It was the settlement – not Cochrane – where the CPR originally made a stop. However, due to the failure of industry, residents abandoned Mitford in 1898, leaving the way open for Cochrane to grow and thrive and eventually become the vibrant place it is today.
The Cochrane Historical Museum will remain open to the public Fridays through Sundays, 10 a.m.
to 4 p.m.
For more information, visit www.chapscochrane.com.
Tagged: Cochrane | Cochrane Historical Musuem | Feature | history | housing statistics | Residential
---
---
Connect With Us