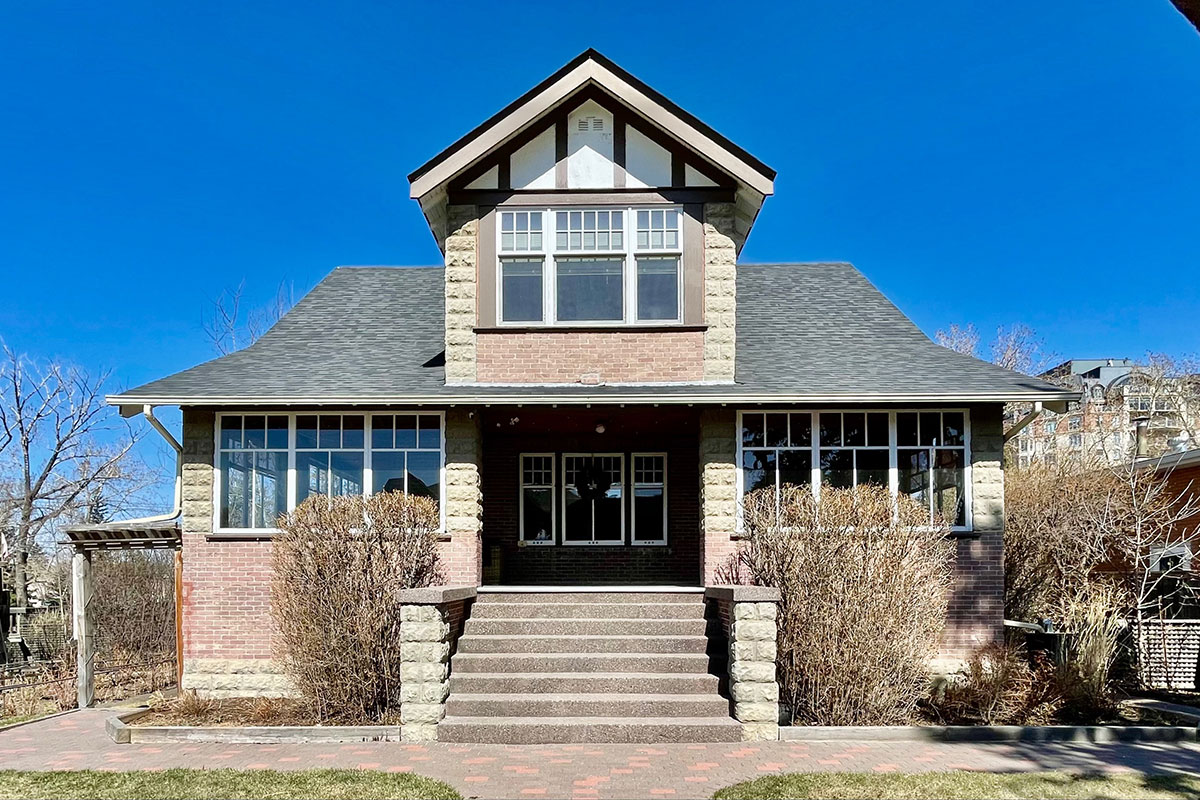 Cody Stuart / CREB®Now
April 13, 2021 | Tyler Difley
Historical Home Spotlight: Walter Hargrave Residence
Year of Construction:
1913
Address:
1732 13
th
Ave. N.W.
Community:
Hounsfield Heights/Briar Hill
Architectural Style:
Arts and Crafts
The 1½-storey, Arts and Crafts-style Walter Hargrave Residence is unique for a couple of reason. Constructed in 1913, it is one of the oldest buildings in the northwest community of Hounsfield Heights/Briar Hill, a neighbourhood whose founding dates back to before the First World War.
Hounsfield Heights, Hillhurst and West Hillhurst were born from the lands of homesteader Thomas E. Riley. Riley and his wife, born Georgina Hounsfield, started selling portions of their land in the early 1900s, as the newly completed Canadian Pacific Railway line through Calgary ferried many settlers to the area. This started with the lands that became Hillhurst in 1904, with Hounsfield Heights following a couple years later. The community's development sputtered at first – with only 10 houses (including the Walter Hargrave Residence) built by the end of 1913 and the First World War wiping out the city's building boom – but picked up in the 1950s, when the thriving community we know today started to take shape.
The home is also distinctive due to the many ways concrete was used in its construction – including poured concrete, concrete bricks and "cast stone" concrete blocks made to look like real stone – which was rare at the time. According to the City of Calgary, "Before WWI, cast stone was used in a few houses and larger buildings in Calgary, but there are no documented instances of a poured concrete house or the use of concrete bricks."
It was built – likely, according to the City, as a speculative venture – by Wilfred C. Chambers, who worked for a company of real estate brokers that was heavily involved in Calgary's early development. The stately residence may have been built with a wealthy buyer in mind, but this didn't come to pass. Instead, it was originally occupied by commercial traveller Walter Hargrave, who rented the home for a short time starting in 1915. The years that followed saw many more short-term owners and renters, as well as a few prolonged periods of vacancy, but it appears to have had only a few longtime owners since 1945.
The residence is a excellent example of the Arts and Crafts style, with a variety of design features that aim to "create an unpretentious building in harmony with nature."
Tagged: Arts and Crafts | Calgary | Calgary Real Estate | Calgary Real Estate News | Calgary Real Estate News | Canadian Pacific Railway | Concrete | Feature | First World War | Georgina Hounsfield | Heritage | Heritage Home | hillhurst | Historical Home | historical homes | history | history | Hounsfield Heights | Hounsfield Heights/Briar Hill | Subdivision | Thomas E. Riley | Walter Hargrave | Walter Hargrave Residence | West Hillhurst | Wilfred C. Chambers
---
---
Connect With Us