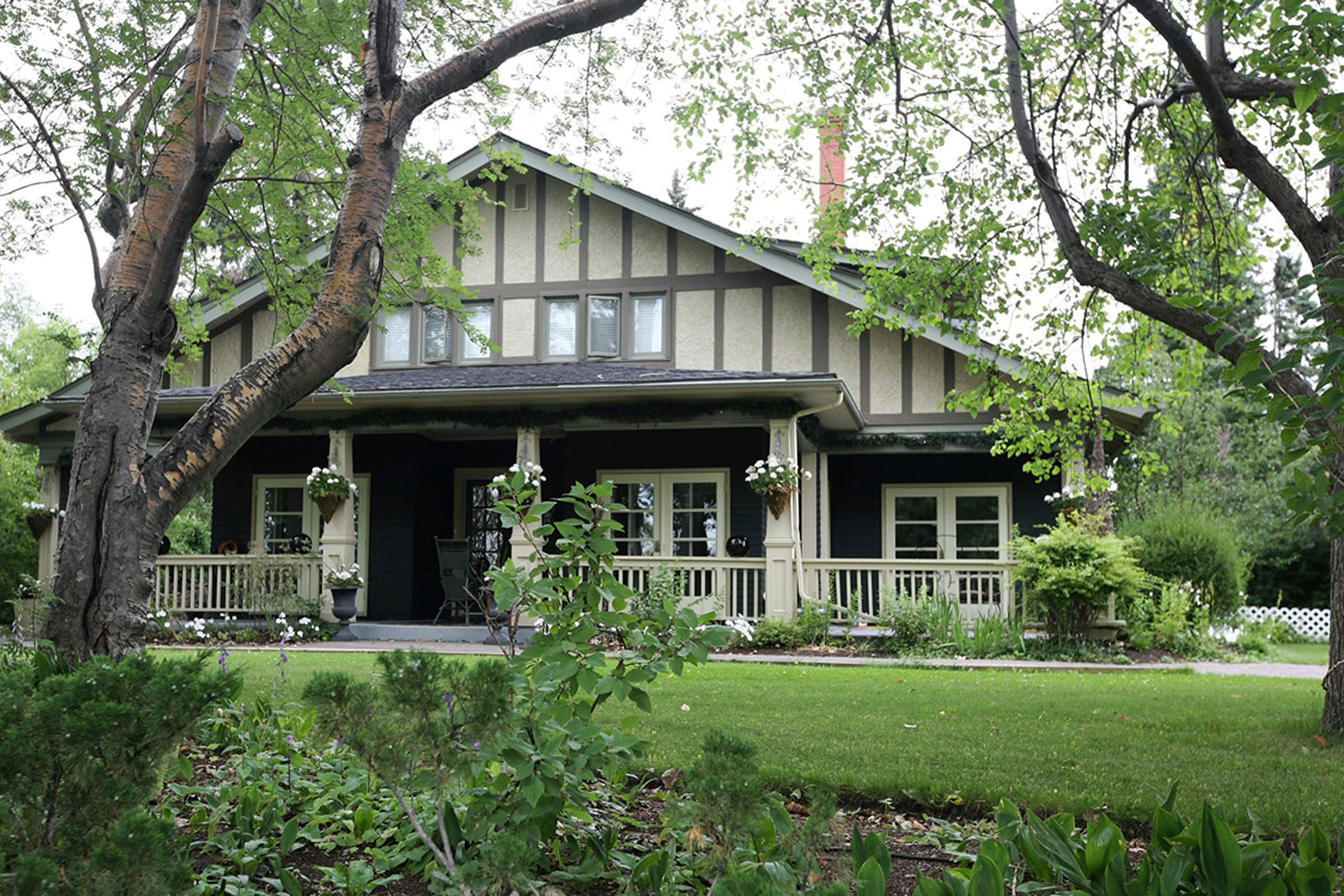 Courtesy of the City of Calgary
July 13, 2020 | Tyler Difley
Historical Home Spotlight: Stuart Residence
Year of Construction:
1910
Community:
Upper Mount Royal
Architectural Style:
Arts and Crafts
This historical home is notable not only for its status as a great example of the Arts and Crafts architectural style, but also because of a pair of high-profile Calgarians who lived there over the years.
The home, designed by Lang & Dowler Architects, features a front-facing, half-timber and stucco gable, and a large open verandah at the entrance, creating a quaint cottage vibe typical of many Arts and Crafts residences.
The home was built in 1910 for Major Duncan Stuart (1856-1946) – who witnessed the driving of the last spike in the Canadian Pacific Railway (CPR) at Craigellachie, B.C. – and his wife, May. Stuart was also a prominent military leader, lawyer and local personality of his era. He fought in the South African War and the First World War. He was also one of the founders of the Earl Grey Golf Club, which was originally located on lands leased from the CPR in Mount Royal.
The second prominent occupant of the home was Roy A. Farran (1921-2006), one of the most highly decorated veterans of the Second World War. Farran was born in England and grew up in India before serving with the Special Air Service (SAS) during the war. He moved to Calgary in the early 1950s and quickly made a name for himself. He was a major figure in the local journalism community – spending many years with the
Calgary Herald
and establishing his own weekly newspaper, the North Hill News, in 1951 – and eventually entered local politics. He served as a Calgary alderman from 1961-63 and 1964-71, then as a Progressive Conservative MLA for Calgary-North Hill from 1971-79 in the government of Premier Peter Lougheed.
Tagged: architecture | Arts and Crafts | Calgary | Calgary Herald | Calgary Real Estate | Calgary Real Estate News | Canadian Pacific Railway | CPR | Duncan Stuart | Earl Grey | Feature | First World War | historical homes | historical homes | history | history | Lang & Dowler | Last Spike | North Hill NEws | Peter Lougheed | Roy A. Farran | Second World War | South African War | Stuart Residence | Upper Mount Royal
---
---
Connect With Us