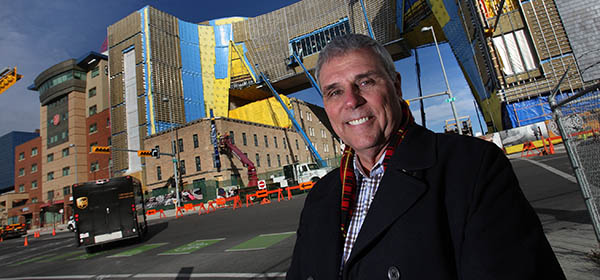 Colin Jackson, a member of the senate at the University of Calgary, says anchor institutions such as the upcoming National Music Centre help create the communities in which they live. Photo by Wil Andruschak/For CREB®Now
Nov. 13, 2015 | Joel Schlesinger
Dropping anchor
Will mega-project CalgaryNEXT be the anchor institution that breathes new life into the local landscape?
Urban planning enthusiasts call them anchor institutions – those landmark buildings in which cities are built around.
In Calgary, they dot our landscape: from the University of Calgary and Foothills Medical Centre in the northwest to Stampede Park and the Calgary Tower in the southwest — even the up-and-coming Seton mixed-use district in the southeast.
Calgary would be a very different — even lesser — place without them, says Colin Jackson, member of the senate at the University of Calgary and also chair of several arts and culture initiatives.
"A good way to think of them as anchor institutions is that they set the tone or give a feel to a neighbourhood," said Jackson, who has spoken on the subject in the past.
Could the
CalgaryNEXT
mega-project be next?
Despite being called "not even half-baked," by Mayor
Naheed Nenshi
, the proposed $890-million future home of the Calgary Flames, Hitmen, Roughnecks and Stampeders on the west end of downtown has captured the imagination of Calgarians as to the possibility of another major addition to the local landscape.
CalgaryNEXT will be more than just a sports facility, contends Ken King, president and CEO of the Calgary Sports and Entertainment Corp., which owns the three professional sporting teams.
In an interview with CREB®Now, he posits it will also be a complete community complemented by commercial and residential developments.
"In terms of a gathering place, facilities like these will be very significant to Calgary — particularly downtown," he said, noting the facility would also include a field house available to community associations.
King also suggests CalgaryNEXT is a natural evolution for the city – that sporting venues like it are becoming more than just another entertainment option for Calgarians.
"Because of the iconic nature of the brands, the Roughnecks, the Hitmen, the Stampeders and the Flames are integral to our community," he said.
Jackson, however, is not sold. He contends that large sporting facilities — no matter how large their physical footprint — are not set up to be successful anchor institutions.
"They may bring people to town from the suburbs and beyond to experience a game, and these people may go out for dinner too before, but that's a different thing from what a university offers which is living and working 24/7 in the community," he said. "It's a living part of the neighbourhood as opposed to an episodic attraction."
Jackson also noted that while both the Scotiabank Saddledome and McMahon Stadium, for example, are successful facilities in that they have stood for decades, fulfilling their role well when in use, these facilities often sit empty once the final buzzer has gone.
Urban planner Beth Sanders agrees with Jackson. While facilities such as CalgaryNEXT might generate significant economic activity in the nearby community, anchor institutions are much more that, she says.
"There's something about the heft of an institution that not only pulls a lot of people to it for an afternoon or evening; it really is in the best meaning of the term: 'institutional,'" said Sanders, who works with the Edmonton-based firm POPULUS Community Planning.
"That's why Calgary Stampede grounds fit into that category because it shapes the identity of the city."
Other anchor institutions are even more essential to how a city functions — such as universities and major health care centres — because they are, among many other things, significant sources of employment, adds Sanders.
"Anchor institutions embody what our shared values are; they are a place where community comes together to affirm certain values — like education and caring for one another," he said, noting they are often the beating heart of a neighbourhood, serving as catalysts for residential, commercial and other community-positive developments.
While the University of Calgary, Mount Royal University and the Foothills Medical Centre are easy examples of anchor institutions, smaller-scale developments can also fit the description, says Jackson. He points to new
Central Library
and new home for the
National Music Centre
, currently under construction, and expected to open next summer. Both are located in the East Village and will breathe vitality into the surrounding neighbourhood.
"Those are two cultural institutions that will lend a tone to that development in an area of Calgary that was pretty poverty stricken for a long time," said Jackson.
Jackson says up until recently, many urban centres built major sports facilities without much concern for their impacts on nearby communities. He points to the University of Phoenix Stadium, home to the Arizona Cardinals, as an example.
"It's certainly built not to be pedestrian friendly," said Jackson. "You couldn't walk to these places because they're surrounded by parking lot and not much else."
King, however, argues CalgaryNEXT represents the new generation of professional sports facilities. He says it will follow in the footsteps of U.S. Bank Stadium in Minneapolis and the ICE District in Edmonton, both designed to be vibrant hubs in communities.
"If you look at how of North American cities have changed in the last decade, among the most significant players in their transformation are the roles that sports arenas, stadiums and multi-use complexes play," said King
"We're no longer building parking lots and sports facilities. Professional sports will become one of the most transformative city building pieces in the future."
King adds that people want to be close to the action. They want to live, work and play, including going to sporting events, all in the same neighbourhood.
"We want this densification to create a more vital urban core. Calgary has increasing vibrancy in its urban core, but it's still not downtown Vancouver, or Manhattan," he said.
"CalgaryNEXT could be that catalyst that gives our downtown that 24/7, 365-day-a-year vitality, which the hallmark of modern cities of North America."
Tagged: Calgary Real Estate News | Calgary Stampede | CalgaryNEXT | Community | Downtown | Ken King | Saddledome | University of Calgary | urban planning | West Village
---
---
Connect With Us