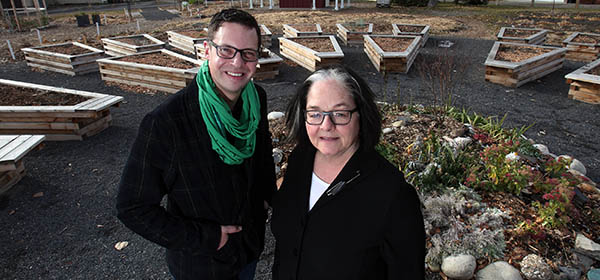 Bev Sandalack, associate dean (academic) with the University of Calgary's Faculty of Design, with Parkdale Community Association president Colin Brandt at the Parkdale Garden. Photo by Wil Andruschak/For CREB®Now
Nov. 23, 2015 | Alex Frazer Harrison
Landmark agreement
FCC, U of C join forces to support community development
A new agreement between the Federation of Calgary Communities and University of Calgary aims to offer students real-world urban-planning experience, valuable data for community planners and some certainty for homeowners.
The agreement with the university's Faculty of Environmental Design (EVDS) formalizes ongoing efforts to get students into the field, aiding community associations in conducting research, consulting residents and coming up with planning documents to guide future growth and redevelopment.
"This partnership is really critical from the point of view of having access to experience and skills (community associations) wouldn't otherwise have access to," said FCC president Leslie Evans, whose federation has some 150 member associations.
"Our connecting these groups together is critical. And the benefit to the students is an opportunity for hands-on learning at the community level."
Bev Sandalack, associate dean (academic) of EDVS and founder of its Urban Lab research group, adds EDVS and community associations have already worked together (with and without FCC involvement) on future planning for neighbourhoods such as West Springs/Cougar Creek, Highland Park, Triwood, Beltline, Crescent Heights, Cliff-Bungalow, Killarney-Glengarry, Glamorgan and even yet-to-be developed areas such as South Seton.
Members of the Parkdale Community Association worked with EDVS students on compiling Enriching Parkdale, a recently completed land use and development plan for the inner-city neighbourhood, says association president Colin Brandt.
"The thing about having a third party looking at the community as a whole is it allowed for wider and more diverse opinions, and we got people to agree on things," he said.
"The students had very deep and fulsome consultation with the community. Now we have this document and the advantage of having access to expertise (from EDVS) gave us real justification for making decisions, allowing us to be strategic in the way we think the community is growing."
Brandt adds well-researched planning/design study documents such as Enriching Parkdale helps to provide potential homeowners – or home sellers – with some future certainty.
"It gives people a sense of the direction the community is going," he said. "This is a vision the community shares. For people who are really serious about building a life in Parkdale, for example, this is extremely informative."
Change is constant in the evolution of a neighbourhood, says Sandalack of the importance of her students and community members collaborating on this sort of future planning.
"One of the biggest issues in inner- or middle-ring neighbourhoods is redevelopment and infill," she said. "That makes residents and potential owners really nervous if they don't know how the community will be developed over the next 10, 20, 30 years.
"Through our courses and research group, we can work with the community on what its existing character is and manage the change, (so) it can make a positive future for a neighbourhood.
"Change will always happen ... it's how it's managed that's the important thing."
Evans says work is already underway on identifying the next community that will collaborate with EDVS under the new agreement.
Tagged: Calgary Real Estate News | community association | federation of Calgary communities | neighbourhood | Parkdale | University of Calgary | urban planning
---
---
Connect With Us