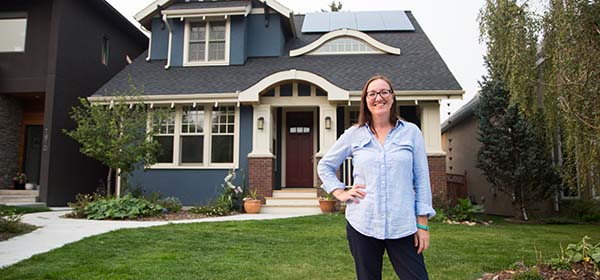 Paula McGarrigle's Marda Loop home contains an assortment of features designed to make it as energy efficient and "green" as possible. On the EnerGuide 0-100 scale, which measures a home's energy performance, McGarrigle's home has a rating of 86. Photo by Adrian Shellard, for CREB®Now
Sept. 08, 2015 | Tyler Difley
Green is the new black
Features holding their own in resale
At first glance, Paula McGarrigle's Marda Loop home looks rather ordinary — a beautiful craftsman-style house not unlike many others throughout the city.
In this case, looks are deceiving. Beneath its unassuming exterior, the home contains an assortment of features designed to make it as energy efficient and green as possible. On the EnerGuide 0-100 scale, which measures a home's energy performance, McGarrigle's home has a rating of 86.
"People are quite stunned that it's an energy-efficient home," McGarrigle said. "It looks like it's been here for 100 years."
Green homes like McGarrigle's are increasingly common in Calgary and across the country. Their popularity has surged as sustainable technologies – from simple energy-efficient appliances and light bulbs to complex mechanical systems and renewable energy sources – have become less expensive and homebuyers become more concerned with their environmental footprints.
Many green homes today start with new insulation and framing types, which result in a tighter building envelope, said David Silburn, a SAIT Polytechnic researcher specializing in green building technologies.
From there, owners are turning toward high-performance windows and glazing, low-flow toilets and LED light bulbs. Smart thermostats that automatically reduce energy usage when no one is home and phantom load switches, which eliminate unnecessary power usage from plugged-in electronics, are also gaining popularity, noted Silburn.
In recent years, solar panels, the stereotypical staple of a green home, have also become more commonplace, as costs have come down and builders have found unique ways to integrate the panels into roofs, awnings and balcony railings. As have drain water heat recovery systems, which require little or no maintenance and can create energy savings of around 1,600 kilowatt-hours
per year.
"It preheats all the water coming into your home before it goes to your hot water tank, which means your hot water tank works up to half as much as it would normally need to," he said.
Meanwhile, researchers and homebuilders are experimenting with net-zero homes, which produce as much energy as they consume.
"Alberta has more net-zero energy homes than any other province, but they're still incredibly rare compared to the new-build options or even renovation options," Silburn said.
For prospective buyers looking to snag a green home on the resale market, there's good news: many of the energy-efficent features in these homes require little upkeep or maintenance, even several decades down the road, noted Silburn. The costs associated with these upgrades largely come from the initial investment and installation.
"When we were doing the appraisal for the house, we lucked upon an appraiser that understood the green features," McGarrigle said. "He said right now any kind of investment you make is holding its own. It's not getting a premium, but it's holding its own."
The news is less positive for those who build their green home from scratch.
"The appraisal value and real estate training simply isn't there to recognize green and to recognize the initial capital costs that go into some of those upgrades," Silburn said. "So on a resale market, people are getting good deals."
Silburn is optimistic energy efficient homes will soon become the standard in the market, as more people recognize the benefits of going green.
"I think we're going to start to see more and more (homes) having a green technology baseline and then more and more of the net-zero or higher-performing houses coming onto the market, which is refreshing," he said.
Tagged: Calgary Real Estate News | EnerGuide | energy consumption | Green Housing | Net-zero
---
---
Connect With Us