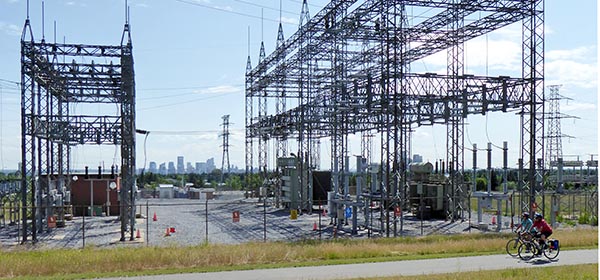 July 17, 2015 | Cody Stuart
Power up
Summer sun shines spotlight on Alberta's energy supply
With temperatures in Calgary and across the province soaring for much of July, Alberta's power industry is beginning to kick into high gear.
Earlier this month, Alberta set a new record for energy consumption in the province. According to the Alberta Electric System Operator (AESO), usage on July 9 hit 10,520 megawatts, topping the previous record of 10,419 MW set last July.
While summer demands for energy are less than those seen in winter — when demand can top 11,000 MW — the numbers are still enough to provoke some caution from the province's energy operator.
"Due to the significant generation added to the grid, we haven't had an issue meeting the demand," said Angela Anderson, spokesperson for AESO.
"That being said, our system controllers monitor the grid 24 hours a day, seven days a week working with transmission facility owners and power generation owners to ensure that during times of high demand, contingency plans are in place and reserves are available to meet the electricity demand."
According to Anderson, the province has added 1,700 MW of supply since January 2014. As of September 2014, Alberta had 14,598 megawatts (MW) of installed electricity generation capacity.
Even with the increased capacity, a heat wave last summer coupled with low wind and generators being offline saw AESO issue a request for Albertans to voluntarily reduce their power consumption. While no such request has been issued this summer, Anderson suggested a few tips for Albertans looking to lessen their energy demands.
"During times of high demand, typically when there is a heat wave, we see usage the highest between 5 and 7 p.m.," said Anderson. "There are a few things Albertans can do to help reduce electricity usage such as: run major appliances during off peak hours, turn off unnecessary lights, turn off non-essential electrical appliances.
Lessening demand on the province's power supply may not be the only reason Albertans want to cut their energy, after a report suggested along with the rise in temperatures, Albertans could see their power bills increasing. The report, which was released by Alberta's Utilities Consumer Advocate (UCA), showed those who purchase electricity through the Regulated Rate Option (RRO) will see an increase in their bills this summer.
According to UCA, the average Albertan can expect to see an average increase of about $21 on a typical residential electricity bill issued in July. The increase is partially the result of record-low RRO prices, which have increased from an average of almost four cents per kilowatt-hour (kWh) in June to an average of more than seven cents per kWh in July.
Those living in Calgary – specifically those supplied by ENMAX – could see even larger increases. Based on the average monthly consumption of 600 kilowatt hours, UCA estimates Calgarians will see a 44 per cent increase in their July power bill – an increase of more than $30 based on the average monthly power bill. According to Service
Alberta spokesperson Scott Seymour, the sudden increase is the result of historic low rates in the province.
"It generally happens in the summer. We've had some pretty historic low rates over the past year or two but this is sort of return to what the normal is for summer."
Seymour noted the spike in rates will affect those who use what he called the "default" option for purchasing their power, and not those who sign a contract with their provider. Under the contract model, which consumers can switch to at any time, the price of power may be fixed, giving homeowners more certainty about their monthly expenses.
"Our role with Alberta's Utilities Consumer Advocate is to give customers a heads up that when these price increases happen on the RRO that they know it's coming and to remind them of the options that they do have for more price certainty and that they can go and sign a contract. One thing people don't necessarily know is they can switch back and forth, month-to-month, from contracts to the default option based on what they're willing to pay for a price."
Currently, ENMAX purchases their power 45 days in advance of the monthly RRO, however the company is seeking the regulator's approval to buy 120 days in advance like other RRO providers such as EPCOR. According to ENMAX's Doris Kaufmann Woodcock, the move "should" lead to less price volatility for Albertans.
Regardless of any jump in price, CREB® president Corinne Lyall said it's a good idea for anyone purchasing a new home to do their homework in order to fully prepare for the living costs associated with a home purchase.
"Every homebuyer should be prepared for living costs outside their mortgage. They can do this by requesting copies of utility bills and property tax statements from the current owner. Sometimes the heating bills can be a few hundred dollars a month in the winter, so it's important to obtain copies in the months that have the highest utility usage, so you know what to expect."
Tagged: Calgary Real Estate News | Corinne Lyall | Energy | energy consumption | ENMAX
---
---
Connect With Us