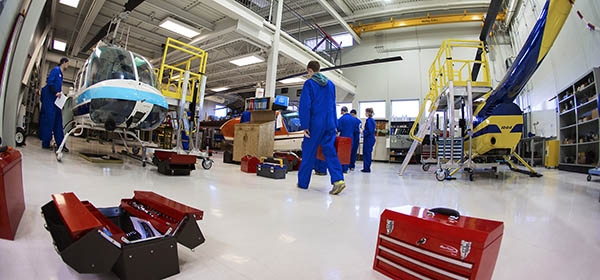 SAIT Polytechnic's Art Smith Aero Centre at the Calgary International Airport is used to teach three full-time programs in the institute's school of transportation. Photo courtesy SAIT Polytechnic
Sept. 10, 2015 | CREBNow
Sky's the limit
SAIT Polytechnic Art Smith Aero Centre joins Doors Open YYC lineup
At SAIT Polytechnic, there's a classroom that measures 21,000 square feet.
The technical institute's Art Smith Aero Centre is actually a hangar at the Calgary International Airport. Big enough for a Boeing 737, the space is used to teach three full-time programs in SAIT's School of Transportation: aircraft maintenance engineers technology, aircraft structures technician and avionics technology.
On Sept. 26, the centre will be open to public as part of the fourth annual Door Open YYC event.
"To be able to bring your family and go in and see all these planes set up in a hangar of this size, and spark the idea of possibly, maybe this is something my son would like to do as a career path, or my daughter would like to do this ... it's a really neat opportunity," said Melanie Simmons, public relations specialist at SAIT.
At Doors Open YYC, visitors will have the chance to get up close and personal with many of the aircrafts inside the facility, including a Challenger 601, King Air, R22 Helicopter, Cessna 185 floatplane and North American 76 Harvard II.
The centre's staff will also lead tours of the facility, which, in addition to the aircrafts, includes seven classrooms, an 110,000-square-foot concrete apron, 18,000-square-foot ancillary asphalt apron and thirteen labs, where students learn skills such as cutting steel.
The Art Smith Aero Centre opened in 2004 on land connected to Taxiway "N." Previously aviation classes at the institute were held at the campus on North Hill, until the early 2000s when a study concluded that a considerable percentage of industry workers would soon retire, creating a significant shortage of workers for at least 20 years.
In an interview with CTV Calgary about the Aero Centre's participation in Doors Open YYC, SAIT academic chair Lisa Weatherby said a lot of Calgarians are not familiar with the facility or its programs. She hopes events such as Doors Open YYC give more people the opportunities to find out not just what there is to see in Calgary, but what opportunities are available to them right at home.
The Doors Open YYC event at the Aero Centre will take place on Saturday from 10 a.m. to 3 p.m. Registration is not required. The centre will not be open on Sunday.
To access the centre, from McKnight Blvd, head north on McCall Way N.E. (19th St N.E.), turn left onto McCall Landing and follow around the traffic circle in to the front parking lot. The centre is located at 1916 McCall Land N.E.
For more information about the Doors Open YYC event, visit doorsopenyyc.org.
Tagged: Calgary Real Estate News | Doors Open YYC | SAIT
---
---
Connect With Us