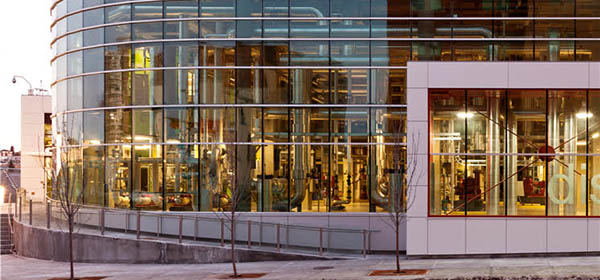 Sept. 18, 2015 | Cody Stuart
Do YYC
Now in its fourth year, Doors Open YYC now bigger than ever
Awarded to notable residents, a key to the city used to be the symbol of a welcoming metropolis. As it turns out, things haven't changed that much.
Literally a way to throw open its doors to residents both notable and ordinary, the Doors Open YYC event Sept. 26 – 27 is part of an international event that provides people free access to buildings to create enthusiasm for heritage and contemporary architecture.
"Really, the whole point is to allow people access to buildings they wouldn't normally get to see," said organizing committee member Alyssa Berry.
"You have to provide an experience that the public wouldn't normally get to see, and you have to do it for free."
Now in its fourth year, the ever-increasing list of Calgary venues throwing open their doors to an inquisitive public boats some interesting additions. Along with returning facilities such as the always-popular Traffic Management Centre, where the City monitors and manages all Calgary's traffic and the Shepard Waste Management Facility, Berry is especially excited about some of this year's more socially conscious sites.
"This year for the first time we have a couple social agencies that are on board as sites," she said of the inclusion of Brown Bagging for Calgary's Kids and Calgary Reads in this year's list of sites, which has grown to 45.
"The fact that we can give them public presence and a little bit of notoriety, and allow the public to come and see their facility and get a sense of what they do, a social agency wouldn't ever have the money to do some big ad campaign in regards to that. So us being able to leverage our cache in the community of being Doors Open and bringing on these smaller [organizations]... I think that's really important."
Feeding the brain rather than the body, Calgary Reads' Reading Place provides a place for parents and children to listen to one of the group's readings or cuddle up with a book from their collection. The ability of Doors Open to meet new people while reminding more Calgarians to open a book is a valuable gift, says Calgary Reads' executive director Steacy Collyer.
"[Doors Open] adds even more awareness and connections between all the great people, places and things happening in Calgary. We love the spirit and concept of an open door and meeting new neighbours and future friends, engaging in conversations about things that matter or are of interest to those who like get behind the scenes," said Collyer.
On the other end of the Doors Open spectrum is ENMAX's District Energy Centre. Located along Ninth Avenue S.E., across the street from the soon-to-be-opened National Music Centre, ENMAX's facility is one of the more impressive displays of technology on this year's list of sites.
"Think of it like heating that's in the cloud," said ENMAX's Jason Grabinsky. "People who come to the ENMAX District Energy Centre for Doors Open will get an up-close look at how this District Heating plant, and its 55 megawatts of boilers, heat millions of litres of water that is pumped through insulated underground pipes to heat over eight million square feet of office and residential space in the East Village and downtown core."
Similar to systems that originated in cities such as New York and Chicago as far back as the 1880s, the hard-hat-and-safety-glasses-mandatory tour will give Calgarians a look into one of the city's more innovative facilities.
"Thousands of people drive by our facility on the corner of Ninth Avenue and Fourth Street daily and have no idea what it really does. Doors Open provides interested community members the opportunity to come into one of ENMAXs generation assets and learn about the District Energy business and the benefits it provides to the city."
Whether it's a cosy reading room or the belly of a mechanical marvel, Berry says the unifying factor for all Doors Open sites is allowing all Calgarians a better appreciation for the place they call home.
"They sort of have to cover a collection of different components so that people get a better sense of their city – the history of their city, the culture of their city, that sort of thing. That way it impacts the way people are understand their city more."
Tagged: Calgary | Calgary Real Estate News | City of Calgary | Doors Open YYC
---
---
Connect With Us