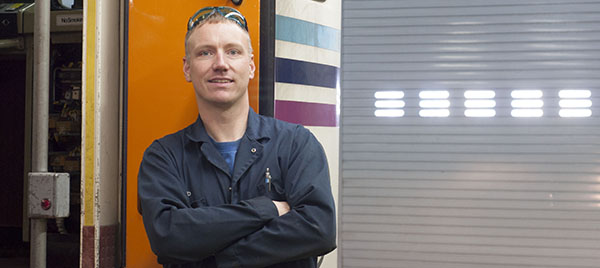 Sept. 17, 2014 | CREBNow
Calgary opens up
Doors Open YYC running Sept. 27-28
The Doors' frontman Jim Morrison once said "there are things known and things unknown and in-between are the doors."
That couldn't be more true for
Doors Open YYC
, which returns to the city Sept. 27-28.
This represents the third incarnation of the local program, which originated in Europe 25 years ago as a way of promoting civic pride. This year, Calgarians will have access to rare, behind-the-scene glimpses of more than three dozen sites in Calgary ranging from the Alberta Children's Hospital to SAIT Polytechnic's Art Smith Aero Centre.
Doors Open YYC launched in Calgary in 2012, the year the federal government dubbed the city the "Cultural Capital of Canada", coinciding with Culture Days.
"In 2012 it was a huge success and I think more successful than anybody had anticipated," said Alyssa Berry, Doors Open YYC marketing committee representative. "Doors Open as an entity was created to open those places that people never get to see normally."
One of those places is the Oliver Bowen Maintenance Facility in northeast Calgary. Named after the man who started with Calgary's street construction and went on to manage the design and construction of Calgary's first LRT line, the facility services 84 of Calgary's 192 C-Train cars.
Visitors to the site, which requires pre-registration, will see everything from equipment underneath the trains to different models.
"Probably the coolest part that all the kids love is when we go through the train wash," said Jennie Palmer, communications advisor with City of Calgary's Transportation department. "We have a train wash here where all the water is recycled and reused and C-Trains go through it."
Other municipal sites taking part in the program include the Pine Creek Waste Water Treatment Plant, Ralph Klein Park, Traffic Management Centre and the City Municipal Complex.
If science, art or sports are more up your alley, there's the Alberta College of Art & Design, F&D Scene Changes Inc., Canada's Sports Hall of Fame, Epcor Centre and the North Mount Pleasant Arts Centre.
For those looking to explore Calgary's heritage, Doors Open YYC sites include Fort Calgary, Calgary Stampede, Calgary Tower, Nellie McClung House,
CC Snowdon Building
and Lougheed House.
Built in 1891,
Lougheed House
was once home to Sen. James Alexander Lougheed, Lady Isabella, their six children and staff. Visitors to the house for Doors Open YYC will take a behind-the-scenes tour of the historic structure, including the upstairs where the executive offices are today; the back servants' stairs, reminiscent of a scene from
Downton Abbey
, and; the archives and collections in the basement, which are usually closed to the public.
"We like to keep [the Lougheed's] culture preserved, especially the Metis culture Lady Lougheed was part of," said Adrienne Leicht, guest services, programs and volunteer manager with Lougheed House, noting Isabella Lougheed's mother was of Metis descent.
"We like to bring that into a lot of our aspects and teach people there were different cultures in Calgary to make it what it is today."
As with other sites and programs in the city, Lougheed House will also be participating in Culture Days, which takes place the same weekend as Doors Open YYC.
"With Culture Days what we like to do here at Lougheed House is bring in local artists from different aspects of culture and art," said Leicht.
The house has events such as storytelling, an art mural for the kids and Metis sash making.
Doors Open YYC organizers are expecting a strong turnout this year, especially after certain sites were affected by June floods last year.
"The flood last summer created a lot of problems with sites ... the Calgary Stampede for example," said Berry. "Yet there was the pride of Calgary in coming together in after that flood and that sort of 'Come Hell or High Water' mentality that the Stampede sort initiated. In actual sites that participated, we were at capacity into what they could support."
Tagged: Alberta Children's Hospital | Calgary | Calgary Community | Calgary Tower | CC Snowden | Doors Open YYC | Fort Calgary | Lougheed House | Oliver Bowen Maintenance Facility | SAIT
---
---
Connect With Us